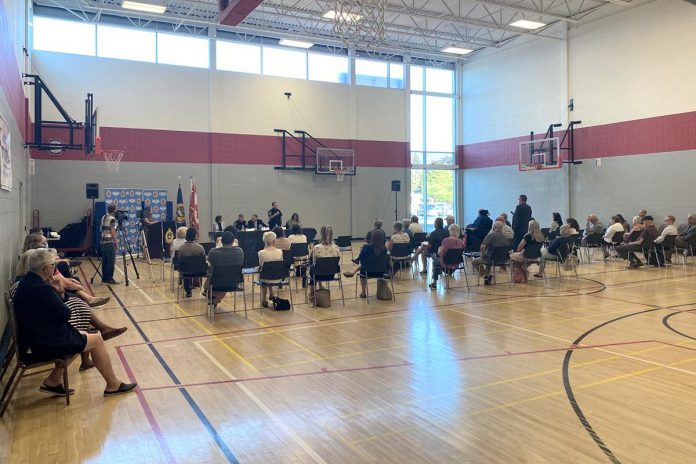 Peterborough police held a town hall-style meeting on Thursday (August 11) to address concerns about escalating violent crime in the southeast area of Town Ward, an area bounded by Lansdowne, Park, Sherbrooke, and Aylmer streets.
The public meeting, which took place in the gym at the Central East Ontario YMCA on Alymer Street and was livestreamed on YouTube, included a speakers panel with acting police chief Tim Farquharson, Peterborough Police Services board chair Mary ten Doeschate, detective inspector John Lyons, operations division inspector Jamie Hartnett, and community development and engagement coordinator Emily Jones.
Each member of the panel took a turn addressing a crowd of around 40 people before fielding questions and comments from concerned residents.
Advertisement - content continues below
Tweet this quote
In his opening comments, Farquharson referenced the four brazen shootings in the neighbourhood between April 20 and July 11, two of which were fatal.
"We too are dismayed to see this level of violence," he said. "There's no doubt that creates feelings of anger, frustration, and fear. The (police) service acknowledges that and understands it."
Compiled crime statistics, Farquharson said, "show our community is changing. In the past five years, we've seen calls for service increase by 19 per cent, criminal code offences increase almost 16 per cent, and non-offence calls increase by 25 per cent."
One factor driving those numbers up, he added, is Peterborough having been "identified as a market for organized criminals who are taking advantage of some of our most vulnerable."
Both Farquharson and ten Doeschates spoke to police staffing, with ten Doeschates noting the Police Services Board recently approved the hiring of eight new officers. Farquharson said that, while new officers will help, the positive impact it will have on overall police performance and response will take some time.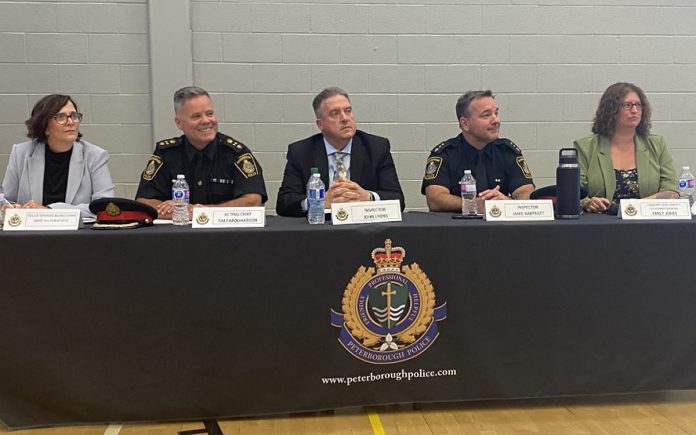 As enlightening and forthcoming as the information provided was, it did little to alleviate the fears and resulting concerns of some in the audience who spoke.
One woman, who resides in the neighbourhood after moving to the city from Niagara Falls, described what she has witnessed on a consistent basis and the police response she has experienced.
"I see fights, I've seen needles, seniors' houses broken into," she said. "We call (the police). When you do come — and I don't mean this as any disrespect; I am a PSW and I understand (staffing) shortages — we've been told 'Go back to bed' when we're woken up in the middle of night when a store is getting its windows bashed in."
Tweet this quote
"We're scared, we're terrified, and it's every day we're seeing this (crime), and at all hours of the night. We have offered our help as a community many times to do whatever we can, and we still haven't seen the results of that. We're all on board for that. We matter, and so does our mental health."
In response to that candid take, operations division inspector Jamie Hartnett acknowledged the resident's comments captured the reason for the gathering.
"We're trying our best but we know our best isn't good enough right now," he said, assuring "We will do our best moving forward."
"We are challenged with some of the shortages (in officers). I apologize on behalf of the service (for the alleged 'Go back to bed' response). That's inappropriate. There's no reason anyone should be spoken to like that by one of our members."
Advertisement - content continues below
Tweet this quote
In his comments, detective inspector John Lyons confirmed what many residents have already assumed: the dramatic violent crime spike is being driven by increasing illicit drug activity.
"We don't have random situations going on," he said. "Quite often it (violent crime) is targeted. There was a day when we knew the majority of the people involved in crime in the city. A lot of our crime now is committed by people coming into our city."
The increased use of firearms in acts of violence, according to Lyons, is a marked departure from not all that long ago when gun-related violence in the city was rarely seen. Statistics for the city area in question, provided by Harnett, bear that out.
"In 2017, we had six firearm-related offences; in 2018, we had seven. In the past two years (2020 and 2021), we've had 23 and 16 respectively. Break and enters have increased significantly, from 79 in 2019 all the way up to 147 in 2021. Robberies also increased during that time."
"We're listening to the community and the concerns. Every day, we're trying to do the best we can with what we have. We spend more time in this area when time permits, (but) it's probably not enough."
Advertisement - content continues below
Tweet this quote
Following the meeting, Farquharson acknowledged proactive policing, as opposed to reactive enforcement, is a high priority.
"We have become a reactive police service," he admitted. "Most services in the province are (like) that because of the number of calls that aren't necessarily police-related. People just want to see the police in a timely manner — not four days later, not 12 hours later. When we had (a) rapid response unit for six months, it paid dividends. The problem now is we just don't have the staffing model in place."
"We're saying it's going to be a little bit of time. In the meantime, we're working on a lot of challenges. But if we can get the community making those calls and giving us information we need, that gives our crime analysts information and we know where to go."
Meanwhile, both Farquharson and Lyons were thrilled with the turnout for the meeting, each putting great value on what they heard.
"I heard a lot of honesty, I heard some frustration, but I heard truth," Lyons said. "That, to me, is what town halls are about. I've been to many where people are afraid to speak their piece because they're afraid of repercussions. What I saw tonight were honest people standing up and saying what they felt, and some of the (police) responses they have received."
"Some of those responses haven't been adequate, but we don't know unless we know. If we can come here and get some honest and true feedback, we're able to inwardly look at what we're doing, and try and find solutions."