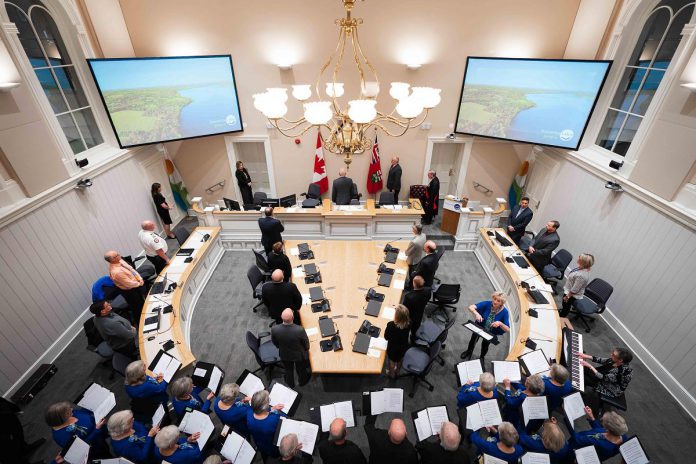 The new council for the City of Kawartha Lakes was sworn in and held its inaugural meeting on Tuesday (November 15) at City Hall in Lindsay.
Elected on October 24, the new council consists of Mayor Doug Elmslie and councillors Emmett Yeo (Ward 1), Pat Warren (Ward 2), Mike Perry (Ward 3), Dan Joyce (Ward 4), Eric Smeaton (Ward 5), Ron Ashmore (Ward 6), Charles McDonald (Ward 7), and Tracy Richardson (Ward 8).
"These eight individuals and I are the electors' choice to be the municipal leaders for the next four years," Mayor Elmslie said. "We are mothers, fathers, grandparents, business owners, community volunteers, educators, activists, and — above all else — we are passionate champions of this beautiful place we call home. It is a responsibility we do not take lightly."
Advertisement - story continues below
Tweet this quote
"Some of us have been on council previously, and we know many of the challenges that lie ahead, from balancing budgets to juggling multiple committee meetings to making time to hear from constituents," Elmslie added. "Others are brand new to this role. I look forward to hearing their fresh insights. It is only by challenging the way we have always done things that we can improve. Kawartha Lakes is a municipality that has shown its commitment to continuous improvement and I know this council will embrace that value."
Elmslie also outlined the priorities for the new council, including the 2023 budget, investing in roads and infrastructure, working with other levels of government for affordable housing, ensuring and supporting healthy community growth, and looking after the environment.
Ward 8 councillor Tracy Richardson, who was deputy mayor for the prior council in 2022, was acclaimed as deputy mayor for another one-year term.
"Customer service and communications are critical to our residents," Richardson said. "We've built a lot of momentum with education and communication in the past, and are currently reaching out to residents about their customer experience on the Jump In website."
"We need to make decisions based on what our community needs. I'm really excited to see what four years looks like from now. We're going to be bigger and stronger than we are now."
The city's chief administrative officer Ron Taylor shared greetings and congratulations on behalf of Haliburton-Kawartha Lakes-Brock MP Jamie Schmale and MPP Laurie Scott, as well as Premier Doug Ford and Curve Lake First Nation Chief Keith Knott, before introducing council to the city's senior staff.
Advertisement - story continues below
"City staff are looking forward to working with you Mr. Mayor, and councillors, to implement our collective mission to deliver the highest standard of municipal services while creating a healthy and sustainable future for all Kawartha Lakes residents and businesses," Taylor said.
The inaugural meeting began with a procession accompanied by town crier Athol Hart and musician Martin Neuland, with the proceedings officiated by Superior Court Justice Drew S. Gunsolus and musical performances provided by the ReUnion Choir of Fenelon Falls.
The next council meeting takes place at 1 p.m. next Tuesday (November 22).