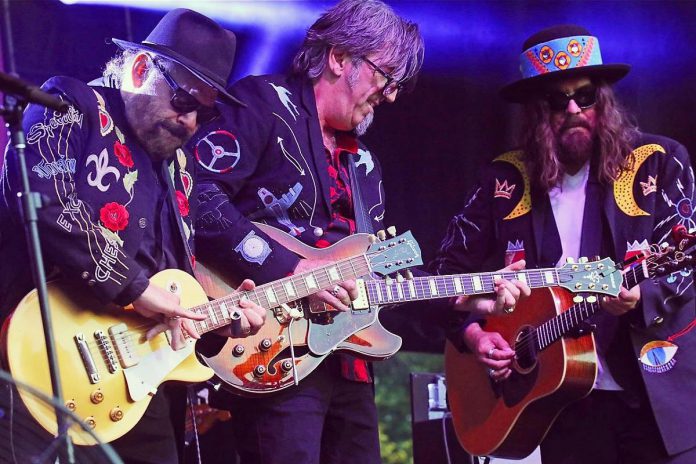 When Tom Wilson, Colin Linden, and Stephen Fearing formed the roots-rock band Blackie and the Rodeo Kings 26 years ago to record a one-off tribute album to the great Canadian singer-songwriter Willie P. Bennett, the trio never imagined the band would still be together today.
Now as part of their 25th anniversary tour (delayed one year because of the pandemic), Blackie and the Rodeo Kings are returning to Peterborough's Market Hall Performing Arts Centre for two back-to-back concerts at 8 p.m. on Wednesday, December 7th and Thursday, December 8th, with special guest Terra Lightfoot and openers Digging Roots.
The two concerts are presented by Market Hall and kawarthaNOW. Tickets are $47 and are available over the phone at 705-775-1503, in person at the Market Hall box office at 140 Charlotte Street (3rd floor) from noon to 5 p.m. Monday to Friday, or online anytime at tickets.markethall.org.
Advertisement - content continues below
It was 27 years ago when Tom, Colin, and Stephen came together in Tom's hometown of Hamilton with the idea of paying tribute to their songwriting hero, Peterborough folk legend Willie P. Bennett. While all three had their own successful musical careers — Tom as former lead singer of Junkhouse, Colin as a guitarist and producer, and Stephen as a solo artist — they decided to record an album of covers of some of their favourite Willie P. songs, bringing his music to a wider audience.
Calling themselves Blackie and the Rodeo Kings after Willie P.'s 1978 record Blackie and the Rodeo King, they released High or Hurtin': The Songs of Willie P. Bennett on May 22, 1996, intending to then return to their respective solo careers.
"I left the recording studio 27 years ago this January, shook hands with everybody, got in a car and went to the airport," Tom recalls in a November interview with Mike Devlin of the Victoria Times Colonist. "It was really great. We did these songs that basically shaped my musical life and I thought that was it."
"You're supposed to put out a record, get in a tour bus, and flog it back and forth, north and south, until you've scraped the last dregs of what's possible with that record, and then you do it all over again and keep repeating that," Stephen says in a November interview with with Fred Cameron of Nexus. "What we did was make a record, play some dates that we'd all agreed to, and then we pack it in and mothball it. Everybody goes back to what they do."
Obviously that isn't how it turned out. The success of that first album (it earned a 1997 Juno Award nomination in the Best Roots and Traditional Album Group category), combined with the musical chemistry and camaraderie that formed between the three musicians, led to a decision to continue recording and touring as Blackie and the Rodeo Kings — with their long-time rhythm section of bass player John Dymond (The Wilkinsons, k.d. lang, Bruce Cockburn) and drummer Gary Craig (Anne Murray, Bruce Cockburn, Jann Arden) — while also pursuing their own solo projects.
While the band still performs Willie P.'s songs during their concerts ("White Line" is the final pre-encore tune at every show), they began writing their own songs, leading to 10 more records over the next two decades: Kings of Love in 1999 (which won a Juno Award for Best Roots and Traditional Album Group), Bark in 2003, Let's Frolic in 2006, Let's Frolic Again in 2007, Swinging from the Chains of Love in 2009, Kings and Queens in 2011, South in 2014, Kings and Kings in 2017, King of This Town in 2020, and their most recent release, 2022's O Glory.
Advertisement - content continues below
Peterborough holds a special place in the band's heart, as Willie P. lived here (sharing a home with well-known local artist Joe Stable) until he died suddenly from a heart attack on February 15, 2008. Blackie and the Rodeo Kings have performed at the Market Hall several times since then, most recently in February 2020 just after the release of King of This Town and just before the pandemic hit — which, like for so many musicians, changed everything.
"We had literally said to each other at the Toronto airport in February of 2020, 'I'll see you in two weeks,' because we were about to tour the record across Canada, Europe, and everywhere," Fearing explains. "I didn't see them for two and a half years."
With Stephen living in Victoria, Tom in Hamilton, and Colin in Nashville, Tennessee, the pandemic posed a special challenge for the band's writing and recording of their latest release, O Glory. Before the pandemic, they had planned to gather at Linden's Pinhead Recorders home studio in Nashville, where they had recorded King of This Town.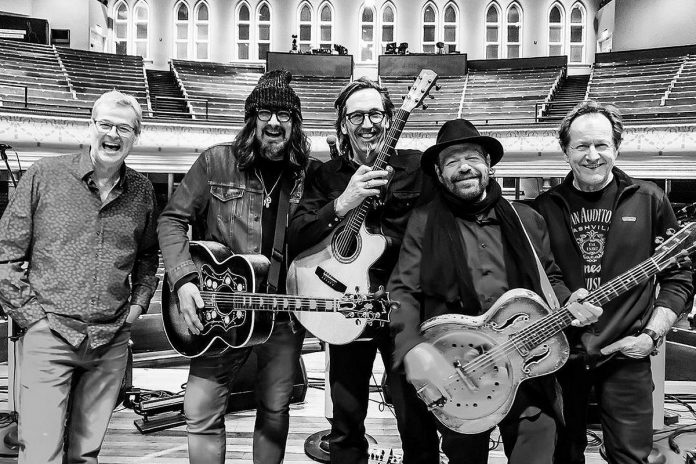 Tweet this quote
"Like a lot of musicians, after the initial shock of the pandemic lockdown, the impetus became finding ways to connect with the world," Stephen says in a media release. "Technology has come so far in the last few years, and it has made remote recording possible. I pounced on it. Colin gave me a lot of advice and took charge musically. It was then a matter of coming up with songs and getting them to each other."
The band wrote the songs piece by piece, sharing ideas electronically, with Colin producing the record.
"Tommy would send me a voice memo with a verse, or a verse and a chorus, and he was pitching strike after strike," Colin says in a June interview with David McPherson for the Toronto Star. "The songs were so great I could not let a day end without finishing these songs and recording them — those songs are the backbone of this new record."
Advertisement - content continues below
"To me, this is Tom's record," Stephen points out. "We all wrote and sung on it, but Tom's recent journey discovering his Mohawk heritage definitely surrounds the record's spirit from start to finish."
Now 63, Tom discovered in his 50s that the Irish-French heritage he believed he had while growing up in blue-collar Hamilton was a lie. He accidentally found out he was adopted and someone he thought was his cousin — a woman of Mohawk heritage — was actually his birth mother. That discovery led to his bestselling 2017 memoir Beautiful Scars, followed by a feature-length documentary film based on his memoir that premiered at the 2022 Hot Docs Festival.
"It's Tom's record in so many ways, but it's also the sound of Colin Linden's mind," Stephen notes. "If you're going to get a guitar part from Victoria, and a vocal from Hamilton, and a drum part from a basement in Toronto, and make it sound like we're all in the same room, you have to have a real mastery of your craft. You have to create a space for all of these things to exist in and that's Colin's genius. He's pretty good at that."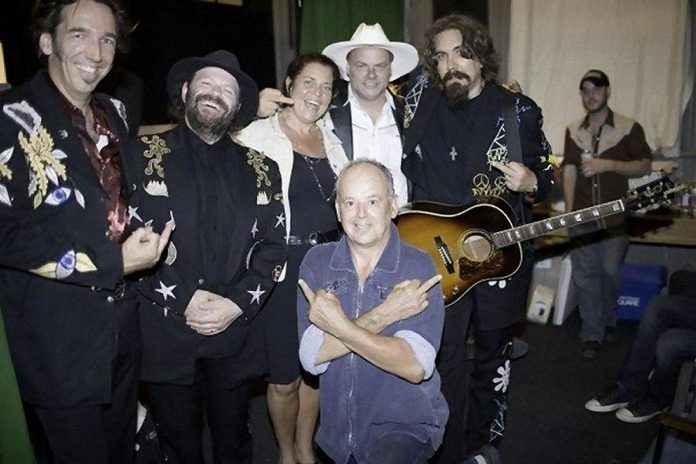 Tweet this quote
Along with the mutual respect, admiration, and friendship between members of the band, another reason for the longevity of Blackie and the Rodeo Kings is that each musician has continued to pursue their own separate interests since 1996. For example, Tom is an established visual artist as well as an author and solo musician, Colin records and produces and was the long-time musical director of the hit ABC television show Nashville, and Stephen has continued to release his own solo records every few years.
"Bands are notorious for tearing each other apart, oftentimes because the band is the only creative outlet," Stephen explains. "With us, rather than breaking up to pursue solo efforts, that's what we do. We are all solo artists but, when it comes time to get back together, it's a joyful occasion with a lot of laughs and a lot of love."
"Blackie has always been like a shield for us — it's our refuge," says Colin, with Tom adding the band "is something we go to when we are hungry — it's something that is completely a labour of lust and as a result we have a great time doing it."
"It's exceeded our dreams in so many ways," Colin says. "We never thought we would do a gig, let alone talk about staying together for more than 25 years."
Opening for Blackie and the Rodeo Kings at their Market Hall concerts is the Juno Award-winning duo Digging Roots, a musical partnership between ShoShona Kish and Raven Kanatakta that balances Indigenous tradition and modern aesthetics, blending folk-rock, pop, blues, and hip hop with the traditional sounds of Indigenous music.
In June, the duo released their fourth album Zhawenim and, in October, received three Canadian Folk Music Award nominations for Contemporary Album of the Year, Indigenous Songwriter(s) of the Year, and the Oliver Schroer Pushing the Boundaries Award.
Also joining Blackie and the Rodeo Kings is special guest Terra Lightfoot. The Hamilton-based Juno award-nominated roots-rock musician released her fourth album, Consider the Speed, in 2020.
Advertisement - content continues below
VIDEOS
"O Glory Lost Those Blues Again"

"Cold 100"

"Medicine Hat"

"South"

"I'm Still Loving You"

"Stoned"

"Sometimes It Comes So Easy" by Willie P. Bennett (Loveless Cafe in Nashville, March 2014)

"White Line" by Willie P. Bennett (Market Hall in Peterborough, November 2012)

"Skoden" by Digging Roots