As Greek storyteller Aesop says, "No act of kindness, no matter how small, is ever wasted."
Giving Tuesday — a global day to support projects that matter — is November 29th this year.
In Peterborough, charities like GreenUP are sending out calls to action leading up to this day, to help fund initiatives that create healthier communities.
Since 2013, Giving Tuesday has encouraged giving on a week traditionally dedicated to shopping for oneself. It has grown from being a strictly North American project to having over 80 countries actively participating in donation campaigns.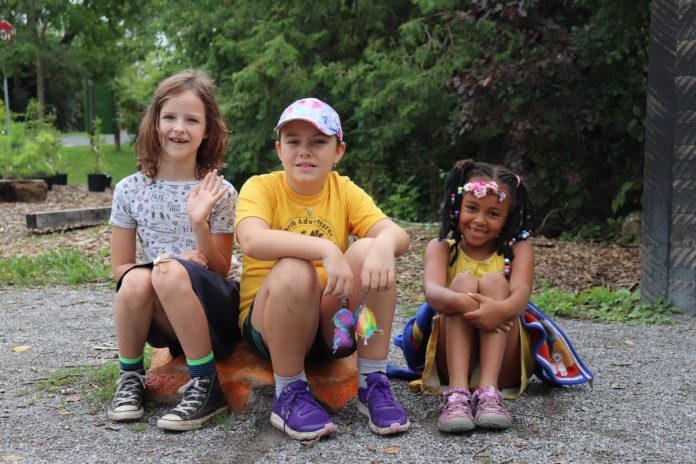 This year, it is predicted that world wide over $3.2 billion will be donated on Giving Tuesday to support thousands of community projects and charities. No wonder it has been called the "World's Largest Generosity Movement."
GreenUP is a local charity. Our work is focused on the importance of collaborative efforts to reach our climate goals. We believe that, by working together at both a grassroots level and as a global community, we can limit the warming of the climate to 1.5 degrees and reduce our carbon dioxide emissions by 50 per cent by 2030. Our success will be achieved by the combined effort of young people and community groups, alongside governments, residents, and businesses.
The saying goes that it takes a village to raise a child. As GreenUP celebrates our 30th anniversary, we know that if it were not for the generous support of donors and champions like you, 30 years of climate action would not have been possible. We know that with generous collaborative effort, we can see progress securing a healthier future for us, for our children, and their children after that.
Donating towards a secure future shouldn't be onerous — and like Aesop mentions, a little goes a long way this Giving Tuesday. On November 29th, consider donating to a charity like GreenUP to support 30 more years of local climate action.
This year, GreenUP aims to raise over $30,000 in donations to allow us to continue inspiring and empowering environmentally healthy and sustainable action in our community. With donations before, after, and on Giving Tuesday, GreenUP will build back community spaces and programs that have seen challenges over the last three years.
Last May 21st marked the spring opening event at Ecology Park and also the derecho storm which struck with such force that it downed and damaged over 50 trees in our key programming areas. We have begun replanting after this event, but there is much work yet to do.
Natural disasters like these remind us that community spaces are fragile, and require careful tending to ensure future generations can use them to play and learn.
Tweet this quote
Sadly, a string of break-ins at Ecology Park has also taken its toll, causing loss of equipment and costly repairs needed on five small buildings within the park and native plant nursery. Ecology Park hosts camps like Earth Adventures and Girl's Climate Leadership, as well as many schools outdoor education programs — our young people who need safe and secure play and learning areas.
As well, the ongoing pandemic continues to disrupt programs for both our participants and staff. Not-for-profits like GreenUP need community support and investment to be able to return to regular, safe programming.
We hope that you can see the benefit of participating in Giving Tuesday. With donations and support from people like you, GreenUP can proceed with determined optimism, fortunate to offer adapted inspiring outdoor educational opportunities for young people and families alike.
"Resiliency is a collective effort," says GreenUP executive director Tegan Moss. "With your support, we intend to care for and learn in community spaces like Ecology Park for at least 30 more years."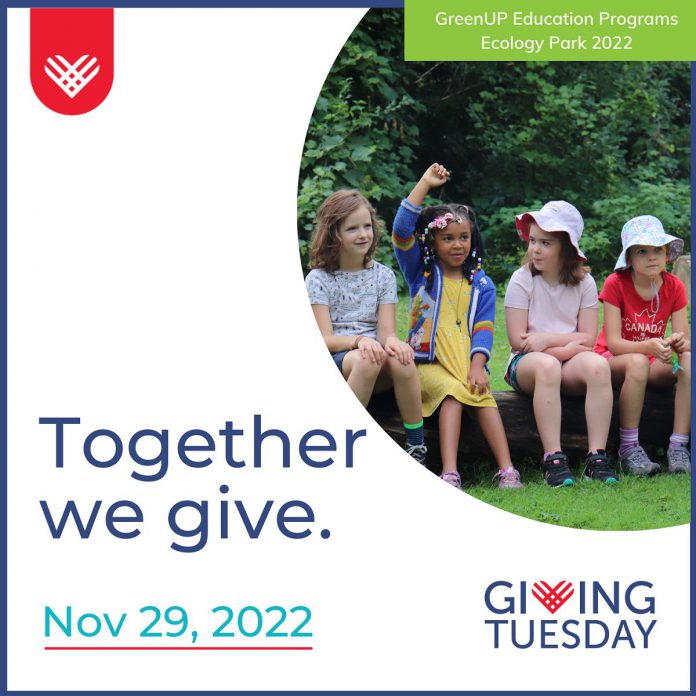 With champions and supporters like you, everyone at GreenUP knows that we can inspire positive change and empower urgent action in our community as a whole. Join hundreds of thousands of donors across the world in supporting not-for-profits this year.
Help us reach our goal by making a donation this year, or become a "Friend of GreenUP" by committing to monthly donations. You can also support our work by doing some of your holiday shopping for locally made gifts at our Store and Resource Center at 378 Aylmer Street in downtown Peterborough.
All donations as well as proceeds from the store support our projects across our region. For more information and to donate, visit www.greenup.on.ca/donate-to-greenup/.
This story was published in partnership with Peterborough GreenUP.