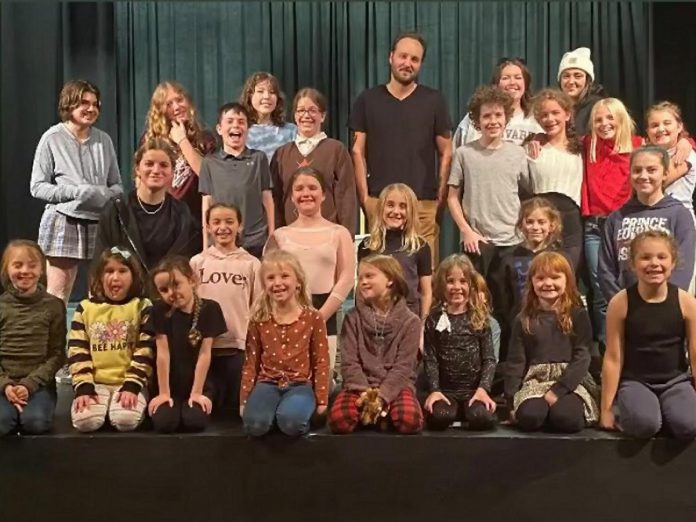 As Andrew Loeb rehearsed for his theatrical debut, he found himself immersed in a sea of youths — a very good place to be for someone whose expressed desire is to "keep from becoming like the grown-ups just a little bit longer."
The sole adult actor in the Peterborough Theatre Guild production of Cummins and Scoullar's The Little Prince, Loeb will be joined by a cast comprised of 25 children and teens for the staging of the holiday family musical adapted from French writer Antoine de Saint-Exupéry's 1943 novella Le Petit Prince.
Opening Friday, December 2nd at the Guild Hall on Rogers Street, performances continue until Sunday, December 10th. Tickets cost $10 and are available by calling 705-745-4211 or online at peterboroughtheatreguild.com.
Advertisement - story continues below
For director Jacqueline Barrow, who is making her return to the community theatre realm after a six-year absence, an infectious spirit of youthful energy and enthusiasm is at the heart of the production.
Yes, there's a story to hold true to, and that will be done, but then there's also the opportunity for the youthful cast members to discover and act on who they are, what they have to offer, and how that will translate into the end goal of treating their audience to a thoroughly entertaining experience.
"In terms of exploring really grown-up themes for children, that's probably what the author intended," Barrow says, referring to Saint-Exupéry's book written during World War II and upon which the play is based. "I wanted the kids to feel a sense of ownership over that. Trying to explain some of these really grown-up ideas to them and put them in the context of when it was written was challenging, but they came up with some really beautiful ideas of how to present and share the message."
Tweet this quote
"This was not a book that I gravitated toward when I was younger. When the opportunity (to direct it) presented itself, I started to see all the pieces fall into place. I wanted the set to be minimal. I wanted the props to be minimal and look like a child might have created them with paper maché and cardboard, and bring to life what I hope the author intended. But also how you can modernize things or tell it a different way."
Helping Barrow in her task is accomplished actor and director Linda Kash, who is serving as creative consultant.
"It's an innocent show but it's also a philosophical show, and it's very poetically written," assesses Kash. "The challenge is for little kids to understand that, even though there's poetry, they're real people — they're real characters. The more grounded they can be in their characters, the more they will communicate that to the audience. The optimum word is magic. It is a magical story."
Key, says Kash, has been Barrow's interactions with her cast.
"She commands the room in such a gentle and kind way," Kash says. "The kids have respect for what Jacqueline has to say, but there's not any kind of intimidation going on. It's such a fine balance. They have to feel like they're very much a part of it. I'm so impressed by how deeply they receive direction and that feels a little bit adult."
What makes the Peterborough Theatre Guild production of The Little Prince — with music by Rick Cummins and script and lyrics by John Scoullar — so unique is that all the roles but one are played by children and youth.
Advertisement - story continues below
"There are archetypes in it that are older than the kids," Kash explains. "There's a conceited man, a businessman, the monotonous job of the lamplighter … they all represent facets of human nature. I'm so pleased that, when I got the chance to work with the kids individually on their scenes, they could take it — they can talk about human nature."
"They understand and their instincts are really good. The work is to encourage them to go with those instincts and hit the back wall of the theatre with it. Don't be so precious with it. Share it. That's a direction you give to adults as well. Don't be shy. Tell the story."
That story, translated into more than 500 different languages and dialects — the second most translated work ever published trailing only the Bible — makes timeless observations about the nature of adults, innocence, self-discovery, and the meaning of love and loss.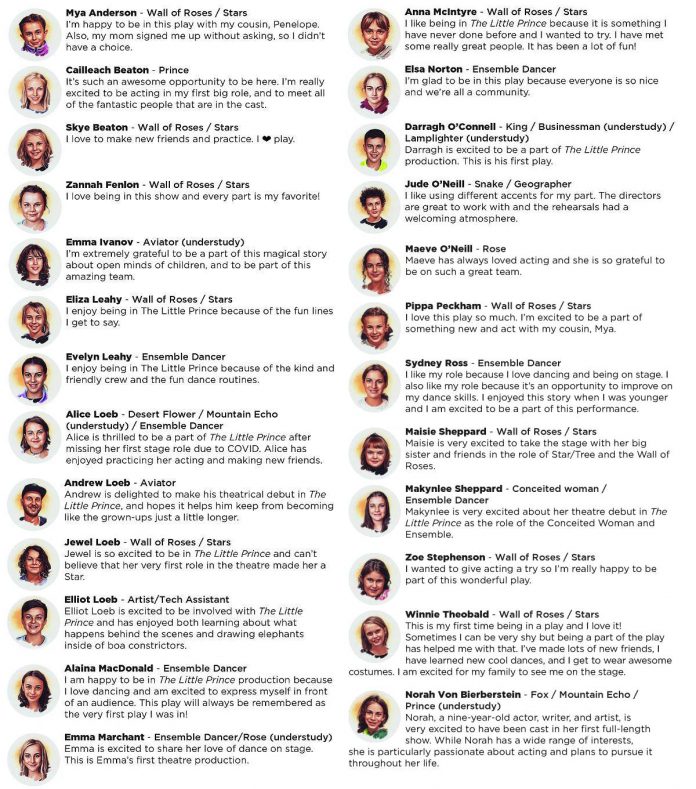 In the play, a narrator (Andrew Loeb as the Aviator in the role played by an adult) recalls why his six-year-old self decided to become a pilot instead of an artist after grown-ups couldn't understand his drawings.
He then recounts crashing his plane in the Sahara Desert and encountering a young boy (the Little Prince, played by Cailleach Beaton) from a small asteroid known as B-612 who relates his visits to a number of planets, each inhabited by a single narrow-minded grown-up — the King, the Conceited Woman, the Businessman, the Lamplighter and the Geographer — and, after his arrival on Earth, his encounters with the Snake, the Flower, and the Fox. In the process, they jointly discover how to laugh, how to love, and the importance of watching the sunset.
"At one point we were talking about a certain plot point that had a darkness to it," Kash recalls. "The vote amongst the adults was that we should lighten that moment up. The vote amongst the kids was 'No, let's tell the story as written.' They wanted to tell it as it was and not 'Disneyfy' it, which was very impressive."
Advertisement - story continues below
Tweet this quote
For both Kash and Barrow, the opportunity to work with young people is a reward unto itself, with Barrow noting one of her big goals after being away from the stage so long is "to start mentoring the next generation of young performers. I really wanted as many kids as possible to have an opportunity to be a part of this. Along the way, we've had a blast."
Kash — herself no stranger to mentoring and working with youths via the many workshops she leads — says she has "a very healthy love of educating and inspiring young people. I believe, more than anything, if you have any ability in mentoring and teaching, it's your job to pass on your knowledge."
As for her involvement with this production, Kash says "I love the energy. I love the awkwardness. They allow me to play without making me feel like an old fogey."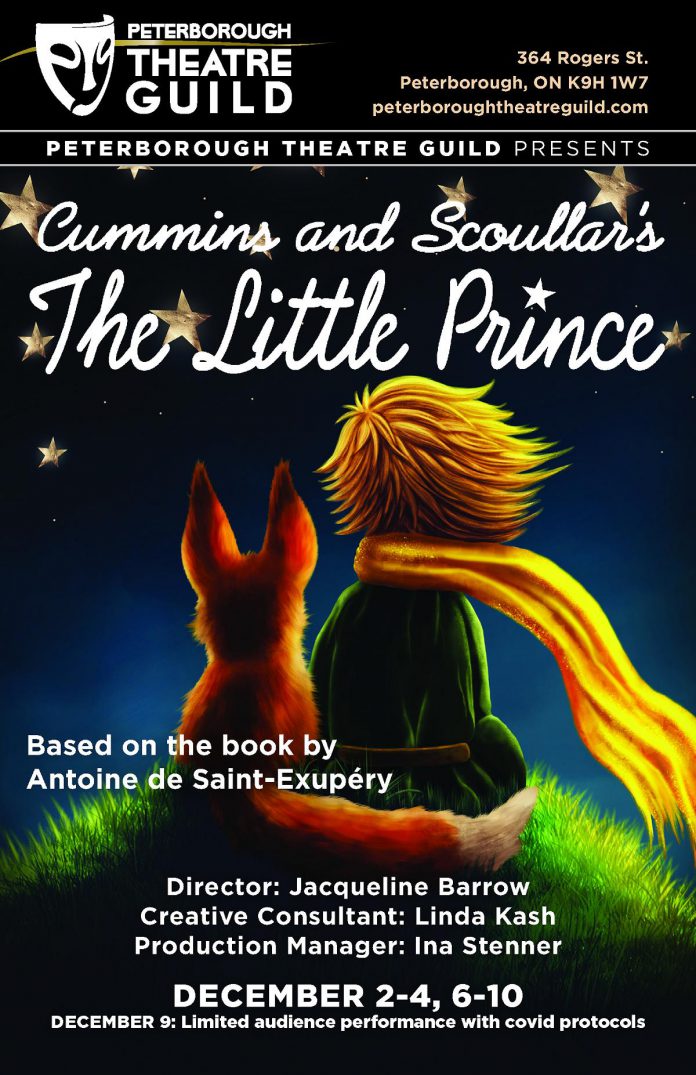 Tweet this quote
Now, as opening night of The Little Prince nears, both Kash and Barrow are chomping at the bit.
"It's like being in labour," Kash laughs. "It's hours and hours, it ain't pretty, everybody has to be super patient, and then you deliver this baby. It's such a proud thing, especially for Jacqueline, because of how many kids and how many hours she has put in to make sure that this comes off. It's beyond impressive."
"There's nothing like theatre. I've done stage and film and television but theatre is right here, right now, just for us — the people in the room. Anything could happen. There's not a second take. We're going to tell the story. We're going to hold hands and jump in together. There's no feeling like that on the planet."
Advertisement - story continues below
Tweet this quote
For her part, Barrow says The Little Prince presents "a really great opportunity to not only come out and support local theatre and local artists but to see a really classic story re-imagined with local youth, and explore that sense of being young and finding magic in as simple a thing as watching the sunset. It's an opportunity to find beauty in everyday life."
"It's also a good chance to have conversations with your kids after the show. 'Did something make you inspired or uncomfortable and why?'"
Sponsored in part by kawarthaNOW, Cummins and Scoullar's The Little Prince opens Friday, December 2nd and continues to Saturday, December 10th, with performances at 7 p.m. on December 2nd and 6th to 9th, with 1 p.m. matinee performances on December 3rd, 4th, and 10th.
While audience members are encouraged to wear masks at all performances, a special evening performance on December 9th will be available for those more comfortable attending a show with COVID protocols in place. Masking will be required for that performance and there will be limited audience capacity with spaced seating. For tickets to that show, email Yvonne MacDougall at pearlwildmacdougall@yahoo.com.
kawarthaNOW is proud to be a media sponsor of the Peterborough Theatre Guild's 2022-23 season.