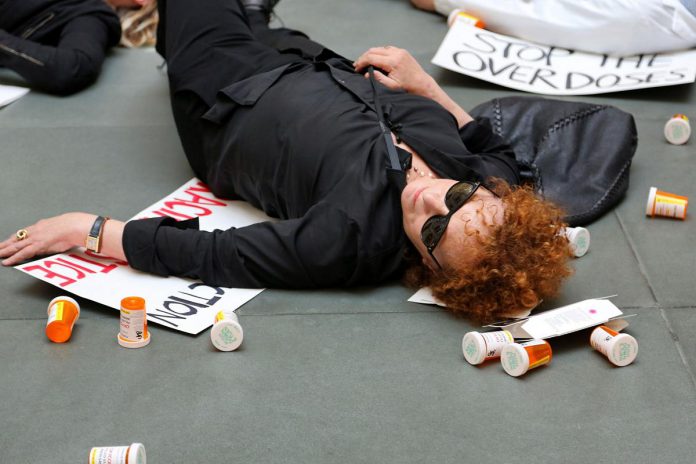 Dear ReFramers,
It is the other most wonderful time of the year: when the calendar moves forward, the hubbub of the holidays subsides, and the ReFrame program is ready to be peeped, combed, and devoured! From artists and activists to walruses and whales, ReFrame 2023 is a feast for hungry hearts.
This year's program highlights the way art, music and the imagination resists and exposes the exploitation of power. The interconnected issues of the overdose crisis and healthcare, the environment and capital, policing and protest are not separate from each other. A film about the climate crisis is also about racial inequity; a film about violence against women is also about colonialism; a film about war is also about homophobia, and so on.
No one festival can break down all barriers, but many of the films in this year's program seek to create throughlines.
Advertisement - content continues below
The festival kicks off with what critics are calling the year's best doc, All the Beauty and the Bloodshed — a powerful way to return to in-person movie-watching after three long years! All the Beauty encompasses an intersectional lens, as does the life of Nan Goldin, the film's fearless protagonist.
After an early adulthood as a famed photographer documenting and defending her queer community, Goldin's life shifts when she becomes addicted to opioids. Following the money, Goldin recognizes that the millionaire family who created oxycontin are the same Sacklers whose name adorns major galleries and museums throughout the world.
Goldin's persistence — using her own clout and story to engage a movement to challenge the pacificity of these institutions — is unwavering.
VIDEO: "All the Beauty and the Bloodshed" trailer

From stories about inspiring artists, to important conversations surrounding climate justice and innovations in the documentary genre, the virtual festival carries forward many important themes that expand on the aforementioned overarching one.
As a global community we face an environmental crisis, and the ReFrame program responds to that imperative by sharing films that highlight discussions about climate justice.
The disruptive tactics of the UK-headquartered global environmental movement Extinction Rebellion featured in Rebellion are compelling in their immediacy and ability to stir public discourse, while the activists going the legal route in Norwegian Headache show formal processes inciting change. High Tide Don't Hide follows several youth engaging in school climate strikes across New Zealand, and doesn't shy away from important conversations including confronting racism, power, and privilege within their movements.
Advertisement - content continues below
Joining Nan Goldin in the fight for justice are many critical artists challenging the status quo, profiled in films across the festival.
Buffy Sainte-Marie: Carry It On follows the incredible Cree songstress as she rises to fame, uses her influence to create opportunities for other young Indigenous artists, and explores what happens when her political commitments make her a target for US state officials. Eternal Spring features comic book artist Daxiong who illustrates his own story about hijacking a state TV signal in China.
Films by artists pushing the bounds of the documentary genre include Framing Agnes and Foragers, whose use of actors and re-enactments remind audiences that stories are constructed, and it matters who is telling the story, and how.
VIDEO: "Buffy Sainte-Marie: Carry It On" trailer

An exciting series of in-person events at Artspace feature projects combine community creation, documentary, sound, and visual art. From fantastical to hyper-real to participatory works, they speak to the possibility art-making holds for community members to be seen and heard on their own terms in new, and perhaps surprising, ways.
The main exhibition includes What Fools These Mortals Be, an installation that reimagines Shakespeare's A Midsummer Night's Dream in a series of living pictures performed by formerly incarcerated women. The Dreaming, a companion piece to What Fools, is an interactive sound installation that recounts the dreams of those same participants.
Several special projects animate this main exhibition including Intravene, an immersive audio experience about an overdose prevention site, and valentine-making for Love Positive Women, an annual event that engages in public and private acts of love, and caring for women living with HIV.
Also at Artspace, the panel discussion "What Role Can Art Play in the Overdose Crisis?" features internationally recognized harm reduction advocate Zoë Dodd, artist and Peterborough city councillor Alex Bierk, founder of Tweak Easy overdose prevention site Mkwa Ghiizis (Crystal Hebert), photographer and community organizer Jeff Bierk, and artist and academic Brenda Longfellow.
This incredible group will offer insights into how they mobilize their art practices, their work, and their activism to speak out against the crisis and advocate for greater rights, supports and protections for people who use drugs.
On behalf of ReFrame staff and volunteers, including the Programming Committee and Board of Directors, I want to welcome you to the 19th edition of the ReFrame Film Festival. May ReFrame continue to incite discussion, inspire dreams, and instigate action for years to come!
With love and light and sincere gratitude,
Amy
Advertisement - content continues below
For opening night tickets, virtual festival passes, festival ticket packs, and pay-what-you can tickets for individual films, visit reframefilmfestival.ca/festival/passes-tickets/.
kawarthaNOW is proud to be an official media partner and sponsor of the 2023 ReFrame Film Festival.