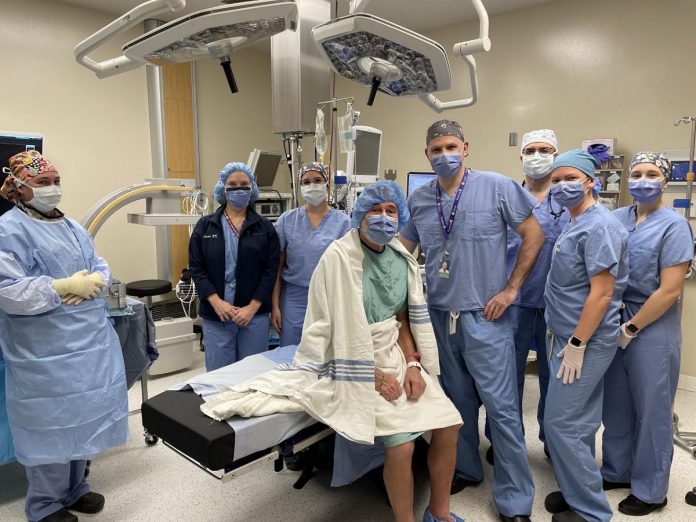 Ross Memorial Hospital in Lindsay has become the first hospital in Ontario to use an Insignia femoral stem implant in hip replacement surgery.
Orthopaedic surgeon Dr. Sebastian Heaven performed the inaugural surgery last Wednesday (February 15) on patient Arthur Goard.
The Insignia femoral hip stem, manufactured by Michigan-based Stryker Corporation, was recently approved by Health Canada.
Advertisement - content continues below
In hip replacement surgery (also known as hip arthroplasty), damaged bone and cartilage is removed and replaced with a prosthetic implant. There are two techniques used to secure the implant in place: one uses a type of bone cement and the other relies on the natural bone growing into and over the implant. The implants used for hip replacement surgery can either have a collared stem or a collarless stem.
Collared stem implants, which consist of a metal stem inserted into the femur and a collar that fits around the top of the stem, are designed to provide additional stability to the implant by helping to prevent it from shifting or rotating within the bone. Collarless stems are designed to allow for more natural movement of the hip joint, as they do not restrict the range of motion in the same way that collared stems can.
According to Dr. Heaven, there is increasing movement towards using collared stems in hip replacements that don't use bone cement, which is the majority of hip replacement procedures in North America. Research shows improved survival of collared implants versus their collarless versions, ultimately meaning a lower likelihood of needing a second surgery after hip replacement.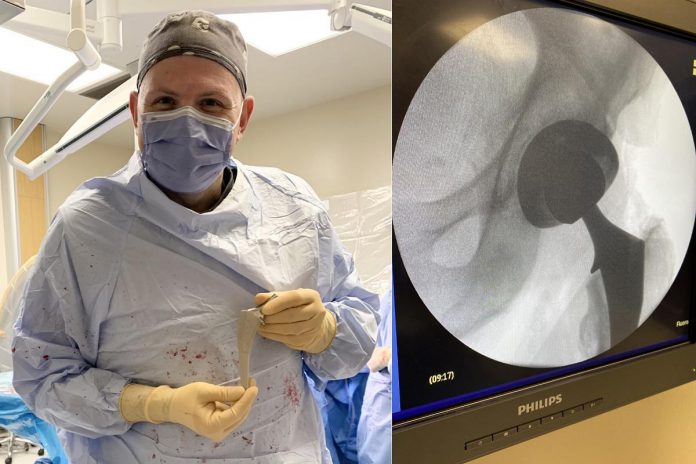 Advertisement - content continues below
Tweet this quote
"The implant we've used has some unique proprietary design features that are all geared towards maximizing the probability that the implant is stable and grown onto by the patient's own bone, functionally making it a part of their body," Dr. Heaven explains in a media release.
"Collared stem design and its behaviour after implantation when compared to collarless designs was also the topic of my master's thesis, so it's an area of particular interest for me. I'm delighted our smaller, rural hospital can be at the forefront of available hip implant technology."
Hip replacement surgery is considered a highly successful procedure, with a very high rate of patient satisfaction and long-term success in relieving pain and restoring mobility. Ross Memorial Hospital conducts around 150 hip replacements every year, and Dr. Heaven foresees the majority of them in the future will use the Insignia femoral stem implant.