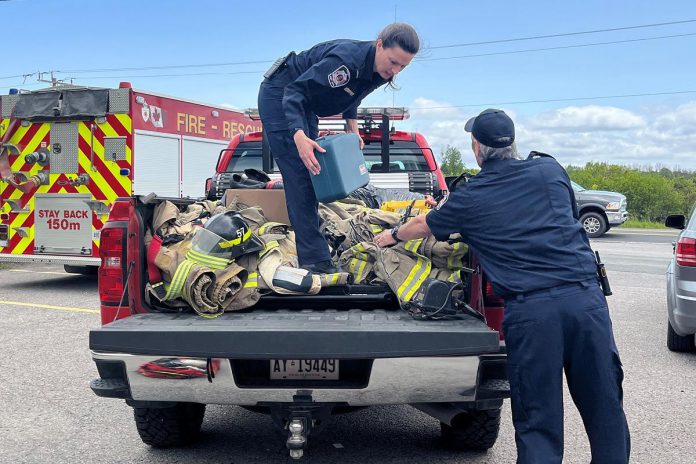 Port Hope Fire and Emergency Services has donated hundreds of items of used firefighting equipment to be used in the fight against wildfires in Alberta and Saskatchewan.
The equipment was donated to Firefighters Without Borders Canada, an organization founded in 2010 that provides training and firefighting equipment to communities in need around the world.
The donation includes 25 self-contained breathing apparatuses (SCBA), 50 SCBA bottles, hose fittings, radios, uniforms, lights, confined space rescue equipment, and various personal protective equipment including bunker gear, coveralls, and hoods.
Advertisement - content continues below
"We are so pleased to extend the life of this essential fire response equipment," says Port Hope fire chief Jeff Ogden in a media release. "We are honoured to support this organization and provide other fire departments with this important life-saving equipment."
This gear will be driven to the Firefighters Without Borders Canada warehouse in Belleville to be packed with other donations and shipped by transport to western Canada, where it will be used to support First Nations communities in northern Alberta and Saskatchewan.
"On behalf of council, I want to thank our fire chief and Port Hope Fire and Emergency Services for stepping up to support this worthy cause," says Port HOpe mayor Olena Hankivsky. "The devastation of the fires in western Canada is a concern for all Canadians and I am so pleased that we can do our part to contribute to the aid efforts with the resources we have available."