A former Peterborough paramedic who turned her love for flowers into a business has rebranded her Ennismore flower farm as Sanctuary Flower Fields.
A paramedic with Peterborough County-City Paramedics for 14 years, Kelly Convery says she was passionate about her career but the mental health toll was heavy.
While on maternity leave in 2019, she decided to focus on her family and her love of flowers, starting by growing a small patch of flowers. Her decision to leave her paramedic career was cemented after the tragic death of her close friend Jessica Dalliday. The well-known Peterborough entrepreneur died in April 2021 following a complication that had taken the life of her newborn daughter five days before.
Advertisement - content continues below
Tweet this quote
In a media release, Convery says she found flowers "to be her sanctuary" while she was dealing with both the stress of being a paramedic and then the grief over the loss of her friend, adding that multiple studies have proven the profound mental health benefits of flowers.
"Working as a paramedic, I was reminded of impermanence everyday," she explains. "Facing unimaginable and unexpected tragedies regularly, I found myself feeling more driven to live my life to the fullest, and go after what I want."
"Oddly enough, here I am selling cut flowers — which we all know are perishable," she adds. "I like to think of this as a gentle message of impermanence. A nudge for everyone to enjoy the simple beauty, and savour each moment as it comes."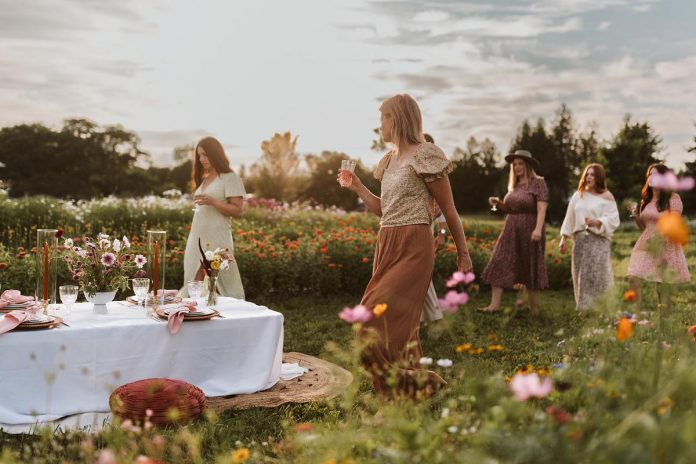 Located in Ennismore, Convery's business was originally named The Flower Patch. She admits that, with no agricultural or farming background, she is learning as she grows.
"I really have no idea what I'm doing," she joked on her Instagram account in 2022. "Just a few years ago I planted potato vine — and I expected to grow potatoes? If I can do this, anyone can."
Today, Convery's small-scale flower farm — rebranded as Sanctuary Flower Fields — offers a variety of services ranging from floral design to photography opportunities in "The Flower Field" a hit with local photographers.
Advertisement - content continues below
Convery says her seasonal flowers are started from seed, thoughtfully picked, and creatively arranged. She also offers "joy jars," bouquets, subscriptions, and wholesale or bulk bloom options.
Convery says her flower farm has been well received in the community, with flower orders and field rental inquiries "flooding in." In 2024, Convery hopes to offer pick-your-own dates and other social events.
For more information about Sanctuary Flower Fields, visit www.sanctuaryflowerfields.com.