On Saturday (September 9), brothers Andrew and Sean Fitzpatrick will be celebrating both the one-year anniversary of their online independent bookstore and the grand opening of a new bricks-and-mortar location in Peterborough's East City that will offer much more than just books.
Take Cover Books began with the brothers' desire to "replicate the in-store experience for folks who shop online," Andrew tells kawarthaNOW.
But after a year of online success delivering local titles and bestsellers, the brothers are ready for their next chapter. With the help of the Starter Company Plus program — a provincially funded entrepreneurial training program delivered locally by Peterborough & the Kawarthas Economic Development — Andrew and Sean gained the financial support and mentorship to open a retail storefront at 59 Hunter Street East.
Advertisement - content continues below
Tweet this quote
"People really have a physical connection with books, so we took the leap and found a really nice place within the city," says Andrew.
After seeing success in the storefront's first few weeks, the brothers are ready to host their grand opening on September 9 beginning at 10 a.m. The day will include book signings by Peterborough native Kerry Clare, the Toronto-based author of the novel Asking for a Friend, which will be released the Tuesday before the opening.
There will also be raffles and giveaways of book bundles from Penguin Random House Canada, donated titles from local authors, and gift cards to the bookstore.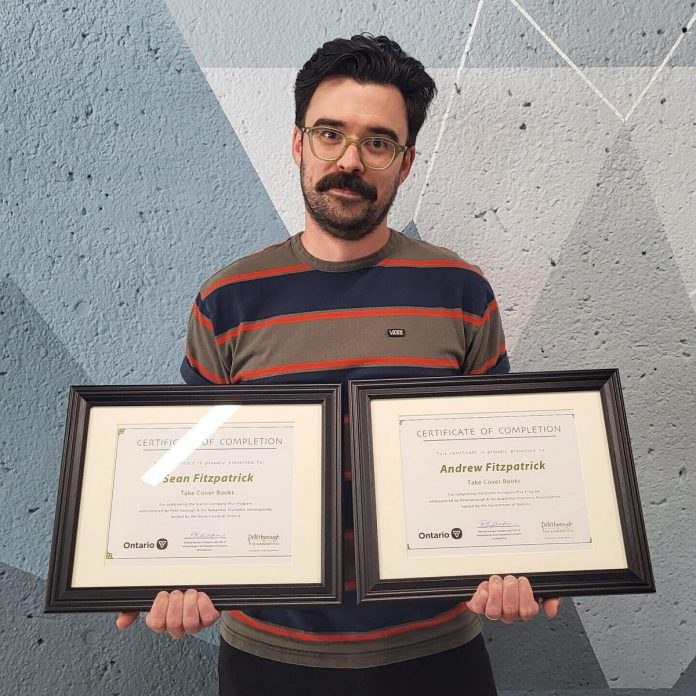 Andrew says one of his and Sean's favourite things to do is host the Take Cover Books Reading Club, with meetings held online on the last Wednesday of every month over the past year. The brothers are eager to eventually offer a hybrid of online and in-person meetings right out of the new bookstore.
"We have an amazing group of people, and it continues to grow every month, which is super exciting," says Andrew, adding they want to keep it accessible because so many people come from outside the city, even as far as Toronto. "I love that people are telling their friends about it and their friends are wanting to join. It's the best thing to hear that people are enjoying themselves."
To meet the bookstore's ethos of providing a very accessible space to all, the reading club is entirely free to join and there is no requirement to purchase reading material from Take Cover Books.
Advertisement - content continues below
"The club is community building and it's lovely that it's working that way." Andrew says. "If people want to buy the book from us, obviously we will sell it to them, but if that is a barrier of entry for you, that's fine — [selling books] is not really why we're doing it. Getting the book from libraries, ebooks, audiobooks, anywhere, is all fair game."
Once the bricks-and-mortar location is in full swing, the brothers plan to also host a film club to offer a space where people can connect over a shared movie-watching experience.
Andrew explains the reading and film clubs are part of an effort to make Take Cover Books much more than a bookstore. With a line-up of events already scheduled into November, the bookstore will be a place for book launches, signings, and readings, including Saturday morning book readings for kids.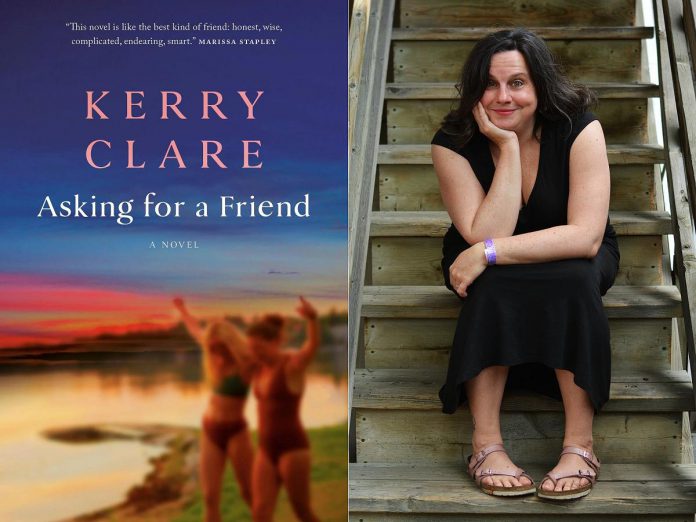 Tweet this quote
Upcoming events will feature local authors including Vanessa Westermann and Frank Flynn as well as Ian Rogers — the author of the award-winning collection Every House Is Haunted, which was recently optioned by American filmmaker director Sam Raimi (Spider-Man trilogy, Evil Dead franchise), with a feature film adaptation of the story "The House on Ashley Avenue" currently in development for Netflix.
The Fitzpatrick brothers also welcome anyone with an interest in using the space for community-building events and programming to reach out to them.
"It's a community meeting space," says Andrew. "We want this to be a positive, barrier-free space for people who would like to use it."
Advertisement - content continues below
"Very few people are just interested in reading or writing," Andrew adds. "We want to make sure that we can enthusiastically reflect the diversity of artists and their work in Peterborough and use our space to do that."
Located at 59 Hunter Street East in Peterborough's East City, Take Cover Books is open from 11 a.m. to 5 p.m. Monday and Tuesday and from 10 a.m. to 6 p.m. Wednesday through Saturday. For more information, to browse available books and shop online, and for upcoming events, visit takecoverbooks.ca.
For updates on new books and events, you can also follow Take Cover Books on Instagram and Facebook.