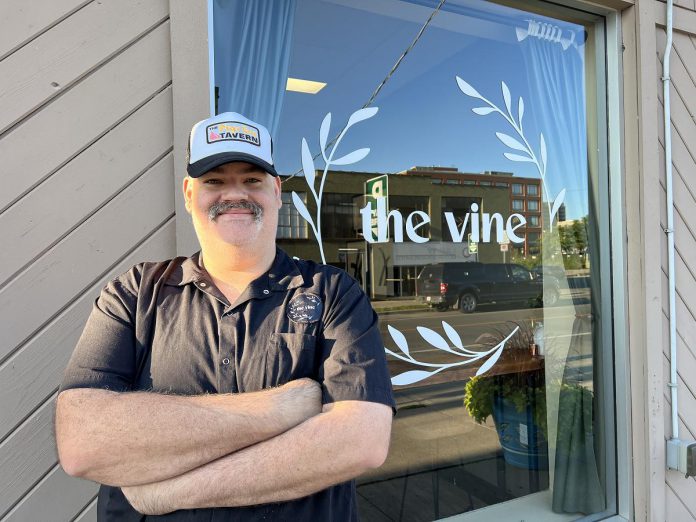 With 20 years of restaurant experience under his belt, there are three things Tyrone Flowers said he would never do over the course of his career: bake, serve vegan, and do brunch. Now, he does all three at one of Peterborough's newest downtown restaurants, The Vine.
The plant-forward restaurant opened its doors back in May to serve up pescatarian, vegetarian, and vegan comfort foods and weekend brunch. The restaurant just recently received their liquor license, allowing them to introduce craft beer, wine, and specialty cocktails to their already-loyal customer base.
Along with the new drink list, The Vine has made a few other changes around the restaurant including a menu with all-new fall-inspired dinner items, a rotating lineup of baked goods, and fresh breads available wholesale. The Vine will also be hosting events within the restaurant as part of their effort to make the space accessible to all.
Advertisement - content continues below
Tweet this quote
Although The Vine opened just months ago, it was actually years in the making. When Flowers and his partner Lauren Mortlock moved from Toronto to her hometown of Peterborough five years ago, he had always intended to open his own restaurant. When they came across the available space for lease, the couple took the chance and opened a restaurant that was welcoming to all, no matter their diet, serving a mix of seafood, vegetarian, and vegan cuisine.
"I've noticed that if it's not a vegan restaurant itself, nine times out of ten, vegan options are a curry or a salad," Flowers explains. "But if you (want) go to a 100 per cent plant-based restaurant, there's always one or two friends who are not cool with that and don't want to go and turn their nose up at tofu. So, we thought, why not incorporate everything so that everybody can come and enjoy a meal together?"
Though Flowers and his partner are meat-eaters themselves, his decades of restaurant experience — working as everything from a dishwasher to bartender to chef — has allowed him to explore all kinds of cuisine. He has also learned from the best in the neighbourhood, spending four and a half years moving from line chef to sous chef at Publican House Brewery & Pub, before moving to Revelstoke Café where he learned more about vegan cooking.
"I just thought that I would take everything I've learned from different people and try to combine it into one thing," says Flowers.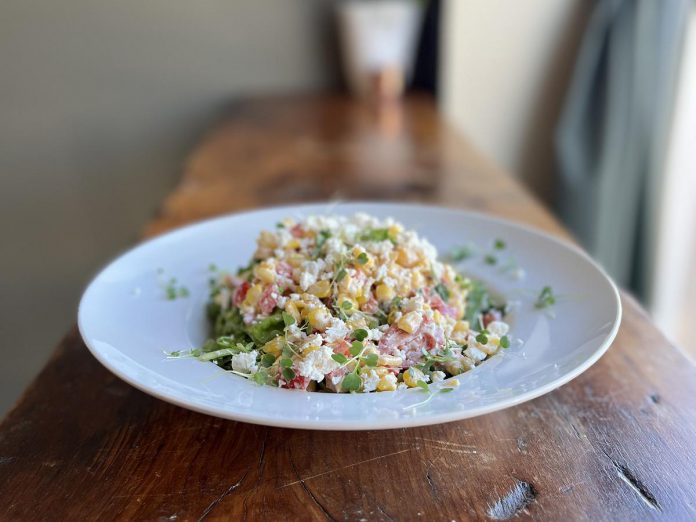 To pair with the The Vine's new liquor license, the updated menu includes a larger focus on dinner items. The couple has also added vegetables and meals that are very fall-focused, like the all-new Street Corn Salad, and more pescetarian options, including Seafood Cakes and Shrimp Tacos to match their well-loved vegan Tacos.
The restaurant hasn't changed the menu completely, as The Vine has kept some of its signature dishes, including the Loaded Tot Waffle on the brunch menu, because, as Flowers explains, "where else would you get a waffle made out of tater tots?"
While The Vine certainly holds its own as a new restaurant on the block, it also carries on the legacy held by its neighbours. Customers of Peterborough's now-closed Pizza Bodega might be familiar with the spicy pickle pizza. With permission from the owner, The Vine now serves up their own variation of the popular pie, created with their homemade sourdough crust, a whipped feta dill base, and topped with pickles and seitan bacon.
"If you like dill," says Flowers, "it's a thing of beauty."
Advertisement - content continues below
As for the drinks menu, The Vine uniquely serves a pitcher of Gatorade on the brunch menu, helping customers recover from weekend hangovers.
For something a little stronger, the restaurant also has a line-up of signature cocktails and some local craft beer and cider, including cans from Rice Lake Hard Cider, a woman-led craft cidery in Baltimore, Ontario.
"They were the first place that I contacted when I knew we were going to get alcohol because I know how good their stuff is," says Flowers, adding that they have brands that can't be found elsewhere in the Kawarthas. "We want to try and offer something that you may not be able to get everywhere and introduce people to something new."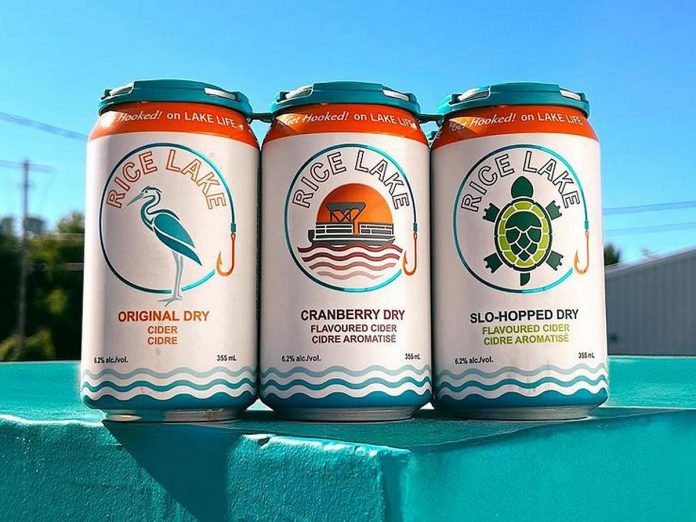 And of course, The Vine is continuing to serve up their Papa Tom's Caesar, which took the crown at the Peterborough's first-ever Caesar Fest hosted in July by the Peterborough Downtown Business Improvement Area (DBIA). Created by Flowers' partner Lauren Mortlock, the cocktail is named after her father.
"My dad's drink of choice has always been a Caesar, so I've been making them forever," she says.
Now served with vodka, the Caesar Fest version was a mocktail because the restaurant didn't yet have its liquor license (The Vine still has two other mocktails on its menu).
Tweet this quote
"I wanted to make sure that we had a flavourful Caesar and it wasn't about the booze, it was about the flavour," Mortlock adds.
She explains there are two key ingredients to the Papa Tom's Caesar: the horseradish (she says a lot of restaurants leave it out of the recipe but it's a necessity) and the Dill Pickle Picante Jalapeño hot sauce, sourced from local small business Don South Hot Sauce Company.
Advertisement - content continues below
Tweet this quote
Those who've visited The Vine might notice that the new menu doesn't include the same list of desserts. But don't fear, in lieu of the bigger dessert items, the restaurant will be serving up goods that are baked fresh every day.
The lineup will be constantly rotating, including cinnamon buns, cookies, scones, and the brownies the restaurant has become known for.
"Instead of having the same things, it's nice to be able to try something new each day," says Flowers, adding The Vine will also be making fresh potato breads and focaccia to sell wholesale right out of the restaurant every weekend.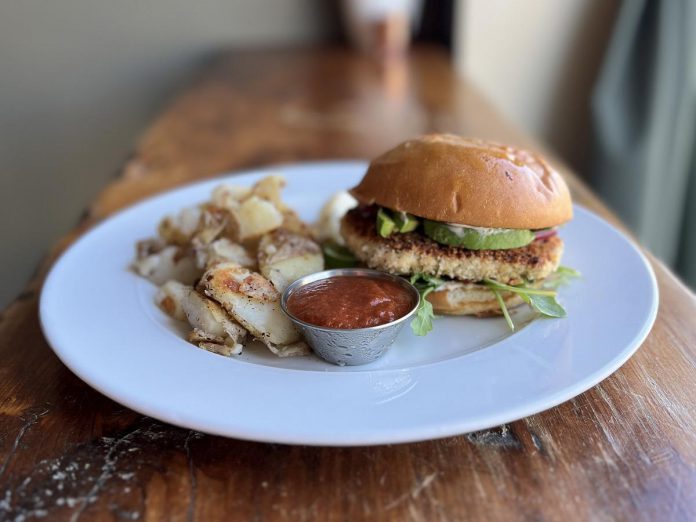 The idea of trying something new each day extends beyond the baked goods, as Flowers and Mortlock are already envisioning The Vine to become more than a space to gather for food and drink.
To do that, Flowers is planning some in-store events, including a drag brunch on September 16 in celebration of Peterborough Pride. The event will include food and drink specials.
"We're both huge fans of the art of drag, everything from watching it on television to attending shows," says Flowers. "We just wanted to show our support for everybody. We believe in a safe space for everybody, and drag is just fun. It's just a good time."
Advertisement - content continues below
The couple are also planning some ticketed dinner events that would include a five-course plated menu from Flowers or other local chefs in the community, as well as movie nights where the community can vote on a movie to play on the projector. The Vine will serve up snacks and drinks related to the film and there's even talks of a good old fashioned popcorn maker making an appearance for the special occasions.
Lastly, for Thanksgiving, The Vine will be serving up take-home meals to feed the whole family. While the menu isn't fully set yet, there will be both a vegan and a pescetarian option.
"If you don't want to cook on Thanksgiving, then just contact us and we're happy to put you down for a take-home meal and make the weekend a little easier for you," explains Mortlock.
Located at 165 Sherbrooke Street in downtown Peterborough, The Vine is also available to be booked for catering and private events. Though hours will be changing in the fall, the restaurant is currently open 11 a.m. to 3 p.m. Tuesdays, 11 a.m. to 8 p.m. Wednesdays to Fridays, and from 9 a.m. to 3 p.m. on Saturdays and Sundays. For more information and to browse the menu, visit www.thevineptbo.com.