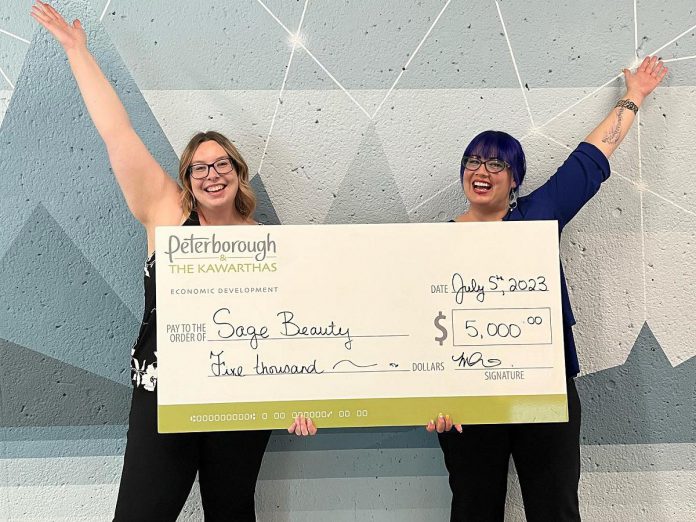 Another 12 local business owners in the Peterborough area are about to benefit from Starter Company Plus, with applications for the fall 2003 intake of the entrepreneurial training program now open at investptbo.ca/starter until September 30.
Funded by the Government of Ontario and delivered locally by Peterborough & the Kawarthas Economic Development's Business Advisory Centre, the program is available to both aspiring to experienced entrepreneurs in the City and County of Peterborough and provides in-class training, business plan development, mentoring, grant opportunities, and more.
For the first time since the pandemic, Starter Company Plus will once again be offering in-person classes.
Tweet this quote
"There's something special that happens in the classroom when entrepreneurs get to work with each other," explains Business Advisory Centre Manager Madeleine Hurrell, noting the decision to switch from virtual to in-person classes was based on feedback from the business community. "They can brainstorm and share ideas and resources. Often entrepreneurship can be very lonely, so the connections are invaluable."
Also new this year, participants in Starter Company Plus will receive a six-month trial membership with the Peterborough and the Kawarthas Chamber of Commerce, allowing them to build their network even more, as well as pre-approval of microloans up to $20,000 from Community Futures Peterborough.
"Starter Company Plus really allows you to tap into the business community," says Hurrell, adding that many entrepreneurs stay in touch with other participants informally and formally even beyond the program. "Sometimes, especially as a new entrepreneur, you're so busy working to start up or grow your business that you don't see what other support networks or support organizations are out there."
VIDEO: Starter Company Plus with Peterborough & the Kawarthas Business Advisory Centre

Tweet this quote
In addition to professional connections, Hurrell explains another long-term benefit for entrepreneurs who participate in the program is a thorough and adaptable business plan developed through workshops led by experienced professionals and one-on-one consultations.
"Having a finalized, polished business plan is critical for all businesses, whether they are just starting out or already established and growing," says Hurrell, adding the plan includes a cash flow analysis that's essential for obtaining future business financing. "It's a living document, so at the very least if things start changing for you or opportunities come up, you go back and update the plan."
Once every week starting on October 10, successful applicants for the fall intake of Starter Company Plus will meet in the boardroom of the VentureNorth Building at 270 George Street North in downtown Peterborough for workshops that will help the entrepreneurs develop their business plans while also building their professional skills.
VIDEO: Why A Small Business Should Apply to Starter Company Plus

Guest speakers from across the province and locally will deliver sessions on topics that include conducting market research, branding and messaging, social media marketing, and financial logistics covering cash flow forecasts, costing, and taxes.
"We invite different community partners to share their expertise so everyone gets different insights," explains Hurrell. "We want these businesses well equipped and to succeed in our community."
Following the workshops, all 12 participants will pitch their business idea to a panel of judges and — based on the strength of their business plans — six of them will be awarded a $5,000 microgrant. As well, all participants will be eligible for pre-approved microloans up to $20,000 from Community Futures Peterborough
VIDEO: What Starter Company Plus Entrepreneurs Learned From the Program

Tweet this quote
Although Starter Company Plus is an intensive program delivered over five weeks, Hurrell explains it's a worthwhile investment of time and effort for any entrepreneur launching or growing their business.
"You wouldn't build a house without having a plan and doing some research and consulting with professionals," she says. "In the grand scheme of things, it's an intensive but small amount of time for potentially a lot of return in the future."
Because of the intensity of the program, the Business Advisory Centre is looking for applications from entrepreneurs who have already completed market research and are committed to their business idea.
"We want to see that you know your market, know your industry, know your costs, and have a general sense or idea of who your customers are going to be," explains Hurrell. "Obviously we're going to help you learn a lot more along the way, but having done a little bit of due diligence in advance is really what we're looking for."
VIDEO: What Inspired Starter Company Plus Entrepreneurs to Apply

Tweet this quote
The Business Advisory Centre is also looking for applicants whose business offers a unique value proposition.
"If there's something special you're bringing to the community or something you're doing that's different, tell us about that," says Hurrell. "Yell it from the rooftops in your application."
The strength of an entrepreneur's business idea also applies to the awarding of $5,000 microgrants to six of the 12 participants at the end of the program. A panel of judges will review each entrepreneur's business plan and cash flow analysis, listen to their business pitch, and ask probing questions.
"Being able to talk about your business in a way that everyone can understand is very important," Hurrell points out. "Having a customer-centric focus is one thing we emphasize a lot in the program, because you need your customer at the end of the day."
VIDEO: How the Starter Company Plus microgrant benefits businesses

Tweet this quote
For those entrepeneurs who receive one of the micogrants, Hurrell says it can be used for anything that aligns with the entrepreneur's business plan and goals. Past grant recipients have used the funds to open brick-and-mortar locations, for training and professional development, for new equipment and technology, and for marketing.
Even for participants who don't receive a microgrant, Hurrell says Starter Company Plus will provide entrepreneurs with a sound footing to navigate the challenges that come with launching or growing their business.
"We want owners to be prepared because the landscape has become more competitive and potentially challenging," explains Hurrell. "We've really developed a thorough program because we want people to take their business to the next level and ideally watch them grow."
For more information about Starter Company Plus (including eligibility requirements) and to apply, visit investptbo.ca/starter. Applications for the fall intake close on Saturday, September 30th.
This branded editorial was created in partnership with Peterborough & the Kawarthas Economic Development. If your organization or business is interested in a branded editorial, contact us.