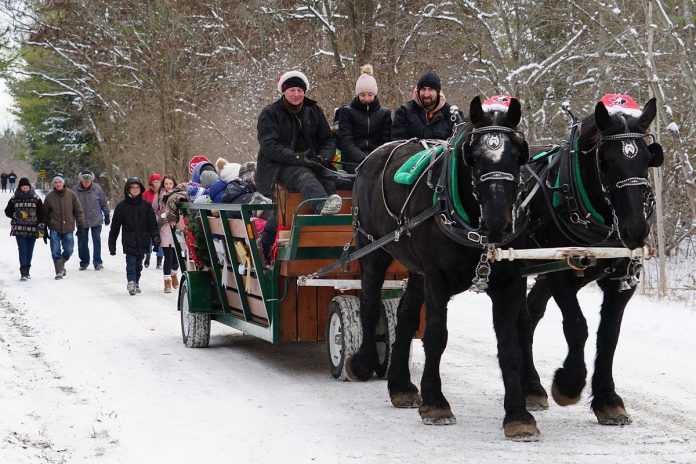 If it's hard for you to believe that Christmas is just six weeks away, you might be in need of some festive community events to get in the holiday spirit and help you cross a few items off your shopping list.
Fortunately, there's a full line-up of events across the greater Kawarthas region including holiday markets featuring local vendors, seasonal food and drink, Santa visits and parades, wagon rides, decoration-making activities and, of course, no shortage of fun for the whole family.
Here are a few of the many events happening in communities across the Kawarthas to amp up your Christmas spirit this holiday season.
Advertisement - content continues below
Kawartha Lakes Festival of Trees at Kawartha Settlers' Village in Bobcaygeon (November 17 – 19)
Kawartha Settlers' Village (85 Dunn St., Bobcaygeon) will turn into a winter wonderland from Friday, November 17th to Sunday, November 19th with the return of the annual Kawartha Lakes Festival of Trees.
Weekend activities include shopping for ornate holiday decorations at the Christmas Boutique, warming up with a hot beverage at the Christmas Café, filling up on food at treats at the Snack Shack and Candy Shoppe, and enjoying the Christmas music projecting throughout the village while taking a wagon ride.
The festival also features plenty of activities for children with a colouring contest, a performance from award-winning comic and renowned clown Circus Jonathan, storytelling, craft making, and letter writing to Santa, who will also be on site daily.
Throughout the village, there will be a display of items available for raffle draw and silent auction, including decorated trees, wreaths, garlands, and gift cards. There will also be a live auction hosted in the Murphy Barn on Saturday beginning at 7:30 p.m., with registration at 7 p.m.
The 26th annual festival runs from 5 to 9 p.m. on Friday, 10 a.m. to 9 p.m. on Saturday, and 11 a.m. to 3 p.m. on Sunday. Tickets cost $15 per person for a festival pass, with children 12 and under free. Visit www.kawarthalakesfestivaloftrees.com for a full list of scheduled activities and to preview items in the live auction.
Mingle & Jingle in Bobcaygeon (November 18)
The village of Bobcaygeon is swapping out the hustle and bustle of the holiday season with some mingle and jingle. Running all day on Saturday (November 18) throughout Bobcaygeon, there will be great deals and promotions from local businesses both in-store and online, as well as markets and workshops. Santa Claus visits, a Zoo to You animal show, pop-up story time, and a tree-lighting ceremony with Christmas carolling are just a few of the many other events happening throughout the region.
Sale promotions range from complimentary hot chocolate and the opportunity to win an original oil painting at Rapley Fields Art Studio & Gallery, to 50 per cent off treats at Paws N Claws and 10 to 100 per cent off at Granny Bird's Wool Shoppe. Among others, vendor markets include a Craft & Bake Sale at the legion (9 a.m. to 3 p.m.) and a mini farmers' market at the Fairgrounds (10 a.m. to 4 p.m.).
Once you've stocked up on holiday gifts for a great deal, you'll want to reward yourself with some fun and festive treats. The Sips & Bites Passport Tour (which can be picked up at Ball Real Estate) will take visitors on a self-guided tour of dine-in and take-out specials of food and drink that have been crafted specially for the day. From Christmas cake to eggnog milkshakes, festive poutines, and fresh tomato soups, the tour is sure to keep you warm and feeling festive all afternoon.
Passports can be submitted at Just for the Halibut, Ball Real Estate, or online by emailing minglejinglebobcaygeon@gmail.com for a chance to win a sunset boat cruise from Buckeye Marine and a $100 gift card for a local restaurant of your choosing. Visit mingleandjingle.ca for full schedules.
Christmas in the Village in Minden (November 18)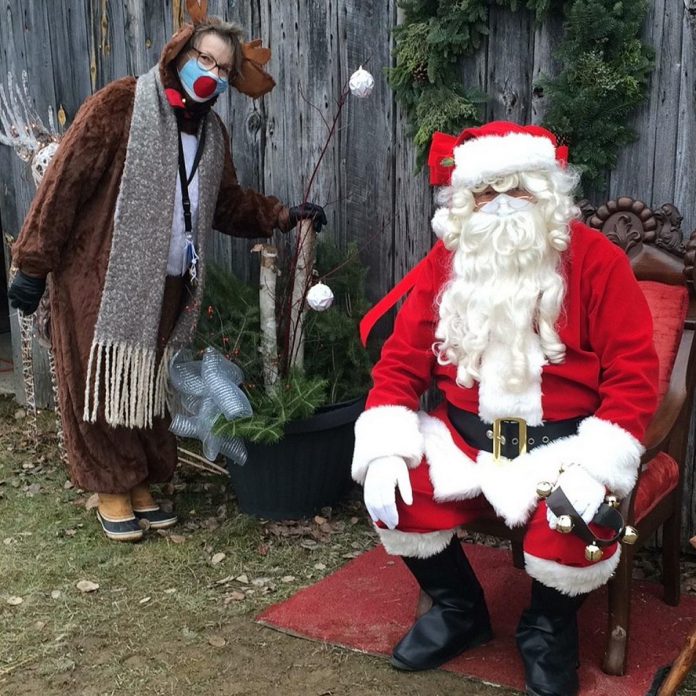 The Township of Minden Hills is hosting their annual Santa Claus Parade on Saturday (November 18) beginning at 11 a.m. with the theme of "The Joy of Christmas," but the festivities aren't ending there.
The Minden Hills Cultural Centre (176 Bobcaygeon Rd., Minden) is hosting Christmas in the Village from 11 a.m. to 4 p.m. Children and adults alike will be entertained all afternoon, with a local artisan vendor market, homemade baked good sale, old-fashioned candy shop, Santa letter-writing station, ornament crafting, and a book sale by the Friends of Haliburton County Library.
Local musician Eric Swanson will perform live between 1 p.m. and 4 p.m. and the Agnes Jamieson Gallery will be open to feature the exhibit "Shifting Lens" by the Ontario Society of Artists Eastern Hub. Santa will also be in the village after the parade until 2 p.m.
Admission is by donation.
Shop for Joy at the Art Gallery of Peterborough (November 23)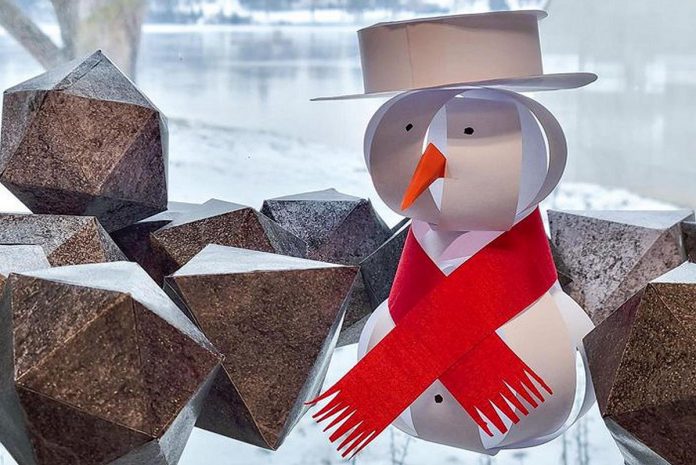 The Art Gallery of Peterborough (250 Crescent St., Peterborough) is kicking off the holiday shopping season with their annual Shop for Joy event from 2 p.m. to 9 p.m. on Thursday, November 23rd. The gallery will be brimming with works from a range of local artists and makers.
The event will include plenty of new pieces and holiday-themed refreshments to enjoy while perusing the gallery. Gallery members will receive 20 per cent off select items from the shop between November 23 and 26.
Shop for Joy coincides with the opening reception for the gallery's juried exhibit, taking place from 7 p.m. until 9 p.m. Called "Seams and Starta," the juried exhibit called for artists to submit works that explore themes of legacy, archives, nostalgia, memory, and growth as the gallery looks ahead to its 50th anniversary next year. Of the 140 applications, 55 artists were selected by a jury of Canadian artists and curators. The exhibit runs until March 17, 2024.
More information on Shop for Joy can be found at agp.on.ca/events/shop-for-joy/.
Advertisement - content continues below
Christmas Magic in Cobourg (November 24 – January 7)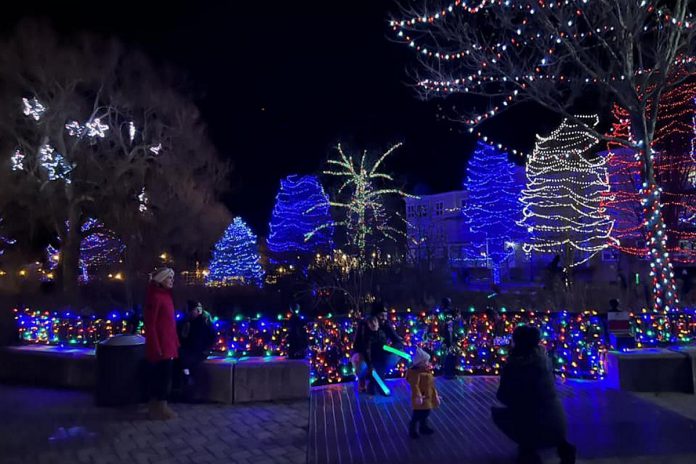 Since the early 1990s, Christmas Magic has been a tradition that Cobourg residents and visitors look forward to every year, with 200,000 lights decorating the town's waterfront and Victoria and Rotary parks during the holiday season.
Christmas Magic begins at 6:30 p.m. on Friday, November 24th with a "lighting up ceremony" and guided walk that will begin at Rotary Waterfront Park and proceed to Victoria Park for the big reveal.
To get excited for the day, guests are invited to the Downtown Christmas Market on Second Street, hosted by the Downtown Business Improvement Area. Beginning at noon, the market will include local musicians, hot chocolate and street vendors, and will continue beyond the ceremony.
The lights will be on display each night until Sunday, January 7th.
Candlelight Festival in Port Hope (November 24 – January 2)
Running from November 24 until January 2, this year's Candlelight Festival in Port Hope will be celebrated with wagon rides through the historic downtown, vendor markets, holiday décor, a Santa Claus parade, festive workshops, free wrapping stations, and more.
Port Hope is launching the festival with the Candlelight Walk on Friday, November 24th. Guests are invited to bring their own light source (lantern, candle in protective holder, flashlight) to carry on a walk departing from Walton and Pine Streets at 6 p.m. Carolling song sheets will be distributed ahead of the journey to encourage participation in singing holiday songs along the route.
Following the walk, hot cider will be provided in Memorial Park as a countdown leads to the lighting of the park for the holiday season. There will also be live music and an outdoor market at Lent Lane, and participating stores will be open late for Moonlight Madness, presented by the Port Hope Heritage Business Improvement Area.
Visit porthope.ca/candlelight-festival for a full schedule of events during the Candlelight Festival.
"Jack: A Beanstalk Panto" at the Capitol Theatre in Port Hope (November 24 – December 23)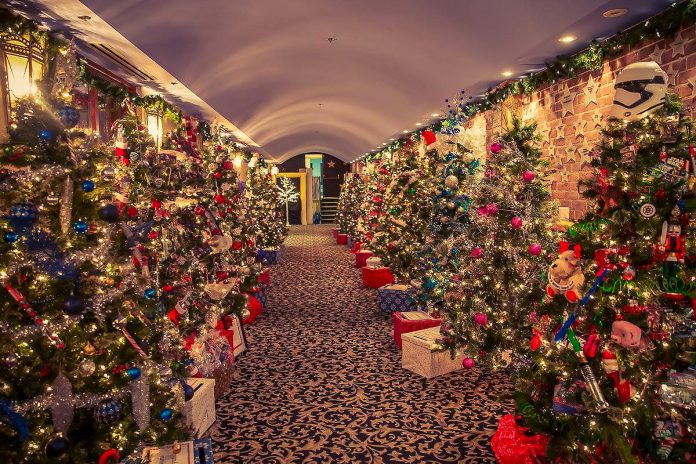 The annual holiday panto is returning to the Capitol Theatre (20 Queen St., Port Hope) with a musical retelling of a classic fairy tale. Written and directed exclusively for Capitol audiences by award-winning actor and improviser Rebecca Northan, Jack: A Beanstalk Panto has magic, murder, a gregarious goose, a hilarious harp, and a whole lot of gold.
Starring Christy Bruce, Paul Constable, Robbie Fenton, Madison Hayes-Crook, Clea McCaffrey, Zoe O'Connor, Hal Wesley Rogers, and Steve Ross, the show includes a family version for those who are on Santa's nice list this holiday season and an adult version for those who are on the naughty list.
Family performances take place at 3 p.m. on November 25, 2 p.m. on December 2, 11 a.m. on December 3, 2 p.m. on December 9, 11 a.m. on December 10, and 2 p.m. on December 16, 22, and 23. Naughty performances run at 8 p.m. on November 24 and 25, November 28 to December 9, December 12 to 16, and December 19 to 23, with a 2 p.m. matinee performance on December 13. Tickets are $48 and can be purchased online at capitoltheatre.com or in person at the box office.
The holiday season at the Capitol also includes the 27th annual Festival of Lights and Trees from November 24 to December 17, where beautifully decorated trees and wreaths sponsored by local businesses, partners, and friends of the Capitol are placed on display throughout the building. During display times, guests have the option to purchase a raffle ticket and enter to win all of the tree decorations as well as a 2024 summer season subscription. The prize draw takes place at the Capitol at 11 a.m. on Monday, December 18th.
Santa Day in Fenelon Falls (November 25)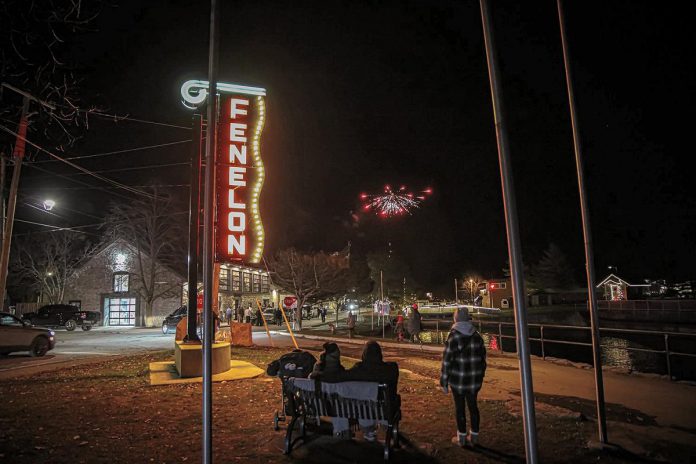 Fenelon Falls hosts Santa Day, a day of fun for the whole family, on the last Saturday of November every year. From 11 a.m. to 4 p.m. on November 25, guests can enjoy an afternoon of festivities throughout the downtown core, including visits with furry farm animals, letter writing to Santa, pony rides, and face painting. Businesses and organizations will be supplying cider, hot chocolate, and sweet treats to keep guests warm and energized all afternoon long.
Be sure to head to Slices 'n' Scoops (or "Gingerbread Headquarters") to see decadent and unique gingerbread houses entered in the annual contest. There will be several different contest categories from young to professional with monetary prizes awarded to select winners.
After a day full of fun, treats and holiday spirit, Fenelon Falls Santa Day will conclude with a parade featuring the big guy himself beginning at 5 p.m. at West and Lindsay streets. When Santa has crossed the bridge, a spectacular fireworks show will light up the sky over the gorge at 6 p.m.
Visit www.santaday.ca for a full schedule of events.
Advertisement - content continues below
Christmas at Ken Reid in Lindsay (December 2)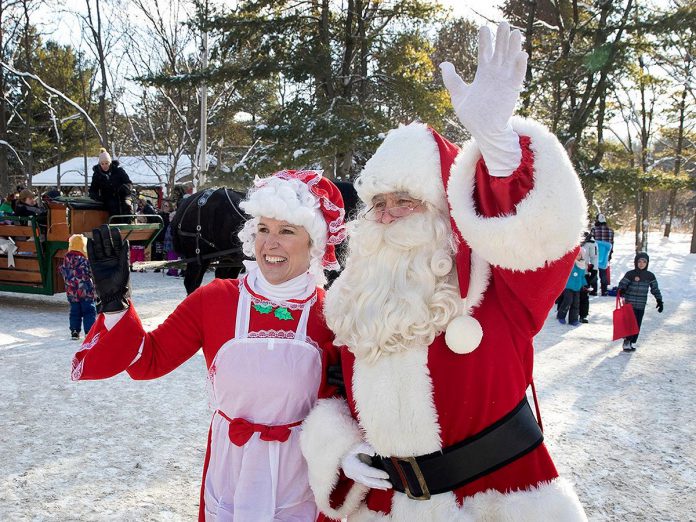 Christmas at Ken Reid Conservation Area (77 Kenrei Rd., Lindsay) is returning on Saturday, December 2nd from 10 a.m. to 4 p.m. with a day of free family fun and adventure.
From holiday games (like kids' crafts in Santa's Workshop and an elf-in-training scavenger hunt) to delicious food (including Beavertails and Gangster Cheese gourmet grilled cheese) and animal interactions (including an interactive Reptilia Zoo display, a petting zoo, chickadee feeding, and a Birds of Prey show), there's no shortage of things to do, see, and taste throughout the day.
Other highlights include Pinnguaq Association kids' games, balloon animals for the entire family, horse-drawn wagon rides, live carving demonstrations, and a special appearance by Santa and Mrs. Claus.
The event is free courtesy of Kawartha Conservation, although donations are appreciated and welcomed. Non-perishable food donations will also be accepted for the Kawartha Lakes Food Source.
For more information and event updates, visit www.kawarthaconservation.com/festivals.
Family Sunday at the Art Gallery of Peterborough (December 3)
For the first time since the pandemic began, Family Sunday is returning to the Art Gallery of Peterborough (250 Crescent St., Peterborough) from 1 to 4 p.m. on Sunday, December 3rd.
Visitors can explore the gallery's current exhibits before heading to the studio for drop-in art activities featuring special guest Eugenie Fernandes. The artist and illustrator will be doing readings from her new book Frogness, written by Sarah Nelson with illustrations by Fernandes.
There is no fee or registration required to attend Family Sunday, although children must be accompanied by an adult.
Millbrook's Christmas in the Village (December 7)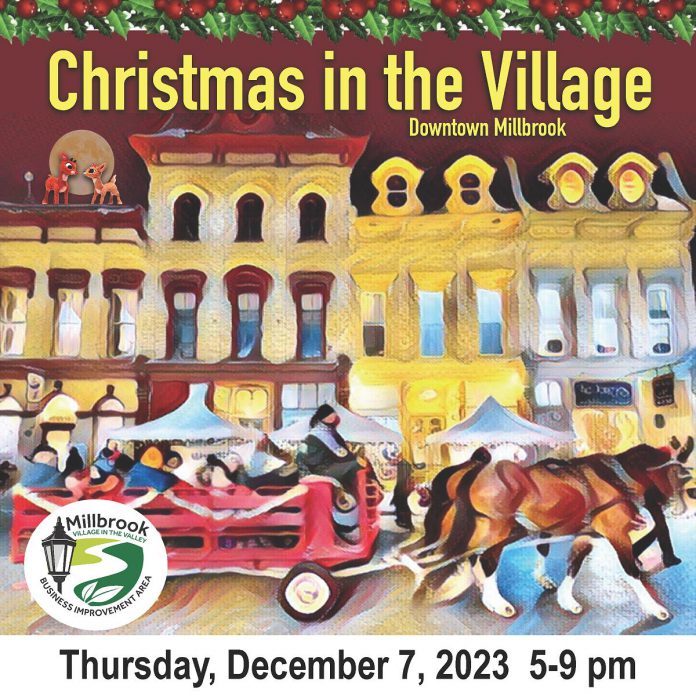 The Millbrook Business Improvement Area (BIA) is hosting this year's Christmas in the Village on Thursday, December 7th from 5 to 9 p.m.
King Street will be closed for a fun-filled evening of family events throughout the downtown including gingerbread house contests, carolling, photos with Santa, food and craft vendors, and horse-drawn wagon rides.
Christmas in the Village is free to attend. For event updates, visit the Millbrook BIA on Facebook.
Advertisement - content continues below
"In from the Cold" Christmas benefit concert in Peterborough (December 8 & 9)
For the past 24 years, a group of Peterborough musicians have come together every December to perform a Christmas benefit concert to raise funds for YES Shelter for Youth and Families. "In from the Cold" returns to Market Hall Performing Arts Centre (140 Charlotte St., Peterborough) at 8 p.m. on Friday, December 8th and Saturday, December 9th.
As always, Carried Away (John Hoffman, Susan Newman, and Rob Fortin), Michael Ketemer, Tana Haney, Curtis Driedger and friends, and the 28-voice Convivio Chorus will perform unique seasonal music you won't hear anywhere else, featuring instruments including guitar, fiddle, concertina, hammered dulcimer, recorder, tin whistle, harp, mandolin, bouzouki, and more.
Tickets cost $25 ($30 for cabaret table seating), with all proceeds going to YES. Since 2000, "In from the Cold" has raised almost $170,000 for the non-profit organization that helps youth and families experiencing homelessness in Peterborough by providing shelter, education, and transitional supports.
Tickets can be purchased online at markethall.org or in person at the Market Hall box office. If you can't attend, Trent Radio 92.7 FM will broadcast a recording of the concert throughout Christmas Day.
Focus Fair in Peterborough (December 9 & 10)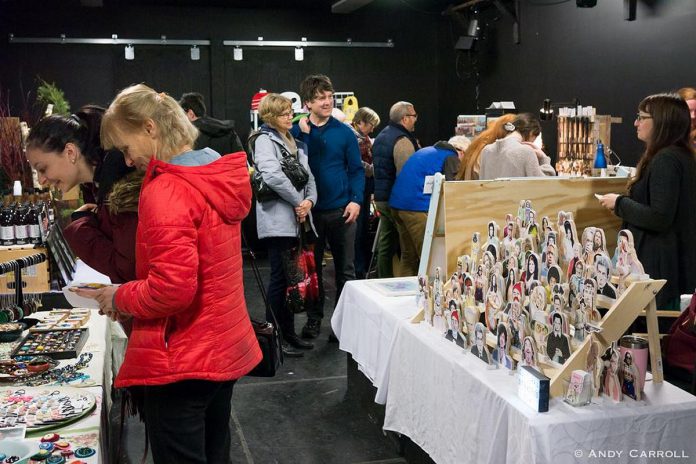 You can give everyone on your list hand-crafted gifts from local artisans by visiting the 19th annual Focus Fair on Saturday, December 9th and Sunday, December 10th at The Theatre on King (171 King St, Peterborough).
Hosted by print artist Jeffrey Macklin of Jackson Creek Press, this year's event will include a curated selection of local artists and makers showcasing a variety of handmade goods and art work that's sure to impress anyone you're shopping for this season.
Focus Fair runs from 10 a.m. to 5 p.m. on Saturday and 10 a.m. to 4 p.m. on Sunday.
"A Cozy Christmas" 20th anniversary benefit concert in Peterborough (December 17)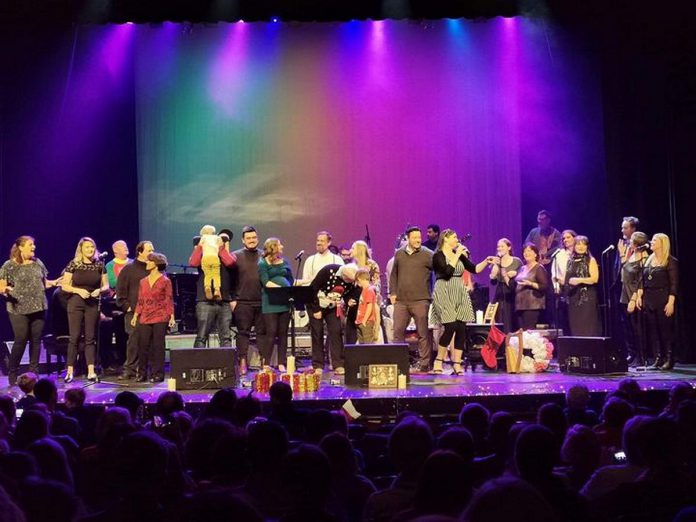 This year will mark the 20th anniversary of the "A Cozy Christmas" benefit concert, which returns to Showplace Performance Centre (290 George St. N., Peterborough) at 2 p.m. on Sunday, December 17th with the theme of "Christmas Around the World."
Organized by the Foley family and friends, this year's family concert will include stories from emcee and master storyteller Hugh Foley and a line-up of musicians including Bridget Foley and the Gospel Girls, Murray and Sibernie James-Bosch, Theresa Foley, Sheila Prophet and Norma Curtis, Colleen Anthony, Amelia Foley, Lochlan Craighead Foley, Vera Vandermey, Lizeh Basciano, Glen Caradus, The Woodhouse Crooks, The Men: Fr. Tony Barol, Fr. Martin Dalida, Lito Garcia, Oswaldo Bacareza and Marcelo Saplagio, and more.
All the performers donate their time for the concert, which is a fundraiser for education in Liberia in West Africa. Proceeds provide sponsorships for under-privileged children to attend school and a Christmas bonus for the teachers who often go without pay.
Beginning at 12:30 p.m. before the show and during intermission, the Nexicom Studio in the lower level of Showplace will host a "village" of artisans and a silent auction of gifts.
Tickets for "A Cozy Christmas" are $25 for adults, $22 for seniors, and $15 for students, with a group rate of $20 each for 10 or more. You can order tickets online at showplace.org or in person at the Showplace box office.
Santa Claus parades across the Kawarthas in November and December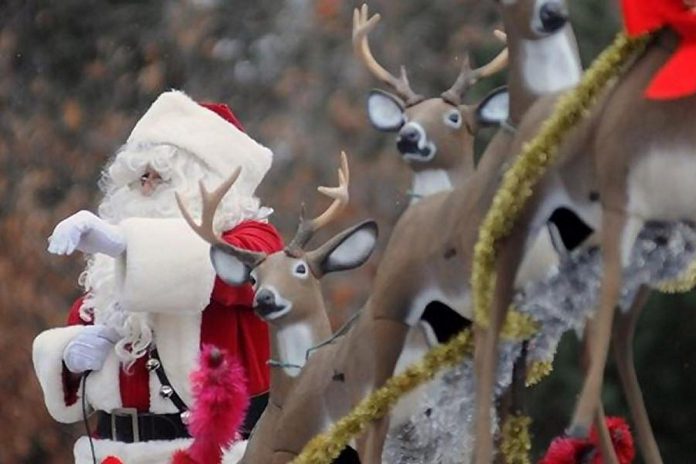 It wouldn't be the holiday season without welcoming Santa Claus to the Kawarthas with a fun, festive parade. He's got a very busy schedule over the new few weeks as he visits communities across the region.
Santa will be in Minden, Buckhorn, and Havelock on November 18, Lakefield and Lindsay on November 19, Haliburton on November 24, Port Hope, Campbellford, Apsley, Warsaw, Fenelon Falls and Norwood on November 25, Warkworth on December 1, Bancroft, Peterborough, and Cobourg on December 2, Coboconk and Pontypool on December 3, Little Britain on December 8, Keene and Bobcaygeon on December 9, and Woodville on December 16.
For more details about individual parades, visit kawarthaNOW's Santa's Parade Schedule events column.