For the Love of Food
Celebrate your love of our community at this special Valentine's Day celebration.
The first annual "For the Love of Food" was created and organized by Terry Merrill and his staff at the Holiday Inn.
Join Head Chef Vanden Anker for a four-course gourmet local-focus feast, with wine pairings from Colio Estate Winery.

Dinner starts with a delicate soup of herb-roasted chicken and goat-cheese-stuffed ravioli immersed in clarified chicken broth, followed by a crisp fresh micro green salad with cider-poached apple, cranberry paint olive oil and lemon dressing, adorned with vegetable crisp.
For the third course, you'll savour Traynor striploin medallions and fire-grilled jumbo shrimp served with mushroom and leek pave, root vegetable sauté and natural pan reduction.

The meal comes to a sweet finale with Staples maple syrup infused cheese cake jar with a pistachio short bread lid.
The gourmet dinner takes place at the Holiday Inn Waterfront Ballroom on Thursday, February 14 at 7 pm (following cocktails at 6 pm). Seating is limited! Tickets are only $50, call the United Way office at 705-742-8839. Proceeds to support the United Way of Peterborough and District.
---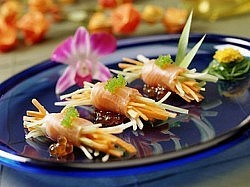 Sous Casa Catering – Fresh International Home Cooking
As he stirs the BBQ sauce simmering on the stove, Chef Erik Hoflick, owner of Sous Casa Catering, tells me about the numerous local restaurants he's worked at including the Holiday Inn, Denbars, Irwin Inn, Beachwood Resort, and the Ward Street Grill. After completing his chef's training at Niagara College, Erik returned to Peterborough to open his own catering company.
Whether it's a small private function or an elaborate wedding for hundreds, Chef Erik cooks intuitively and creates new menus for each client featuring local products wherever possible. He prides himself on making everything from scratch, offering international home cooking.
Sous Casa Catering can handle all the details of your event, including setting up a kitchen where one doesn't exist to full bar service. In addition to traditional catering, Sous Casa Catering also offers kitchen cooking parties for 10 to 12 people in the comfort of your own home.
Chef Erik brings a passion for new and interesting food to your next special event. Call 705-930-8590 or visit www.souscasacatering.com
---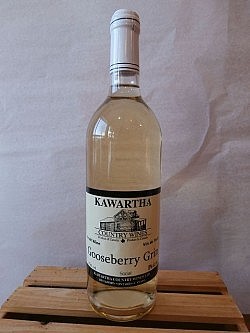 Kawartha Country Wines – Local Purveyors of Award-winning Fruit Wines and Vinegars
Ever wonder what happens to the small batches left over in a wine barrel?
Well, John Rufa and his wife Trish Dougherty, owners of Kawartha Country Wines in Buckhorn, concoct some pretty sweet potions. Some combinations work beautifully together — strawberry and rhubarb for example — and some don't. There is no science behind any of it really; just simply an exercise in trial and error, as various combinations and proportions can alter the taste dramatically.
Their latest success has been Gooseberry Grin: a combination of gooseberry, plum, apple, rhubarb, and peach wines. This light and pleasant wine, with a predominant gooseberry note and subtle suggestions of the remaining fruits, is a explosion of flavours that linger long after the glass is empty.
Kawartha Country Wines is also producing award-winning fruit vinegars (local wherever possible) with over a dozen varieties. They're perfect for salad dressings, marinades, and as topping for fruit, yogurt and ice cream. Drop by for a taste at 2275 County Road 36 in Buckhorn or call 705-657-9916.
---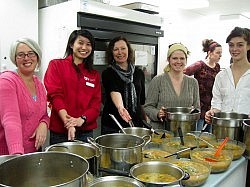 One World Dinner – A Global Vegetarian Potluck
The Peterborough One World Dinner is a unique gathering of people interested in building community, both locally and globally.
As a vegetarian potluck, the dinner accommodates people from all backgrounds while keeping its environmental footprint small.
The 32nd annual dinner takes place on Saturday, February 2 at 5pm at St. Paul's Presbyterian Church (120 Murray St., Peterborough). The cost is $5 per person or $10 per family (suggested).
It's an evening of delicious food, great entertainment, raffles, and a highly competitive dessert auction.
The One World Dinner is organized collaboratively by the Peterborough New Canadian Centre, Jamaican Self-Help, the Kawartha World Issues Centre, and the World University Service of Canada at Trent. All proceeds from the dinner fund global education activities in the Peterborough area. Proceeds from the beverage table help to sponsor one refugee student each year to attend Trent University through the Trent International Program.