A retired banker who describes himself as "a renaissance man, walking stick carver, writer, editor, and proud Rotarian", Lloyd Graham is a partner in the publishing company Parnassus Enterprises Ink and owner and operator of Peterborough Pedal and Paddle.
Some time ago, his fellow Peterborough businessman and writer Dean Pappas had an idea for a book. He invited Lloyd and six other Kawartha-area writers and friends to gather at Pappas Billiards.
Dean supplied a short biography for eight characters named from the writings of Edgar Allan Poe. Each writer drew a character's name from a coffee mug and subsequently wrote a story about that character — based on the common setting of the Raven Café.

Through imagination and good editing, the characters' interwoven stories unfold in Tales from the Raven Café, in which eight regulars of the Raven Café meet for morning coffee and conversation — when three days in June change their lives.
The participating writers and their Poe-named characters are Fred Cahoon ("Lenore Allan"), Val Crowley ("Gliddon Edgar"), Lloyd Graham ("Napoleon Adolphus Simpson, Esq."), J.R. MacLean ("Nicki Belfry"), Dean Pappas ("Roderick Usher"), Jay Perkins ("Auguste Dupin"), Claire Sulivan ("Morella Ecclestoen"), and J.S. Thompson ("Marchesa di Mentone").
Published by Parnassus Enterprises Ink, Tales from the Raven Café is available from Amazon.com.
---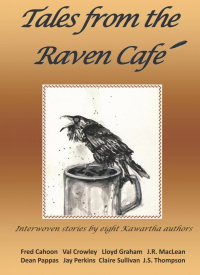 Napoleon Adolphus Simpson, Esq. – An excerpt from Tales from the Raven Café by Lloyd Graham
With little ado, Napoleon briskly and quietly slipped into The Raven just after 8:21. He immediately made his way to his usual seat at the end of the bar, farthest from the entrance. For the past eleven years that spot was his by default. His need to observe and know demanded a panoramic view of the café and outside into the street. It took a year of waiting but when the previous occupant stopped coming in for morning coffee, Napoleon snapped it up. It was his stool now and everyone else knew it. He was a little late today, for good reason and the others, the regulars, were already sipping their own unique caffeine fixes – lattés, decafs, bold, mild and flavoured coffees, black, double doubles, just cream. How can coffee taste so good in so many iterations? He glanced around the 1960s-decorated, shabby, somewhat tired looking coffee shop and he was quickly reassured and confident nothing had changed in these peoples' lives since last Friday. It was the first day of summer and he was feeling great. Weekend events had helped him make decisions in two major areas of his life – both areas were in need of major changes, work and relationships. Hmmm.
He walked past the backside of patrons at the counter and noticed that this morning, Morella's was covered by her tie-dyed t-shirt. No tattoo or panty strings today. Her butt was the shape of an apple or maybe a peach. Nice. Napoleon, or Simms as his friends and customers in town called him, didn't miss much. Oh to be half my age.
Karen looked like she bore the weight of the world on her shoulders this morning, as she shuffled towards him with the usual large, just cream, Irish Cream coffee served in his own mug. She was wearing a lemon yellow company T-shirt with a drawing of a stoic, mystical Raven on each short sleeve and a logo spreading in two rather shapely lines across her chest: Raven Café! Good Coffee since 1901! Despite the encouragement of her obvious cleavage, and beautiful hazel coloured eyes that might've led him into temptation, today, her unsmiling face and the irritating scuffle of her shoes across the floor told him she would only ever 'serve' coffee to him and he would never ask her out for a Timmies across the bridge after her shift. Besides, today was a new season for Mother Nature and for him, Napoleon Adolphus Simpson, Esq.
"Thanks Karen," he said absent-mindedly. There was just too much going on inside his head on summer solstice. Who could he share his excitement with? He sipped his elixir and scanned the counter. Around at the opposite end, a new lady, Marsha, he thought her name was, was lost in some kind of dessert. Nope, don't know her well enough. Perhaps I could tell that very attractive Lenore about my weekend? She'd be my age. She could empathize. Probably shouldn't trust anyone who drinks tea in a coffee shop. Besides, she looks very far away this morning. Possibly Nicki, the overdressed Banker with a croissant in one hand and her cell phone in the other? But then again she'd not have time for a simple, self-employed tailor. Maybe Ricky. Nah! Can't see it. He looks too anxious to listen to someone else's story, unless maybe Morella's. How about Auguste? He's wearing one of the suits I altered for him a few years ago. Maybe I'll call him at the pharmacy later today. What about Morella. Her? The girl with tattoos? What does she know about the business of business or affairs of the heart? What is she? Eighteen, nineteen? I don't see her getting too deep into such subjects. That leaves old man Gliddon. He's looking a little wrapped up with Morella and a bag of books. If I don't call Auguste today, I'll share my news with Gliddon over coffee tomorrow morning. Maybe.
No sooner had he surveyed the room and everyone in it, than the exodus began. Napoleon took a big gulp of his coffee and watched as Roderick slipped out, leaving a half cup of his coffee on the counter. Wonder what he's up too? The mysterious Ricky. Whose van did he jump into? At least he's working.
From the corner of his eye he noticed Marchesa glance over and look at him. She quietly left The Raven. He would introduce himself tomorrow. Give her his business card.
Morella walked over to Napoleon. "Mornin' Simms," she said. "Gotta run in about five. Yeah, I'm off to Haute Tattoos to discuss a contract to supply designs for their clients. I have a few here in my portfolio. Wanna peek?"
---