About Pensieri Shoes
"]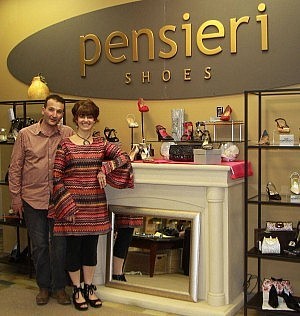 Pensieri Shoes owners Silvia Ferreri and Joseph Saraceni come by their trade with supreme authenticity.
Descended from a line of Italian cobblers, Joseph infuses nearly a century's worth of expertise into a unique and satisfying retail experience.
This commitment to traditional craftsmanship — combined with an eye focused on anticipating contemporary fashion — has established Pensieri Shoes as a stalwart beacon of style in Peterborough.
Joseph's grandfather, Giuseppe, began fabricating his own footwear during the early 1920s in Fossacesia, Italy, a lush coastal town from where Joseph's own familial lineage hails.

It is this time-honoured methodology that informs Pensieri's renowned retail philosophy, as well as bestowing them with an indelible comprehension of what quality fit, materials, and construction should look like.
Function and comfort are paramount, but Ferreri and her "blatantly honest" fashion wisdom will ensure that you'll walk out looking as great as you feel.
A perfect yin and yang, Silvia and Joseph met in Italy, but elected to marry and set up their own business in Peterborough. The duo didn't hire anyone else for the first seven years but, after what Silvia describes as "a lot of mistakes, a lot of victories, and a ton of dedication", they now helm a prosperous business with a dynamic staff and a life-long clientele base. "Our story is their story," Silvia says.
When meticulously selecting what brands and styles to bring through their doors, Silvia is never seduced by trends — at least not in the traditional sense.
"A trend can be different things to everyone," Silvia explains. "If you like a vintage look, that's your trend. If you like a stiletto, that's your trend. Footwear doesn't go out of style as quickly as people think. I often see people coming through still wearing shoes they bought here twenty years ago."
This speaks volumes to both the integrity of the brands Pensieri boasts and to the shrewd eye that picks them. It is with these classic templates that customers can experiment with new styles — while still achieving a timeless look.
Pensieri includes a wide variety of styles from such sought-after brands as Blundstones, Birkenstocks, Naots, France Mode, Clarks, and many, many more.
"We pick the shoes that are worth getting excited about," Silvia adds.
In addition to having a vast array of options for both women and men, Pensieri has also become a destination for orthotics and comfort wear, which can be a very difficult field to work in. But their team is committed and able to come up with a solution for any kind of shoe problem you can think of.
The store itself is spacious and has an amenable atmosphere that cleverly showcases the many styles available. Having now expanded to their third and largest location yet at 373 George Street, Silvia says the move has enabled them to offer more to their customers than ever before.
"With over five thousand square feet, customers really can have their own space and feel relaxed," she says.

Silvia and Joseph are enthusiastically gearing up to celebrate their twenty-fourth year in business by offering customers a fun and interactive promotion to demonstrate their appreciation: the Pensieri Twenty-Four Dollar Bill. The coupon can be used towards your next purchase at Pensieri.
For more information about the store and brands, visit www.pensierishoes.com.
[/tab] [tab title="
Contact Pensieri Shoes
"]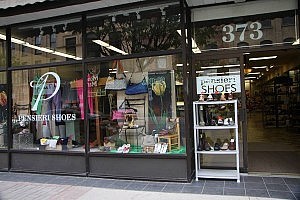 Pensieri Shoes
373 George Street North
Peterborough, Ontario
K9H 3R2
Telephone: 705-876-9558
Fax: 705-876-0003
Email: info@pensierishoes.com Web: www.pensierishoes.com
Hours
Monday – Friday: 9:30 am – 6:00 pm
Saturday: 9:30 am – 5:30 pm
Sunday: By appointment only (call to arrange)
[/tab] [tab title="
Pensieri Twenty-Four Dollar Bill
"]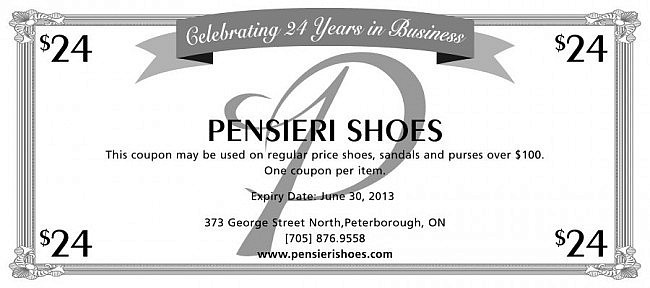 Download this PDF version (264 kb), print it, and take it into the store to save.


[/tab] [/tabs]
All photos by Jeannine Taylor