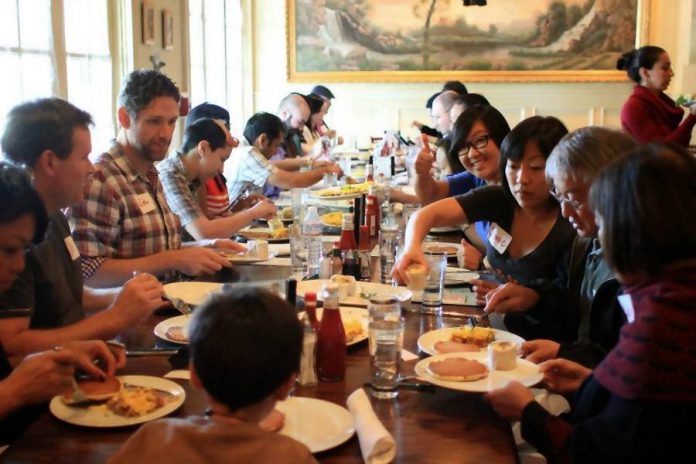 Dishcrawl presents a Food Adventure in Downtown Peterborough
As the newest rage in dining entertainment, Dishcrawl is proud to make its debut in downtown Peterborough on June 4, 2013.

Dishcrawl takes foodies on a local culinary adventure to four distinctive restaurants in one night, similar to a pub crawl — only more delicious.
Participating restaurants are kept secret until two days before the event, at which time the first location is revealed to ticket holders.
Each restaurant will present a trio of their best, favourite, or most famous dishes and diners will spend 30 to 45 minutes at each establishment, until they are ushered by their host to the next mystery location.
The food at each location is logically planned according to its place in the tour, and the evening will end on a sweet note. No location is more than a 10-minute walk from the previous one, so this adventure is accessible to all.
Discover downtown Peterborough's vibrant local food scene and tantalize your taste buds at the same time!
Dishcrawl costs $60 per person. You can purchase tickets and find out more information at www.dishcrawl.com/peterborough.
---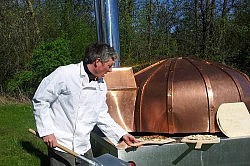 Night Kitchen Introduces a Portable Pizza Oven
Peterborough's famous Night Kitchen pizzas can now be baked virtually anywhere — anywhere they can set up the Italian-designed 3000-pound copper-dome 900-degree oven.
The Night Kitchen had one of these extraordinary ovens brought in from California to offer customers a unique catering experience for any private function, from weddings and family gatherings to office retreats.
The oven is perfect for pizzas and baking bread, creating beautiful crusts and caramelized tops.
The ambient heat allows you to cook low and slow, so it's also perfect for smoking meats. Using various hardwoods infuses a variety of flavours into the foods.
The Night Kitchen can offer full-meal service and staff, or can turn your private event into a hands-on pizza adventure where you let your guests create and cook their own pizzas. Note that the oven requires a couple of hours to set up and heat prior to service time.
You can view menu options and the full range of creative and eclectic toppings at www.cestchaud.ca.
---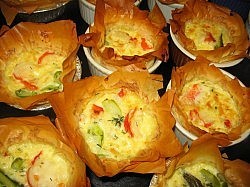 Schubert Fine Foods Catering Offers Culinary Training
Guenther Schubert, European trained chef and culinary teacher at George Brown College in Toronto, is the proprietor of Schubert's Fine Foods Catering.
Guenther offers cooking classes, from basic kitchen skills to fancy dinner parties.
Guenther firmly believes that when you know the basics — from how to set up and stock your kitchen and pantry to safe and effective knife skills — it can change your outlook and approach to cooking.
Classes offered include hands-on components of a three-course dinner preparation and dining, secrets to the artistry of appetizers, and tailored classes based on a specific nationality or cuisine.
Youth classes are also available, designed to teach them the basics before heading off to school. Guenther focuses on nutrition and how to make healthy choices for a balanced diet. Classes are fun, hands-on experiences where kids are taught how to prepare foods they identify with, such as pizzas and pastas.
For more information on available classes, visit www.schubertsfinefoods.com.
---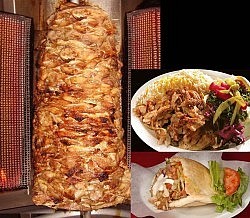 Ariyana Restaurant
Ariyana is a new restaurant conveniently located on George Street in the heart of Peterborough's vibrant downtown.
Mina Monsef and her husband, Chef Mehdi Taheri, are the owners of this great little spot that features a variety of Middle Eastern specialties, including Egyptian Falafel and Basboussa, Turkish Shwarma, and fragrant and succulent Persian stews.
They also serve traditional dishes from Afghanstan and Iran highlighted by basmati rice, beans, herbs, and saffron.
Mina and Mehdi opened the restaurant as a way to connect with the international members of the community that follows a strict Halal diet (foods that Muslims are allowed to consume under Islamic dietary guidelines).
All the food is Halal, 90 percent is gluten-free, and there's a wide variety of vegetarian options as well. Everything is made from scratch including the yogurt, falafels, and desserts.
Ariyana's offers cafeteria-style dine in, take-out, delivery, and catering. They're open Monday to Thursday for lunch and dinner starting at 11:00 am, and Friday and Saturday for lunch, dinner and late-night snacks until 3:00 am.
Visit them at 396 George St., just south of Hunter, or call 705-874-1884.