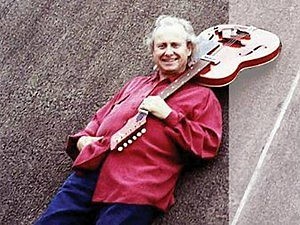 Bobby Watson is a true homegrown hero and cultural icon in the Kawarthas. He's a renowned guitar player and singer and has played with some of the greats, including Ronnie Hawkins and a host of excellent players both local and from afar.
The only thing that may be better than Bobby's musicianship is the quality of the person he is.
There are no statistics for how many benefits Bobby has played, how many young musicians he's made feel great, or what sort of affect his presence has brought to the community. But when word came down this past summer that he was going to have to undergo a quadruple bypass in August, many friends in the music scene finally had a chance to give back to him.
After thinking about it for a couple of days, and not being one to ask for help often, Bobby agreed to a benefit concert organized by Theresa Mackenzie. The benefit — at The Venue in Peterborough on Sunday, October 20th — features an impressive line-up chalked full of Bobby's close friends and musical pals, including Al Lerman, Rick Fines, The Weber Brothers, Howard Ross, and too many more to list.
I had the pleasure of sitting down with Bobby on a beautiful September day in Jackson Park, almost two weeks after his surgery. He had been originally scheduled to have a quadruple bypass but, once he was in surgery, doctors decided he needed a quintuple bypass. After a five-hour operation and a full six days in the hospital, Bobby was right as rain.
"I've got a good attitude — with all the support I've had it's hard not to," Bobby says, smiling with a youthful glint in his eye. "I've really noticed a change in the amount of oxygen. I feel better."
I want to get a glimpse into his connection to music, Peterborough, and some of the pieces from his past that all add up to making him who he is — a Kawartha icon. Since he was born and raised in Peterborough, I ask Bobby about living in East City.
"I love the smell of Quaker Oats!" he exclaims.
While his first thought may be the sweet scent from just across the Otonabee, his memories soon shift to something else.
"The people really are the treasure," he says. "I've traveled lots, being on the road a lot when I was younger, but this town has got it all."
Bobby grew up in East City close to Riverside Park, the site of one of his true loves: baseball.
"My dad was my best friend and he got me into baseball," Bobby recalls. "Well, that and music."
Bobby's full of stories and he has me laughing with one about the Los Angeles Dodgers coming to Peterborough just after their 1959 World Series win. Along with meeting some of the players, Bobby remembers a man doing tricks like catching balls from the driver's seat of a Jeep.
"Someone would hit it and he'd drive to the outfield and catch the ball behind his back," Bobby explains.
He also tells me about the time that music became his passion.
"When I heard Freddie Keelor, he gave me the shivers," Bobby says. "He was playing with the Sheas, with David Clayton-Thomas as the singer. He did something to me that night that changed my life. I realized at that point that I wanted to touch people in the same way. So I bought a Telecaster."
That was in 1962, just after he had snuck into the Brock Ballroom to see Ronnie Hawkins, who was appearing that night with Levon Helm on drums.
"I could have touched Levon, I was so close," Bobby says.
His other musical influences include Paul Butterfield, Lou Rawls, John Coltrane, and blues master B.B. King.
Here's a little-known fact about Bobby: he gave up music for three-and-a-half years when he got married. Out of necessity, he worked in various other jobs.
"I walked by my guitar every day and it hurt to see the headstock," he recalls. "And having to give up the best band in town at the time … that hurt, too."
Fortunately for all of us, local musician and friend Cris Cuddy — along with some other friends — eventually convinced him to start playing again,
When Bobby talks about music, it's clear there's a spiritual connection for him.
"Music transcends all bounds, all prejudices," he says.
For Bobby, music is also a universal language without age restrictions.
"Old or new, music is a common ground," he says. "I enjoy playing with younger folks just as much as older and more experienced guys. It doesn't matter to me. It's sharing. It's communication — the purest form of communication on Earth."
If you've ever seen Bobby perform, you can see his love and passion for music in his movements and in his smile. He continues to be a cornerstone of Peterborough's strong music scene. We're truly fortunate to have Kawartha icon Bobby Watson in our fair city.
"Doin' time in Memphis"
Cris Cuddy and I drove to Nashville where we stayed with Kristy Rose and Fats Kaplan, before meeting up with Bobby Watson who was living in Memphis, playing, recording and making the best corn bread on the planet. — Wayne Eardley