Maintaining a consistent career trajectory in the withering Hollywood spotlight is no mean feat, and is unfortunately seemingly easier for men.
Matthew McConaughey has drifted along amicably in the wilds of the foreign press as little more than a stoner adonis, a grinning torso for Versace spouting the likeable dreck we remember him so fondly for in Dazed and Confused.
But in the last two years, he has made some of the most interesting choices of anyone in his medium and made the transition from movie star to actor. From portraying a beefcake catcher's mitt that revelled in the sleaze of Soderbergh's Magic Mike to diving head first into Lee Daniels' completely unhinged The Paperboy, it's been supremely compelling to watch a relatively vanilla performer take some serious risks.
And what more definitive way to complete the chrysalis than by graduating from the Christian Bale Academy of frightening method acting to play the extremely demanding role of a nihilistic, homophobic rodeo cowboy turned calculating messiah following a diagnosis of being HIV positive?
Well, awards season loves nothing more than tales of adversity based on true stories gift-wrapped in a shiny bundle of back-patting digestibility.
That is what made me nervous about this film: potentially another vehicle for glamorous, privileged, straight white men to win adoring accolades by portraying and commoditizing marginalized people who were forced to die largely silent deaths — and then be told what a chance they took with their careers.
And judging by the insensitive remarks that Jared Leto made upon accepting his Golden Globe for his supporting role as a AIDS-positive transgender woman in the film, we seemed firmly in that territory.

Fortunately. that is not entirely the case. No matter how calculated the enterprise may be, both performers completely sink their teeth into compulsively watchable roles.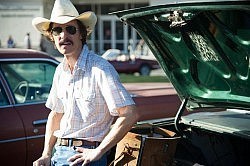 McConaughey — a shadow of his former self — is almost unrecognizable until that 24-carat Texas smile periodically reveals itself.
Leto's lithe frame and perfect bone structure make him a deadringer for Warhol muse Candy Darling.
Commencing in 1985 Dallas, the film follows the exploits of Ron Woodroof (McConaughey) a hard-living and charismatic hustler who, following a diagnosis of what was then essentially a death sentence, is completely ostracized by every facet of his life.
A remarkable shot in a car establishes Woodroof's transition from denial to incredulous realization, and the man's fear has a stench.
Eventually shunning the experimental and volatile AZT — the only drug approved by the FDA (the villain of the film besides the disease itself) — Woodroof sets up a circuit with the help of Rayon (Leto), running from Mexico where he can provide himself and others with DDC and Peptide T, more gentle and natural treatments, for a nominal fee.
Despite moments of poignant brilliance (Woodroof finally setting foot in a gay club to meet prospective customers to the shimmering disco of Amanda Lear, or a moment of intense hallucinatory beauty featuring a room filled with symbolic Monarch butterflies) and being very entertaining, the film is shockingly flat in its emotions.
Instead, the emphasis falls on white wash humour that is often inappropriate and feels uncomfortable with the subject matter. Far too many jokes rely on delivery of the other "F" word. A major death is completely glossed over and never properly dealt with.
And that's the problem: it's obviously greatly beneficial to acknowledge the past in an attempt for reconciliation with the deep stigma that plagued a misunderstood epidemic, but to be made to walk away from it as a "feel good" film just smacks of insincerity. This is Hollywood after all.
Dallas Buyers Club Trailer
All photos courtesy of Focus Features.