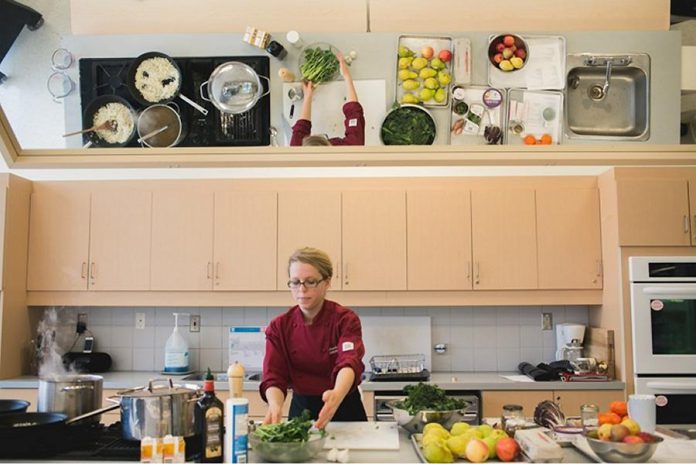 People often ask me what I'm doing since I sold my half of Be Catering, and I reply that I'm running the PC Cooking School (located upstairs at the Loblaw Superstore at Lansdowne Place in Peterborough).
Sometimes they give me a funny look and say they didn't know there's a cooking school, but more often then not they tell me their child was at a birthday party there, had a school trip there, or participated in some amazing children's program that we run.
Most people I run into are unaware that the PC Cooking School also hosts cooking programs for adults. I spend every Thursday from 1 to 2 p.m. teaching a free class, and we host many excellent guest chefs in the school on weekday evenings.
Some of the classes are demonstrations and some are interactive, but each results in a fantastic three- or four-course dinner that the chef prepares in front of you. The classes are generally two hours long and range in price from free to $40. We cover a wide variety of topics, from knife skills to themed menus like Greek, French, and East Indian, as well as variety of nutrition classes.
We're excited to have Chef Amanda Harrison in the kitchen for a Latin Flavour class on Thursday, June 5th, running from 6:30 to 8:30 pm. The cost for the class is $30.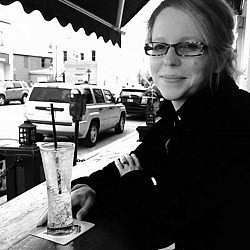 Amanda started cooking in the kitchen of Hot Belly Mama's in Peterborough in 2005. In 2008, she and her husband moved to Toronto so she could attend the chef training program at George Brown College. They returned to Peterborough in the spring of 2009 and co-managed Hot Belly Mama's and the Olde Stone Brewing Company. Recently, Amanda attained her Red Seal certification and offers cooking classes and catering throughout Peterborough and the Kawarthas and Durham regions. Amanda is passionate about local food issues and volunteers with the Nourish project in Peterborough.
She's also one of the amazing chef instructors we host at the PC Cooking School, and you can find her recipe below for Ecuadorian Ceviche de Camaron — one of the dishes she'll be teaching at her Latin Flavour class on June 5th — along with a recipe for Ecuadorian patacones (plaintain chips). To register for Amanda's class or any of our exciting classes, visit www.pccookingschool.ca.
Ceviche de Camaron
Ingredients
2 lbs (900 g) shrimp, thawed, with shells removed and deveined
1 cup (250 ml) lime juice
1 tbsp (15 ml) honey or agave
2 tbsp (30 ml) white vinegar
1/2 cup (125 ml) red onion, diced
1 cup (250 ml) tomato, diced
1 cup (250 ml) cucumber, diced
3/4 cup (180 ml) cilantro
1 clove garlic, minced
1 Jalapeno pepper, finely diced
2 avocados, cut into cubes
1 tbsp (15 ml) olive oil
Salt and pepper to taste
Instructions
Cook the shrimp in a large pot of boiling, salted water for 1 minute. Drain and shock in an ice bath.
Once cooled, chop into large bite-sized pieces.
Prepare the marinade. Squeeze the lime juice into a large bowl. Whisk in the white vinegar, honey, and olive oil. Chop the tomato, cucumber, red onion into a dice. Mince the garlic and finely chop the jalapeno. Wash and dry the cilantro and slice into a chiffonade.
Mix all ingredients together. Season with salt and pepper and allow to marinate for 2 hours.
Add the avocado right before serving.
You can serve ceviche with tortilla chips, flat bread, or even popcorn. My favourite is plantain chips:
Plantain Chips
Ingredients
2 plantains
Vegetable or canola oil for frying
Instructions
For deep frying, I use a large cast-iron Dutch oven with a candy or deep-fry thermometer (you may have a deep fryer with a built-in thermostat). Once the heat is turned on, I never walk away — hot oil is very dangerous (deep frying is not for the scatter-brained!).
Fill the fryer up to the desired line (note: you always have to leave room for the oil to bubble up; it can bubble up 2 – 4 extra inches, depending on what you are frying and how much of it).
If your plantains are ripe (with a yellow and brown peel), then remove the peel and cut into 1/4-inch (6-cm) slices and fry once at 300°F (150°C) until soft and cooked through. Drain on paper towels. Smash each one in the centre. Increase the heat to 350°F (177°C) and fry again to crisp up the outside. These are called "patacones".
If the plantains are green, peel and slice thinly (1/4 inches or 6 centimetres) and fry once at 350°F (177°C) into chips.
Remove from the oil with tongs or a spider, drain, and season with salt.
Buen provecho! – Chef Amanda Harrison
You can read Amanda's blog at www.pigandpeppercorn.com.