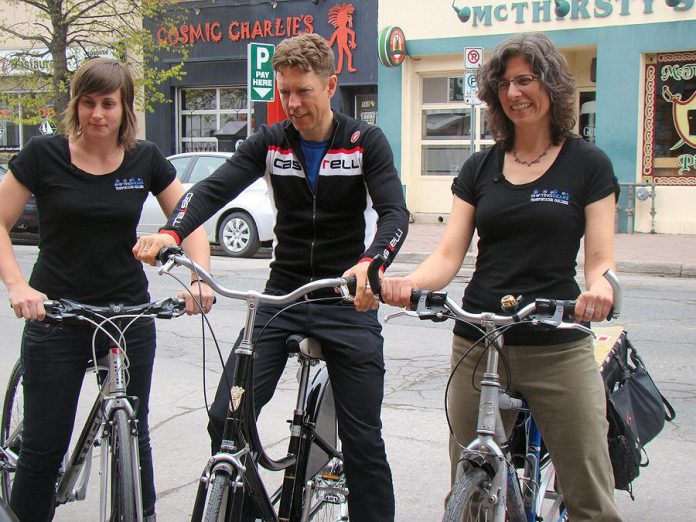 I moved to Cobourg early last year and one of the biggest changes for me was the longer commute to work.
In the past, my drive to the office was no more than 10 minutes, from the north end of Peterborough to downtown. That went up to about 45 minutes.
I'm far from the only Northumberland resident who commutes to Peterborough each day. There are several cars (and their drivers) that I see on the road several times a week, all headed to or from Peterborough.
Commuting is something that a lot of us do, and it can't be avoided. There are environmental costs, however. On my end, to compensate, I work from home one day per week. I also drive a fuel-efficient vehicle, which burns considerably less fuel than many others I pass each day on the road.
In Peterborough, May is Shifting Gears month — a month when commuters are encouraged to re-think how they get to work and explore alternative, more green transportation choices like walking, biking or carpooling.
The Shifting Gears Workplace Challenge is a month-long commuter challenge that encourages employees from local businesses to "get to work differently" and in a way that has a smaller impact on the environment. The challenge runs the entire month of May and is supported by GreenUP, the City of Peterborough, the Peterborough County-City Health Unit, and Wild Rock Outfitters.

Brianna Salmon, the Shifting Gears Ambassador, has been visiting local businesses, encouraging employees to sign up. Not only is Shifting Gears a great chance to reduce our carbon footprint, Brianna points out that walking and cycling to work is one of the easiest ways to get the 150 minutes of physical activity per week recommended by Health Canada.
With gas prices climbing, carpooling and taking public transit are great ways to save money. Another option is working from home for a day or two during the week. With email and video technology like Skype, working from home has become an option for many of us. It's been shown that employees who work from home one or two days a week are happier and more productive.
Leaving the car at home also has many great community benefits as well. These include:
Decreases traffic congestion and the potential for vehicle collisions
Puts more "eyes on the street," improving street safety
Improves the enjoyment and accessibility of our neighbourhoods
Reduces the necessity of road maintenance and construction due to excess use
Showcases our community as being a steward of our environment
Signing up for Shifting Gears is easy. All you have to do is visit the Workplace Shifting Gears Challenge at www.peterboroughmoves.com. New participants enter some basic information to sign up and those who participated in past years can log in to update their information for 2014.
Those participating in Shifting Gears have the chance to win some great prizes, including a weekly $75 restaurant gift certificate. To qualify for a weekly prize, you must have entered at least one trip that week that is a non-drive trip. You must enter your trips by 9 a.m. on the Monday following the week for which a prize is being drawn.
If the weekly prize wasn't enough to entice you to change your travel habits, the grand prize might be. The grand prize winner will receive a $750 Ontario Resort Gift Certificate, selected through a random draw from all participants who logged at least four trips during the Shifting Gears Challenge. All tracking forms must be submitted to the Shifting Gears Ambassador by 4 p.m. on Wednesday, June 4th. Winners will be contacted by Brianna.
There are many reasons to participate in Shifting Gears, both as an employer and an employee, with the benefits ranging from better personal health and improved air quality to lowered family transportation costs.
It's a challenge that businesses from throughout the city have jumped on board with and it would be great to see more people taking the challenge this year. Help our environment and start Shifting Gears.