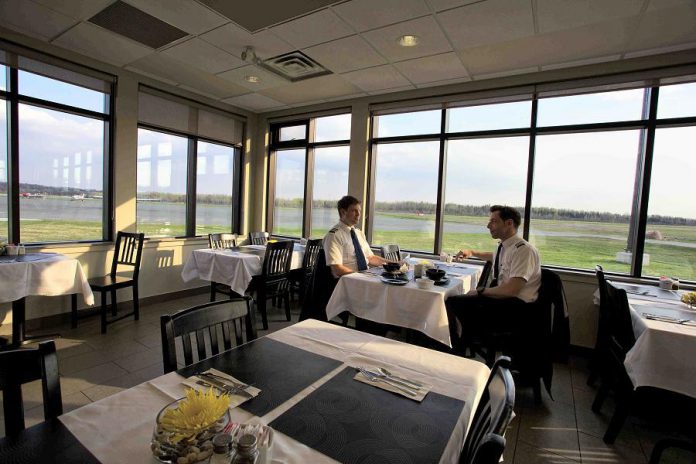 Is there an ideal place to hold a business meeting with a client?
Well, it depends on the type of business you and your clients own — and let's also not forget their tastes.

You'll want to choose a location where, first and foremost, your client feels comfortable and where you can talk freely without distraction. As they say, you never get a second chance to make a great first impression.
Some clients prefer a more professional lunch or dinner meeting, with a full meal and maybe even wine. If so, don't forget to wear professional business attire.
For small business owners who have to keep an eye on expenses, a meeting at a café or coffee shop with latte or tea will probably do the trick.
Then there's the bar — a more carefree approach to a business meeting but one that can leave the wrong first impression.
So let's take a look at the positives and negatives of meeting with clients in each one of these locations.
The Bar
As a rule of thumb, a business meeting at a bar is only a good idea if your client recommends it.
If you do meet at a bar, let your client choose the location but try to avoid locations that you frequent. People you know may approach you and distract from the conversation with your client.
Remember that drinking alcohol during a meeting may derail the business conversation. Again, take the client's lead: don't order alcohol unless your client does first.
The Café or Coffee Shop
Cafés and coffee shops are an ideal and inexpensive location for a business meeting. Meetings at these locations usually don't last for more than an hour, and they're a great choice for that early morning or early evening meeting.
These locations are also semi-formal and so facilitate a more relaxed meeting. On the downside, they can become busy and interrupt the flow of conversation.
It's a good idea to research and visit the location before you meet a client there for the first time.
The Restaurant
Meeting in a restaurant will almost guarantee privacy and confidentiality of conversation.
Again, take the client's lead in picking a location but — as with the bar — avoid restaurants in your locality to reduce the chances of being distracted by a colleague.
Save restaurant meetings for those clients that you're already doing business with, as sharing a meal is actually quite a special event.
Recommended meeting locations
Here's a list of meeting places where I've had positive experiences. This is not an exclusive list and is in no particular order.
The Village Inn
The Village Inn in Lakefield is a wonderful place to have an informal meeting with a client. I've met clients here several times and each experience has been good. A great restaurant/bar experience.
Natas Café
In the heart of downtown Peterborough, Natas is a wonderful place for a first-time meeting.
The Silver Bean
This popular seasonal café right beside Little Lake in downtown Peterborough is an ideal location for a casual first or second meeting. The staff are friendly — and I specifically recommend the Chai Tea Latte.
The Landing 27 Bistro
I've had an increasing number of meetings at this restaurant at the Peterborough Airport. There are great views of aircraft activity and also very fine food. A casual dining experience; reservations are recommended.
Dreams of Beans
I've had more first-time meetings at Dreams of Beans in downtown Peterborough than anywhere else. The back room in particular offer a choice of a comfortable meeting location coupled with privacy.
Whatever location you pick for your meeting, research the location first. Remember that your meeting experience will also vary depending on the nature of the meeting itself.
Good luck!