It's tough to make a kitchen both chef and kid friendly, but President's Choice Cooking School has taken on the challenge. Its curriculum has classes for adults, teens, and children — all of which allow for hands-on food prep.
Young students learn the life skill of cooking by preparing foods ranging from healthy meals to baked desserts. Adults, on the other hand, take courses that teach more complex skills, such as how to make Greek dinners and homemade ravioli. Classes always culiminate with a group tasting, except for baking classes, where students can take their culinary creations home for later snacking.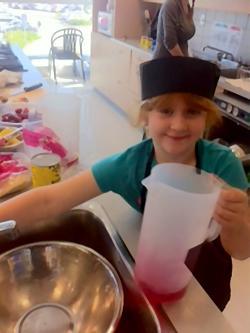 During the month of July, the cooking school is offering the young chef (children between 6 and 11 years old) a multitude of half-day camps. Your "kitchen kid" will work with Chef Elaine (that's me) as they prepare a healthy snack and lunch and something to share at home.
We'll also be discovering Backyard BBQs, Mad Science in the Kitchen, and even a summer Halloween Party (dress-up is encouraged). To satisfy the sweet tooth, we'll be going Crazy about Chocolate Chip Cookie Dough and taking on the latest trend in baked goods with Cupcake Mania.
For adults, the school is teaching knife skills — one of the most critical factors in being a great chef or home cook.
On July 24th, Chef Stefanie Martin will teach you how to properly choose, use, sharpen, and store your knives. You'll learn the most common cuts for fruits and vegetables, and how to butcher a whole chicken. Then you'll prepare a stir fry and a fresh fruit and dip platter. Participants may bring their own chef's knife and paring knife if they prefer.
Chef Martin was inspired to pursue a culinary career by watching her mother and grandmother create delicious meals, desserts, and preserves to be shared with family and friends.
She has worked in the hospitality field for over three decades and has held various positions from baker to chef as well as in culinary management. Apprenticing with chefs from around the globe, Stefanie has gained invaluable experience and holds her Red Seal certification. Specializing in pastry as well as savory meals, her love of cooking is obvious and infectious. Dedicated to lifelong learning, she strives to discover creative, appetizing, and artistic techniques to prepare and serve food.
The PC Cooking School is located upstairs at the Real Canadian Superstore at Lansdowne Place (645 Lansdowne St. W., Peterborough). You can register for any of our exciting classes online at www.pccookingschool.ca or in-store at customer service. If you have any questions, please email me at pccookingschool.peterborough@loblaw.ca.
In the meantime, here's a quick, fresh and healthy summer recipe for a food that both kids and adults love. Enjoy!
Pasta with Fresh Tomato Sauce
Ingredients (serves 6)
2-1/4 pounds (1 kg) ripe tomatoes, preferably plum, quartered and seeded
1/4 cup fresh basil leaves
1 tbsp (15 ml) flat leaf parsley
1 tbsp (15 ml) chopped garlic from two garlic cloves
1/4 cup (60 ml) extra virgin olive oil, plus more for drizzling
Coarse salt and freshly ground pepper
1 pound (450 g) spaghetti or pasta of your choice
Grated Parmesan cheese for serving (optional)
Instructions
Finely chop tomatoes, basil, parsley, and garlic, and mix together with oil (or pulse ingredients, including oil, in a food processor).
Bring a large pot of salted water to a boil. Add pasta, and cook until al dente.
Drain pasta, and toss it in a serving bowl with the sauce.
Transfer to six shallow bowls, and drizzle with a little oil. Serve with cheese.