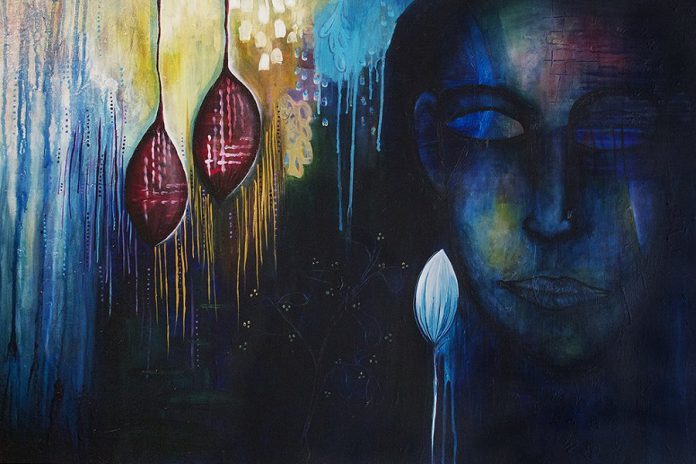 Brianna Gosselin is living the dream
Brianna Gosselin has a pretty good thing going. Her downtown studio at 384-1/2 George St. is a surprising oasis in the heart of downtown Peterborough. Although the front door to the building is right on a busy stretch of George St. between Hunter and Simcoe, the second floor walk-up backs onto a European-style courtyard with a pleasant smattering of trees and greenery.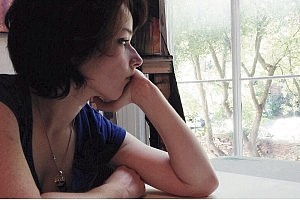 "I like to come here early in the morning," Brianna says. "The sun rising through the windows, the early morning sky — I draw inspiration from that."
Brianna describes herself as a dreamer and you can see that in her work. Her canvases reveal an ethereal quality to the natural world. Lately, they're infused with a great deal of happiness as well. She's pretty pleased how her dream to become an artist is taking shape.
Brianna's early experiences in creativity were provided by her mother, who made arts and crafts a regular of play and their daily activities. When she went to school at PCVS, she got the opportunity to explore her interest in art further but she was never terribly interested in art school. A formal education in art seem altogether too structured to her.
When she finished school she went on to become a hairstylist. To a certain degree, colouring hair and styling was a great creative outlet but eventually she wanted more and took on the scholarship program at the Art School of Peterborough.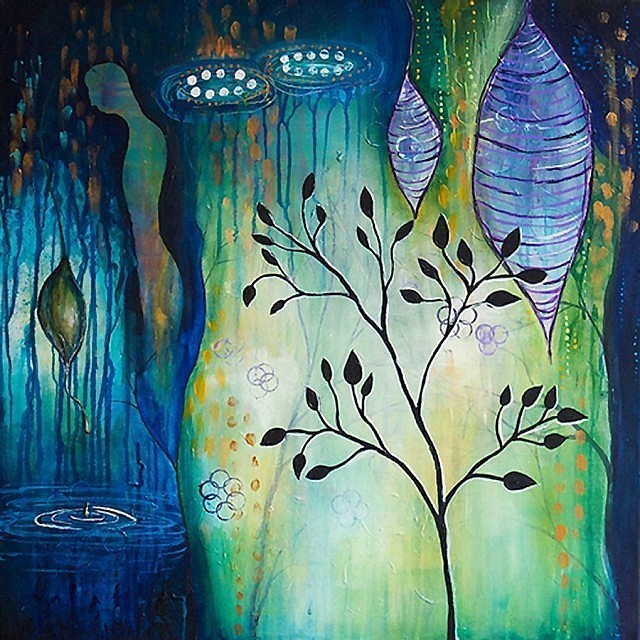 Local commercial artist Anne-Marie Kornachuk became one of her chief mentors and taught her a great deal about committing to her creativity and adding discipline to the inspiration of the dreamer. Creating art is now a full-time endeavour for Brianna, along with the teaching she does at the Art School of Peterborough. If you tune into her Facebook feed, you can see that she now pursues her work with considerable dedication and regularity.


Brianna's earning quite a following and her artwork is quickly becoming an enterprise that includes some commissioned site-specific artwork, prints, and merchandise like cellphone cases and t-shirts. When I asked her about the commercial aspects of pursuing her art for a living, she had a very down-to-earth answer for me: "You have to ask yourself, why are you creating? My main goal is for people to enjoy my art."
Brianna thinks about her own patterns of consumption when she considers how others might experience her work. She loves art and would very much like to be able to purchase original works worth thousands of dollars, but anything more than a couple hundred dollars isn't practical for her budget. She knows it is the same for many others. She's motivated not only by her own success as an artist, but in making the enjoyment of her accessible to as many people as possible.
When she muses about opinions expressed with respect to artistic purity and a history of art academia, she wonders "Why are there so many rules? Why are there so many limitations? Art is to be enjoyed." It seems the enjoyment she shares is not only feeding her happiness but also being picked up by many admirers and customers.
Work she's displayed, showcased at Art Battle Canada, and her regular social media posts have led to many offers. Her current show at the Nuttshell Next Door Café in Lakefield came of a direct contact from Chef Jay Nutt asking if he might display her work. She's also been approached by Rebecca Cooper at the Traynor Family Vineyard and by The Food Forest Café, with both exhibits beginning later in August. Other commissions have come to her from The Silver Bean Café and Tribal Voices in Lakefield.
At a certain point, she imagined applying for grants and finding her way into shows in Toronto and elsewhere; now she has plenty to do just keeping up with the local demand for her work.
"In my head, that's what I thought success was: showing in Toronto," she says. "Now I don't have time."
Brianna's work is on display at Nuttshell Next Door Café (33 Queen St., Lakefield, 705-652-9721) until the end of August. The café is open Monday through Saturday from 8 a.m. to 4 p.m. and Sunday from 10 a.m. to 4 p.m. Gosselin's work will remain on exhibit there until the end of August.
Stay tuned for Brianna's upcoming show at The Food Forest Café (641 George St. N., Peterborough, 705-874-1888) coming later in August.
---
Photography nourished by nature with Al Black and Steven Leak
There is a lot of love for the beauty of Peterborough and the Kawarthas out there. You could put forward a great many theories about why there is such a diverse concentration of artists here, but perhaps the most primal and compelling is the land itself.
Long-time friends Al Black and Steven Leak share both a love of exploring these natural spaces and an enthusiasm for photography. They've so enjoyed sharing that pursuit that it sparked an inspiration to share it with others. This is the first time either of them has shown their photographs publicly.
Al, who describes himself as a "lifetime musician, gourmand, visual artist, and natural man" is the co-owner of Maggie's Eatery with his partner Margaret "Maggie" Bonigut and a member of the famed acoustic blues band Jackson Delta*. He is still much sought after as a master drummer and continues his musical career both solo and in other musical acts including Al Black and the Steady Band.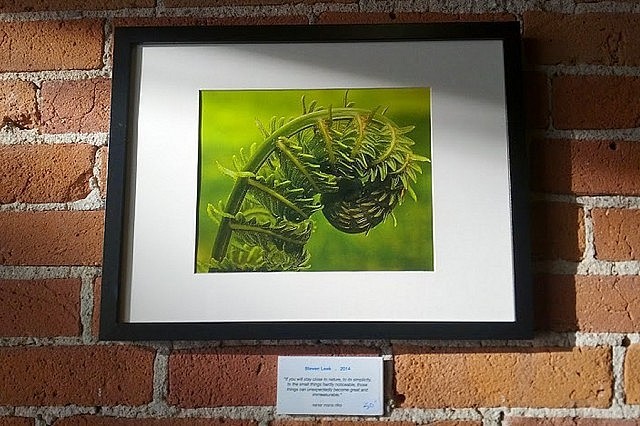 Steven describes himself "as happily chasing an ambition I had as a child that one day when I grew up, I'd be a musician, a writer, and an artist. For now I am a teacher, entirely loving my life."
Steven steps into his ambition with a close examination of the beauty and wonder of nature accompanied by quotations from great writers like Whitman, Chagall, Thoreau, and Rilke; writers who have derived similar inspiration from the beauty of the world around them.
Al's more expansive lens sets a nice counterpoint to Leak's close study, and the photographs are themselves richly displayed amid the cozy surroundings and exposed brick of Maggie's Eatery. One can enjoy all manner of nourishment here.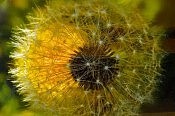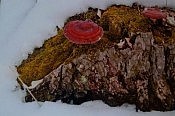 Maggie's Eatery (135 Hunter St. W., Peterborough, 705-760-9719) is open Monday through Friday from 8 a.m. to 4 p.m., and Saturday from 10 a.m. to 3 p.m.. The photo exhibition is on now and will continue until September 13th.
*Special note: Jackson Delta re-unites for a full concert at Market Hall for one night only, on Friday, October 17, 2014 at 8 p.m. Tickets are available at www.markethall.org.
---
Stories we tell ourselves with Lori Brand
Lori Brand's fascination with mythology was presented to me when I first met her as a Runway Challenger, teamed up with Wes Ryan for Public Energy's Wearable Art Show this year. She and Wes used materials from Lakefield Pantry and managed to turn egg cartons into Icarus.
Although Brand has undertaken work in a variety of mediums, her current show at Stickling's Bakery and Bistro is focussed upon her work with oils. The exploration of mythology and dream imagery continues here and is grounded in aspects of the natural world and representation. That Lori has established herself a good purchase upon the mythic terrain is given to me by the feeling I get viewing her work. There is a shamanic or totemic aspect to her portrayal that breathes its way into each piece.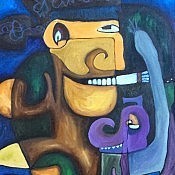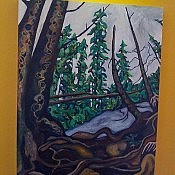 Since graduating with a Bachelor of Fine Art from the University of Calgary, Lori has shown work in Calgary, Toronto, and Peterborough. Her recent exhibits include The Inaugural Triennial Exhibit at the Art Gallery of Peterborough (2012), Artspace's 50/50 sale (2012), Collective Vision at Peterborough Regional Health Centre (2012), a solo show at The Ritz Deli North (2012), and Peterborough in Portrait (2013) at the Canadian Canoe Museum.
Lori's work will remain on display at Stickling's Bakery and Bistro (191 Charlotte St., Peterborough, 705-748-3618) throughout August. Stickling's is open Monday through Friday from 8 a.m. to 4 p.m. and Saturday from 8 a.m. to 3 p.m.
---
"Lawless Landscapes" at Chasing the Cheese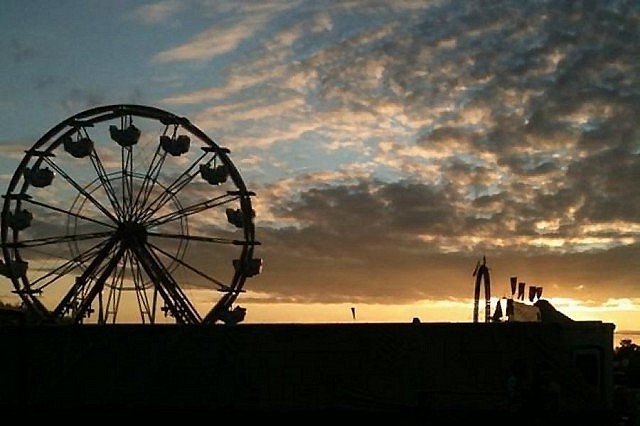 Carol Lawless received a wonderful birthday gift this year that we can all enjoy. Her friends Nancy Carter, Silvia Davies, and Andrew Wilton decided that Carol's photos of Peterborough and the surrounding area had to be put on display for all to see. They had a series of her photos mounted and framed for a show at Chasing the Cheese in downtown Peterborough, right on Carol's favourite section of Water Street.
Not that these photos have been altogether a secret. Ever since Carol fell in love with the photos Dan Taylor was posting on Instagram, she's become an Instagram enthusiast herself and often posts her photos there or on Facebook. Her travels as an editor for The Promoter and then Features Editor for kawarthaNOW.com afforded her plenty of opportunities to record the skies and landscapes of the cities and rural areas that she visited throughout the Kawarthas.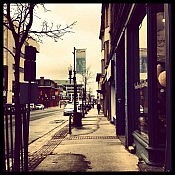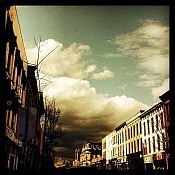 People have come to look forward to the images of where her travels have taken her. But there's much more than just city streetscapes and rural skylines to intrigue the visitor to this unique birthday present. Carol says they are also an expression of herself.
"I have always taken photos because they are as much as an expression of what I am feeling, as they are a record of the landscapes in the county and city of Peterborough."
No one could be more pleased than Carol, who was completely surprised and overwhelmed by this special tribute from her friends.
Chasing the Cheese (372 Water St. Peterborough) is open Tuesday and Wednesday from 11 a.m. to 5 p.m., Thursday and Friday from 11 a.m. to 6 p.m., and Saturday from 10 a.m. to 5 p.m. The show runs until August 24th.