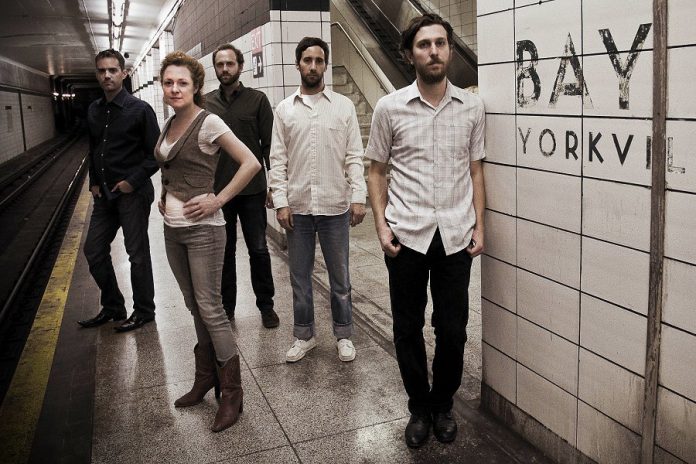 I'm not sure if there's been a month with quite as much music going on as August in Peterborough and the Kawarthas.
There are free outdoor concerts all over the place and live music bars are chalk full of acts. Even some small restaurants have great live music.
With that in mind, here's a guide to some things coming up during the last full month of summer.
---
Carlos del Junco at Bancroft's Millennium Park on August 6th
On Wednesday, August 6th, super-talented harmonica player Carlos del Junco will be playing a free concert in Bancroft's Millennium Park (166 Hasting St. N., Bancroft). This show is part of a summer-long series of free shows in the park. You won't want to miss this one! The show begins at 7 p.m.
"Heaven's Where You'll Dwell" – Carlos del Junco

---
Occam's Blazer, Kelly McMichael and the Gloss, Blimp Rock at The Spill in Peterborough on August 8th
A night of dancy pop/rock hits The Spill (414 George St. N., Peterborough, 705-748-6167) on Friday, August 8th at 10 p.m.
Peterborough's Occam's Blazer will bring a a mix of hip-hop, funk, and dance to the stage. Kelly McMichael and the Gloss plays indie rock with a nod to the '90s, and Toronto's Blimp Rock are just plain fun (this show is a single release too). Blimp Rock's ultimate mission to raise enough money to have a musical festival in a blimp one day.
This is a can't-miss show. Cover is $10 or pay what you can.
"The Love That Treats You Right" – Blimp Rock

---
Hootenanny on Hunter Street in Peterborough on August 9th
The 4th Annual Hootenanny on Hunter Street takes place from noon to 10 p.m. on Saturday, August 9th, featuring local fare, arts and crafts, and a full day of free music — all in Peterborough's café district. This year's line-up is quite varied, with (pardon the cliché) something for everyone.
USS is a dance-based party duo with a DJ and driving guitar, The Silverhearts are local legends with a classic tin pan alley sound, Melissa Payne has a fantastic voice and great tunes, The Charming Ruins is a rock/blues duo, The Beaches is a girl rock band that can rev it up, Streetlight Social offers up a pop/roots sound, Robot Eyes is a dance/pop band with a back-to-the-'80s feel, Occam's Blazer brings a combination of new wave and dance music to the stage, and last but not least Levon is an alt-country/rock group.
It's gonna be something special all day long!
"Hollowpoint Sniper Hyperbole" – USS

---
Kenny Butterill at Victoria Park in Lindsay on August 13th
Residents of the City of Kawartha Lakes are in for a treat on Wednesday, August 13th at Victoria Park (210 Kent St. W., Lindsay) as smooth alt-country/folk act Kenny Butterill comes to town as part of Concerts in the Park 2014.
Kenny has been compared to JJ Cale, Donovan, and John Prine — yet he brings his own heart and soul to his tunes. The cost is free and the show runs from 7 to 9 p.m.
How Far Can We Go? – Kenny Butterill

---
Al Lerman at Publican House Brewery in Peterborough on August 15th
Publican House Brewery (300 Charlotte St., Peterborough, 705-874-5743) presents "Ribs, Blues and Brews Night" with Juno Award winner Al Lerman on Friday, August 15th.
The show has no cover and runs from 6 to 9 p.m. Sounds like a good night to me!
"I'm Gone" – Al Lerman

---
The Shuffle Demons at the Haliburton Forest Festival on August 16th
Canadian jazz/funk/fusion band The Shuffle Demons have been at it for 25 years and they're still going strong.
Their high-energy tunes come to Haliburton at the Historic Logging Museum on Saturday, August 16th at 2 plm. Tickets are $34 + HST. More information is available at www.theforestfestival.com.
The Shuffle Demons at the 2013 Beaches International Jazz Festival in Toronto

---
Peterborough Folk Festival from August 22nd to 24th
There are many awesome things happening on the Peterborough Folk Festival weekend this year, so I'll get right to it.
Canadian rock heroes The Constantines will kick off the festival as part of a great triple bill at The Market Hall (140 Charlotte St., Peterborough, 705-749-1146) on Friday, August 22nd. It's one of only four reunion shows this summer for the group. Joining them will be Marine Dreams and Peterborough Folk Festival's 2014 Emerging Artists The Lonely Parade. The show begins at 8:30 p.m. and costs $20 in advance and $25 at the door (plus fees for both).
"Working Full-Time" – The Constantines

The marquee day of the Peterborough Folk Festival is Saturday, August 23rd at Rotary Park. Completely free and running from noon to 11 p.m., performers include Great Lake Swimmers, The Burning Hell, Julie Doiron & The Wooden Stars, Evening Hymns, By Divine Right, Geoff Berner, Express & Company, A Tribute to the Late Bernie Martin, Mayhemingways, and many more. Food, crafts and art, and Publican beer will be available in the park as well.
"The Great Exhale" – Great Lake Swimmers

There will also be two festival after-parties in downtown Peterborough on Saturday, August 23rd. One takes place at 11 p.m. at The Pig's Ear (144 Brock St., Peterborough, 705-745-7255) featuring Mayhemingways and a special guest (19+, $3 cover). The other takes place at 11 p.m. at Gordon Best Theatre (216 Hunter St. W., Peterborough, 705-876-8884) featuring The Legato Vipers and The Kennedy Cult (all ages, $3 cover).
Another free day of music takes place at Millennium Park on Sunday, August 24th, from noon to 6 p.m.. Performers will include Bry Webb and The Providers, Baby Eagle, James McKenty, Bird City, and more.
"Amateur Rappers" – The Burning Hell

---
Shelter Valley Folk Festival in Vernonville from August 29th to 31st
The 2014 Shelter Valley Folk Festival 2014 takes place from Friday, August 29th to Sunday, August 31st at the Henkel Family Lavender Farm (295 Vernonville Road, Vernonville).
Talent at this highly acclaimed music festival includes Ashley MacIsaac, Bobby Bazini, Danny Michel, Joel Plaskett, NQ Arbuckle, Ray Bonneville, Sherman Downey & The Ambiguous Case, and more.
Ticket and schedule information is available at www.sheltervalley.com.
"Keep Your Head Up" – Sherman Downey & The Ambiguous Case

---
Celtic Jam returns to the Publican House Brewery in Peterborough on August 31st
The Celtic Jam is back once again, on the patio at Publican House Brewery (300 Charlotte St., Peterborough, 705-874-5743) on Sunday, August 31st.
It was a big tradition at the former Peterborough Arms, and Fiddlin' Jay Edmunds is leading the charge with some excellent Celtic tunes. The jam runs from 2 to 5 p.m.
---
More free concerts at Peterborough MusicFest in Del Crary Park in August
There have been many great shows already at the MusicFest, and August is no exception. Check out these free concerts in a beautiful setting. All shows start at 8 p.m.
Wednesday, August 6th: Barney Bentall (classic pop/rock)
Wednesday, August 13th: Justin Rutledge (contemporary folk)
Wednesday, August 20th: The Good Lovelies (folk/country)
Saturday, August 23rd: Royal Wood (alt-pop/piano)
"Forever and Ever" – Royal Wood