1974 was a big year: the OPEC oil crisis ended, Hank Aaron surpassed Babe Ruth's all-time homerun record, Stephen King published his first novel Carrie, ABBA was on its way to superstardom, Richard Nixon resigned as a result of the Watergate scandal, Muhammad Ali knocked out George Foreman at The Rumble in the Jungle, and the Rubik's Cube was invented.
It was also a big year for Peterborough's arts community. Along with his friend David Bierk and a collective of other artists, Dennis Tourbin founded Artspace — which is celebrating its 40th anniversary this year.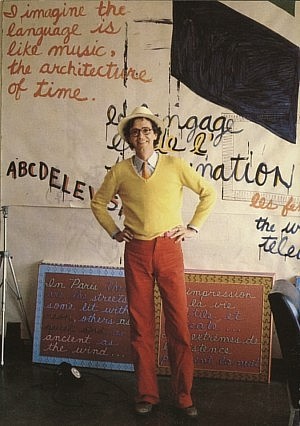 Artspace was one of several artist-run centres created during an explosion of art in Southern Ontario and Canada throughout the '60s and '70s, and Dennis Tourbin was a big part of that explosion. If he is less well known than some of his contemporaries, it's perhaps because his energies went out in so many directions at the same time. Tourbin was a poet, painter, novelist, performance artist, publisher, and arts activist, to name but a few of his passionate interests.
When Tourbin first heard about the October Crisis in 1970, he was out fishing — another of his avid pursuits. His response to the crisis in Quebec was immediate and the work he produced is some of his most famous.
"It changed the way we saw ourselves," he wrote. "We entered a new age, the media age".
Tourbin was fascinated with the theories presented by Marshall McLuhan, including famously misunderstood ideas like "the medium is the message." He began to explore the concept of television as poetry through a multimedia art form he called painted plays. They included reading his poetic texts on a stage set with painted poems and props, images, and sound.
Tourbin's work would eventually find its way to the National Gallery of Canada in 1995 — only to have a major show cancelled out of fears that his October Crisis work would inflame political tensions during the Quebec referendum.
Born in St. Catherines in 1946, Tourbin founded the Niagara Artists Centre in 1969 prior to moving to Peterborough, where he co-founded Artspace in 1974. After marrying his wife Nadia Laham in 1983, he left Peterborough for Ottawa. He went on to become artist-in-residence at the Canada Council's Paris studio for a year and then director of Gallery 101 in Ottawa. In 1998, he suffered a major stroke and passed away in Ottawa at the age of 51.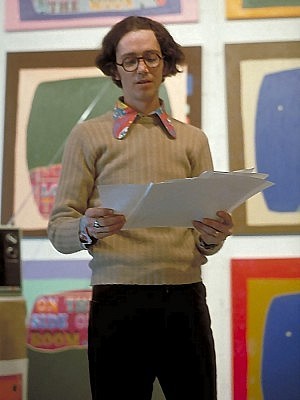 Dennis Tourbin has had a profound influence on art and the way it was perceived. He was an important part of a formative period in Peterborough's contemporary arts culture from 1974 to 1984.
In recognition of his impact as one of the city's art world luminaries and a cultural leader with a national presence, Public Energy — Peterborough's dance, theatre, and performance presenter — is teaming up with Artsweek Peterborough to salute Tourbin with "Totally Multi: Dennis Tourbin's World of Art & Performance" on Saturday, September 13th, starting at 8 p.m at the Market Hall Performing Arts Centre (140 Charlotte St., Peterborough). The event will mark the finale of Artsweek Peterborough's week-long celebration of arts and culture.
"Totally Multi" is a celebration of Tourbin's work and influence and will feature performers he worked with going back to the 1970s, along with some of Peterborough new generation of artists. The event takes its name from a phrase Tourbin used to describe the most exciting event to which you could possibly go.
"How great was that show, Dennis?" Public Energy artistic producer Bill Kimball would ask him. "Billy, there was video and performance art and holograms and a band," Toubin would reply. "It was so totally multi you wouldn't have believed it, not for a minute!"
This is the spirit behind this cavalcade of art and performance, which will include:
4th Line Theatre artistic director Robert Winslow's revival of the Reverend Bobby Angel
possibly the first-ever performance together of musical legends Reverend Ken and Washboard Hank
acclaimed interdisciplinary artist Elizabeth Chitty
a special reuniting of Curtis Driedger and Douglas Cameron performing as their new wave band The CeeDees
poet Michael Dennis
David Ramsden (back to "Free the Flamingoes")
performances from multidisciplinary writer and dance-theatre performer Kate Story, Fleshy Thud dance and Theatre on King artistic director Ryan Kerr
and many more special guests who knew Dennis from far and wide.
Tickets for "Totally Multi" will be available at the door, or in advance from the Market Hall Box Office for the 1984 price of just $5. For tickets, call 705-749-1146 or order online at www.markethall.org. Donations to Public Energy toward the cost of inflation will be accepted.
"Totally Multi" is happening along with an exhibition of Tourbin's painted play "Paris La Nuit", which will be performed at Artspace (378 Aylmer St. N., Peterborough) on Friday, September 12th at 8 pm.