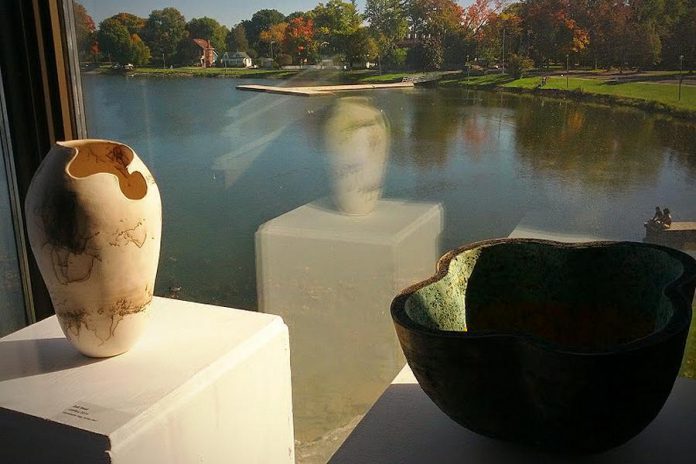 Beyond walls: Art Gallery of Peterborough and the Kawartha Autumn Studio Tour
While work continues on repairing one of its walls, the Art Gallery of Peterborough (AGP) remains open with the Selections Exhibition from this past weekend's 30th Annual Kawartha Autumn Studio Tour on display until October 19th. A concurrent display of works from the tour is also on display at the Peterborough & Kawarthas Visitor Centre until the end of October.
The AGP's Kawartha Autumn Studio Tour is one of the longest running studio tours in the country and one of the few run and juried by a gallery. This makes it not only a unique opportunity to meet artists in their creative spaces, but also provides the chance to see and purchase high quality art that may not always find its way to a show. For many artists, this is a key opportunity to reach a broader audience, sell work, or receive commissions. This is just one way that the AGP reaches beyond its walls as a cultural institution in the community.
If you took in the tour this weekend, chances are you didn't make it to see every artist. With 41 artists spread out across Peterborough, Lakefield, and throughout Peterborough County from Burleigh Falls to Millbrook, you would have had your work cut out for you. Whether you ventured out or not, I would urge you to hold onto (or get yourself a copy) of the Studio Tour guide and pay some of these artists a visit. The Selections Exhibitions that remains on display at the AGP and the Visitor's Centre can give you an idea of what you're interested in, and the folks there will be happy to orient you and answer your questions.
I visited a handful of artists over the weekend and all were glad to welcome future enquiries about their work and the potential for scheduling private viewings.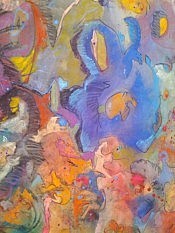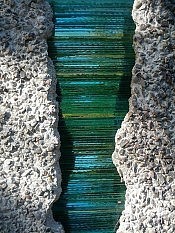 My first visit was to mixed media artist Paul Cade, on the south shore of Clear Lake near Young's Point. Mixed media is something of an understatement. Cade collects anything and everything that catches his eye and might be worked into a piece of art. It may end up being outdoor sculpture or the inspiration for a new canvas. He's as pure a creator as I've ever met and even his process of making art leads to more art. One set of prints he created began with paint that bled over from other works onto his work table; another piece began when a drop sheet with rusted spare parts for a metal sculpture became a canvas.

"A lot of my stuff is about not throwing anything out," Cade says. "If it isn't working, you just keep going."
If you're looking for unique work, then Cade is an artist to seek out. You're not likely to find his work at a gallery because committing to a series of similar works would interrupt the flow of his constant torrent of creation.
"I create because of what interests me," he tells me. "I don't create for the market. I want to see how far I can go with things."
I didn't have to go far to find another artist making use of recycled materials.
Christy Haldane is just down the road near McCracken's Landing, not far from Proximity Fine Art at Carveth's Marina on Stony Lake. Haldane works with recycled glass and reclaimed materials that she uses to create both large- and small-scale sculpture. A series of her pieces were commissioned to appear along the Trent-Severn Waterway.
Haldane works with some pretty heavy-duty forces, annealing glass and fusing it along with concrete, reclaimed wood, steel, and rock. For all the brutal industry involved, her work is often quite refined and the various hues of turquoise glass reflect and transmit light beautifully.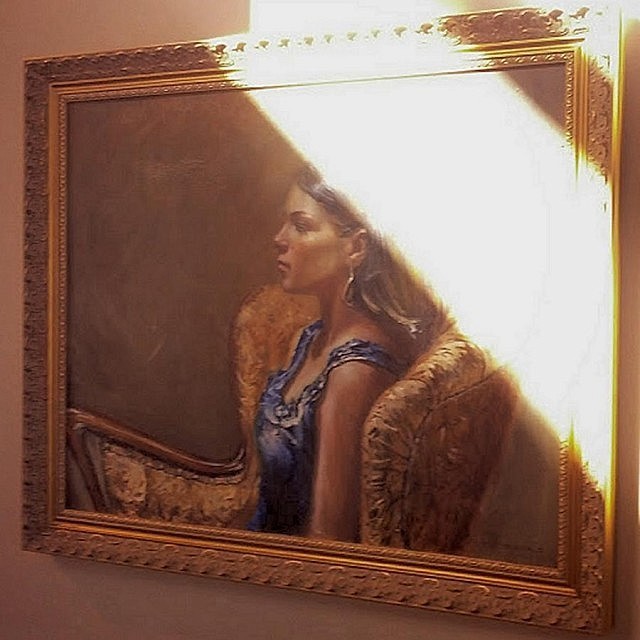 As I continued my tour on Sunday, I found Patrick Fitzgerald on his beautiful sunlit verandah.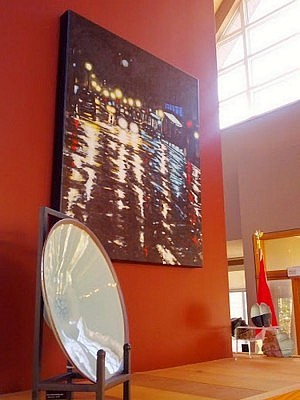 Fitzgerald is a painter who was unknown to me, but for the portrait he entered in the Peterborough In Portrait exhibition a year ago (the portrait, it turns out, is of a neighbour who used to model for his paintings). Fitzgerald often finds subjects in his friends and neighbours. Many of his commissions and sales have come through personal connections or directly from the Kawartha Autumn Studio Tour itself. Unlike many artists, both he and his wife work in arts-related careers as illustrator.
"I've been very fortunate," he says. "I've been working as an illustrator since I was 20."
Although he confides in me that he sometimes pines for something different to do, as he describes the field as being "very competitive". Fitzgerald does excellent portraiture and has received commissions from people looking for something special in the way of commemoration.
Other artists tend to sell their works or receive commissions through events like the Buckhorn Fine Art Festival. When I dropped in on artist Bronson Smith, he told me it was a bit of a cold and rainy experience there this year. He doesn't do many shows these days, but was glad that "the radiation series" of Modern Primitive Wood Paintings at Erring on the Mount captured so much attention. The series chronicled Smith's recent battle with prostate cancer, which is happily now in remission.
Smith's style is quite bold and distinctive with the colourful acrylic palette he uses applied to routered plywood with balsa wood and sometimes pine strips applied for detailing the buildings that feature in his work. Much of his work is inspired by preserving images of heritage buildings and settlements that are disappearing from our landscape.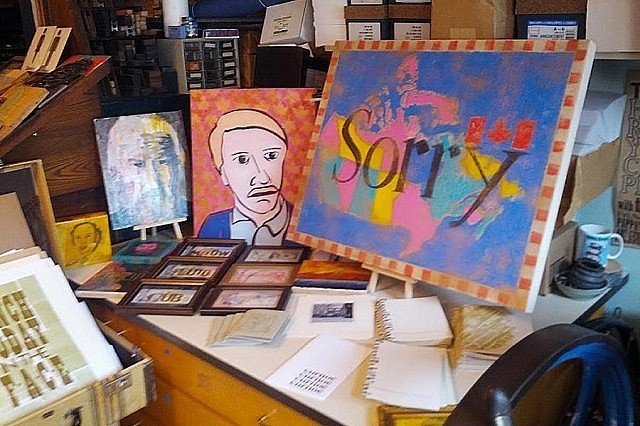 A different kind of preservation is going on over at Jeffrey Macklin's Jackson Creek Press. Macklin is keeping traditions of manual typesetting alive, along with various kinds of relief printing and mixed media work that he creates. Although much of his commercial work is laid out on the computer screen, it's informed by his love of typography and the use of manually operated presses. Macklin is a ubiquitous presence as a community supporter and his work is frequently featured on posters for community events, concerts, and shows. He's quite open to sharing his techniques with others and, when I visited his little workshed, I got to try my hand at printing some Christmas cards he was working on.
Macklin is glad to receive visitors, but if you really want an opportunity to engage with him in printmaking you can do so at the AGP. Beginning this Wednesday (October 1st) from 6:30 p.m. to 9 p.m. — and each Wednesday night until October 22nd — you can learn reduction printing techniques using standard lino-blocks that you carve to produce a small edition of prints. This adult class is available for $160 (+HST), including all materials. Pre-registration is required.
The Art Gallery of Peterborough (250 Crescent St., Peterborough, 705-743-9179) is currently open during construction from 11 a.m. to 5 p.m. Tuesday through Sunday. You can find information on all the artists in this year's 30th annual Kawartha Autumn Studio Tour at www.agp.on.ca/studiotour/.
The Peterborough & Kawarthas Visitor Centre (1400 Crawford Drive, Peterborough, 705-742-2201 or toll free 1-800-461-6424) is open from 9 a.m. to 5 p.m. Monday to Friday and from 10 a.m. to 4 p.m. on weekends. For more information, visit www.thekawarthas.ca.
---
Dennis Tourbin and The Language of Visual Poetry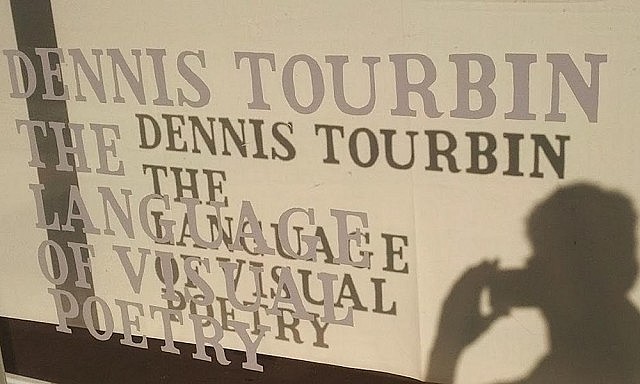 The AGP is also extending beyond its walls to show the work of Canadian art icon Dennis Tourbin. The touring exhibit "The Language of Visual Poetry", curated by Marcie Bronson and circulated by the Rodman Hall Art Centre/Brock University, is currently being hosted at Artspace.
This distinctive body of work created by this pioneer of interdisciplinary practice integrates the written word with painting, drawing, and video to explore language and meaning. Tourbin worked in a new visual form he described as "the area between painting and literature."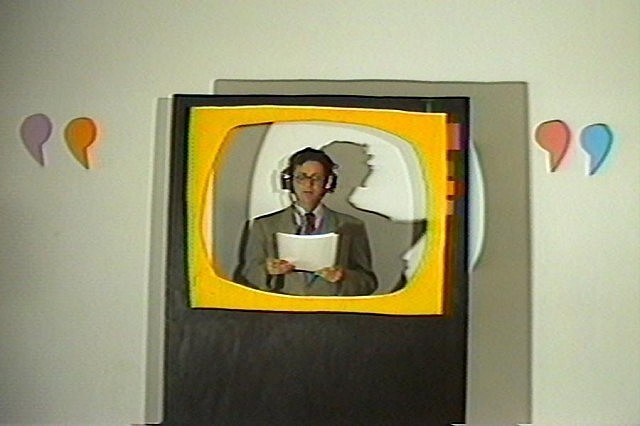 The opening of this exhibition in September began with a rousing performance of Tourbin's painted play "Paris, La Nuit" — by St. Catharines-based actor Edwin Conroy Jr. performing as Tourbin. Alongside this installation is "Goodnight Irene: Dennis Tourbin on TV", an extensive program curated by respected Media Arts Curator Su Ditta that celebrates the diversity of video works Tourbin produced throughout his career.
"The Language of Visual Poetry" continues until November 1st.
Artspace (3/378 Aylmer St. N., Peterborough, 705-748-3883) is open from 12 p.m. to 6 p.m. on Tuesday and Wednesday, 12 p.m. to 8 p.m. on Thursday and Friday, and 12 p.m. to 4 p.m. on Saturday. For more information, visit www.artspace-arc.org.
All photos by Michael Fazackerley except where noted.