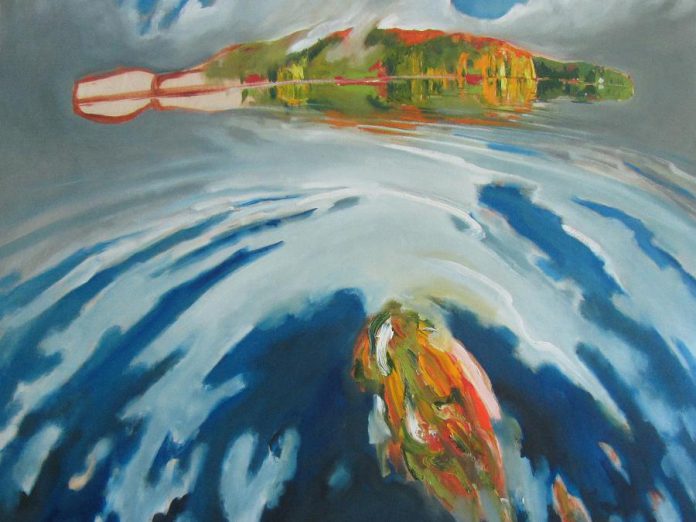 Seeing with new eyes
There is a level of mastery that requires you to rediscover what you already know in order to begin creating anew. This is the realization that I came to as I listened to John Climenhage describe all that has shaped his life as an artist, and how he has approached his latest body of work.
He has subsumed more than 20 years of painting en plein air landscapes into new terrains that map the imagination, memory, and how we see the world. "Terre Sauvage: The Topology of Anamnesis" represents years of intense self-directed study informing a process of creation as much about the mysteries of quantum entanglement as Climenhage's extensive knowledge of art and art history.
If that seems complicated, it is. Creating a great painting is hard work. But for all the sophistication that goes into his work Climenhage is a no-nonsense kind of fellow. He has no interest in turning his works into an essay. He pours everything into his painting and lets the work speak for itself.
"I guess if I could explain in words what I was doing then I wouldn't need to paint it," he says.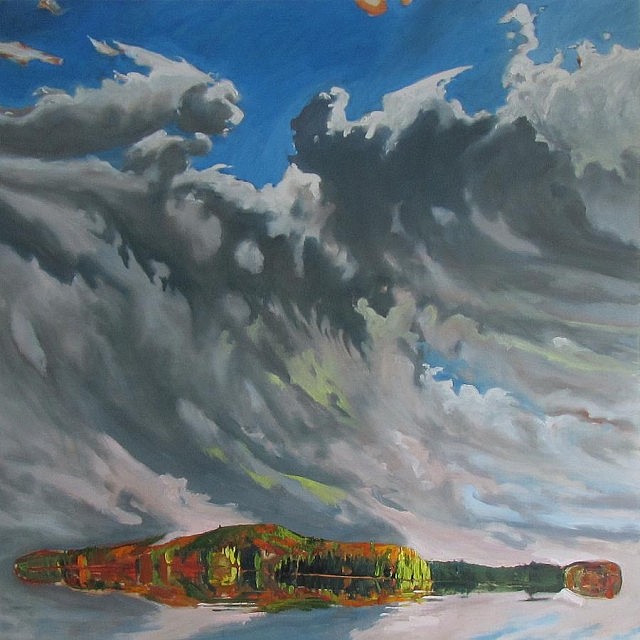 His approach recognizes that we often don't learn how to see the world in a particular way until someone shows us that vision. This is what Oscar Wilde meant when he said "life imitates art"; that what is found in life and nature is not what is really there, but that which artists have taught us to see.
Climenhage appreciates the recognition he's received for his iconic paintings of landscapes and landmarks around Peterborough and the Kawarthas but he knows that "it's not the thing that's going to push art and society further." In retracing his steps through the wilderness, he explores how things come into being. His work engages us in the 100-year-old wrestling match we've been having with what quantum physics has told us about our role as observers. Awe, he explains, is being present in the realization that we're interacting with everything around us to create reality.
"Where do we go in a world where a god ordered universe, or the concept of a god, is no longer tenable?" he asks. "There is still a need to express those feelings. We still have them."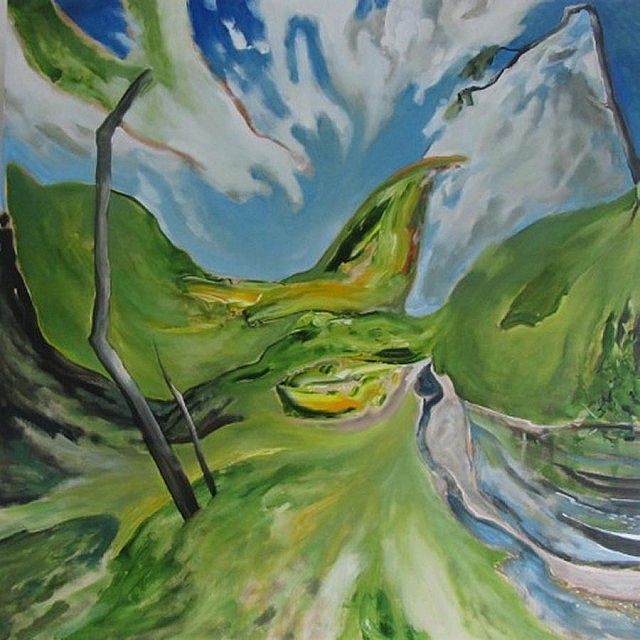 The mystical or spiritual experience is the cornerstone of religion, and in exploring this he has left no stone unturned in reaching toward new expression.
"My life is totally committed to making better paintings," he explains, "to extending the language of painting and trying to do something that will make something better."
Each of Climenhage's new paintings contains something of the mystery bordering on the creation of other worlds, including this one.
"Terre Sauvage: The Topology of Anamnesis" opens on November 14th and runs until January 18th, 2015 at The Art Gallery of Peterborough (250 Crescent St., Peterborough).
There will be an opening reception on Friday, November 14th at 7 p.m. where Climenhage will be sharing the spotlight with emerging artists William Joel Davenport and Esther Simmonds-MacAdam whose "Emerging Peterborough" exhibition will be showing concurrently with his.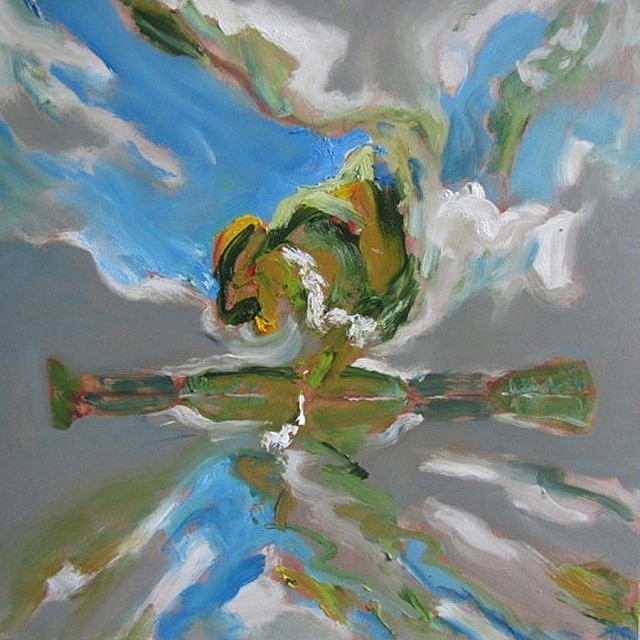 For more information about The Art Gallery of Peterborough, visit www.agp.on.ca, call 705-743-9179, or email gallery@agp.on.ca. For more information about artist/instructor John Climenhage, visit johnclimenhage.blogspot.ca, call 705-750-0524, or climenhage@nexicom.net.
---
The shape of things
You might appreciate it in the smooth curve you feel as you drive along a country road. Or perhaps the way the petals of your favourite flower whorl about its centre brings a smile to your face. Our lives are filled with nature's geometry. There is something about the purity of form in lines and shapes that arouses our sense of beauty.
Photographer Esther Vincent has for years set out along roadways and roamed through fields to find just the right time and place to capture an intriguing vista. Sometimes she finds what she's looking for by bringing her lens close to things in her own backyard. In her latest exhibition, she has carefully selected images that highlight the hidden architecture behind her fascination with landscapes and some of our most recognizable forms.
What is most beguiling about these photographs is Vincent's eye for reduction. There is such a tremendous glut of picturesque landscape photos in the world, that the word itself betrays how mundane they can be. In drawing our attention to the interplay of shapes and lines, and the contrast between planes of colours and texture,Vincent composes scenes with far more to prick the imagination and engage our sense of intrigue and wonder.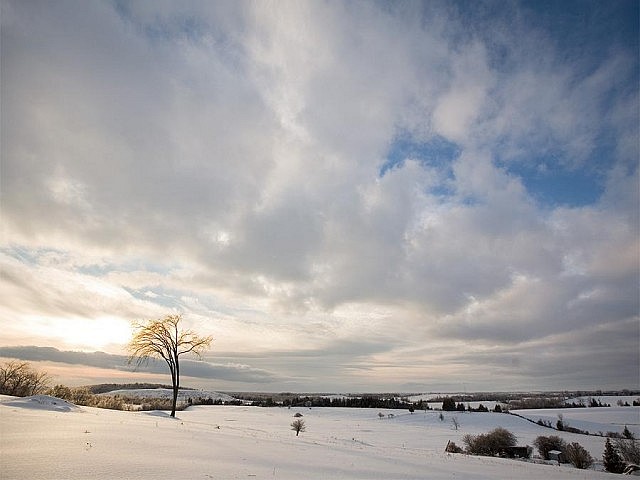 In the sweep of a winter field, we can see clearly to appreciate the roundness of a snow-covered hill. The leaf of a fern is a sea of green unravelling the simple pattern behind the complexity of its fractal shape. Vincent draws us into the anatomy of visual appeal. In doing so, she gives us more to look at than flowers or horses or a dock.
Whatever we may draw from their analysis, they are certainly beautiful images to look at. After all, says Vincent, "the main reason I took these photos is because I liked what I saw."
Esther Vincent's upcoming exhibition will be on display at Tonic Hair Salon (446 George St. N., Peterborough) from November 8th until December 27th.
Tonic is open Tuesday and Wednesday from 9:30 a.m. to 6 p.m., Thursday from 9:30 a.m. to 8 p.m., Friday from 9:30 a.m. to 6 p.m., and Saturday from 9:30 a.m. to 4 p.m. The salon is a relative newcomer to putting on art shows. You don't need a hair appointment to come and see the works on display.
There will be a special opening for the show on Monday, November 17th from 6 to 8 p.m.
Exhibitions of Vincent's work are rare and these images are for sale, so don't miss out.

For more information about Tonic Hair Salon, visit TonicHairStudio on Facebook or call 705-748-4608. For more information about Esther Vincent, visit www.evmustang.ca, call 705-749-8512, or email contact@evmustang.ca.
---
Northern bound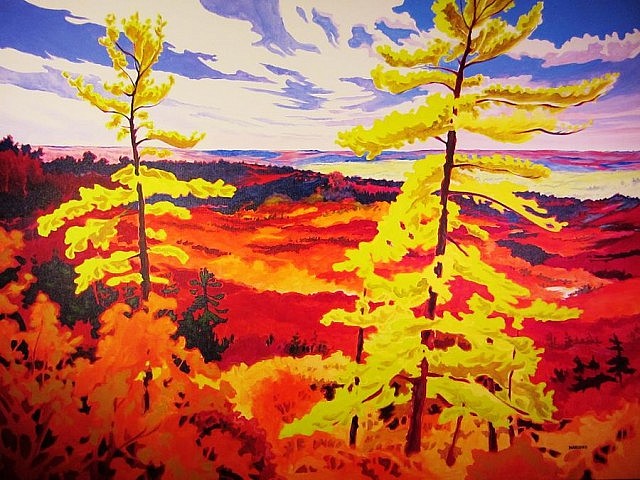 I remember seeing this sign in downtown Toronto among others directing people to local landmarks: it reads "Algonquin Park 281km". I do chuckle a bit to myself whenever I see it. It seems to make an odd suggestion, as if to say "Hey, after you visit the Hockey Hall of Fame, why not drive three hours north to see one of the most beautiful parks in the world?" As improbable as that suggestion might seem given the context, no doubt many people arrive in Toronto with precisely that destination in mind.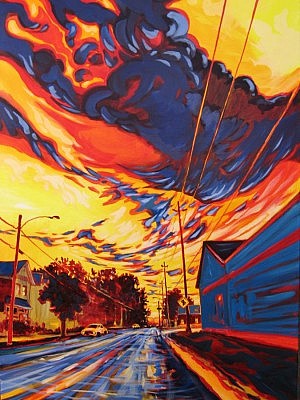 Paul Nabuurs has chronicled that journey, from the big city to the wilds of northern Ontario, in his latest series of paintings "Here to There". From the crush of people and vehicles downtown, to little roads past small towns, and finally to the sprawling expanses of forest, he marks the dwindling presence of human activity until it becomes a scarcity. Still occupying a space, but diminishing until it reaches the perspective of a lone observer.
Nabuurs has been on quite the personal journey himself over the last couple of years.
As an emerging artist, he has already made quite an impact. Last year, he attracted quite a bit of attention competing in Art Battle Canada. He excelled in the live painting competition that challenges entrants to produce the best work of art they can in 20 minutes.
Nabuurs won the title of Art Battle Champion for Peterborough and went on to represent Ontario at the national championship in Toronto. While he did not win the national crown, his bold paintings with their striking use of colour have won him many admirers.
Note that Art Battle Canada is back with their first event of this season on Thursday, November 13th at The Venue (286 George St. N., Peterborough) starting at 7 p.m. (tickets are available at www.artbattle.ca).
Nabuur's exhibition "Here to There" will be on display at the Impresario Artisan Market & Gallery (37 King St. W,. Cobourg) from November 7th until November 30th. The gallery is open Tuesday to Saturday from 10 a.m. to 4 p.m. and Sunday from 12 to 4 p.m.
Don't miss the opening reception on Saturday, November 15th at 7 p.m. Nabuurs will be showing off his live painting skills beginning at 7:30 p.m. and an auction of the painting will follow. If you've yet to see him in action, you'll be amazed by the work he can create in such a short period of time.

For more information about Impresario Artisan Market & Gallery, visit www.impresariomarket.ca, call 289-252-0709, or email info@impresariomarket.ca. For more information about Paul Nabuurs visit www.paulnabuurs.como or email abovewaterstudio@gmail.com.
---
The Art School of Peterborough is building up an Appetite for Art
For a new holiday event to celebrate all of the senses, The Art School of Peterborough is bringing together artists from the visual and culinary worlds at "Appetite for Art: The Elements of Art Fundraising Event and Art Show". Using the elements of art — line, colour, texture, shape, form, space, value — artists and chefs will be creating works of art that are appetizing to the palate and feed the soul.
On Friday, November 7th, they unveiled the line-up of chefs and the artists they'll be pairing together. Chefs Lisa Dixon of Black Honey Desserts, Andrew Orde of Primal Cuts, Miguel Hernandez from Peterborough EATS, and Martin Carbajal Mendoz of La Mesita Catering will each respond to works of art in a chef battle of the senses.
For the event, each chef will create two hors d'oeuvres inspired by art pieces from local artists Jenni Johnston, Rob Niezen, Brianna Gosselin, and Anne Cavanagh. These uniquely designed chef creations will also be paired with wine by Sommelier Chris Wilton featuring tastings from the Traynor Family Vineyard and Sandbanks Winery.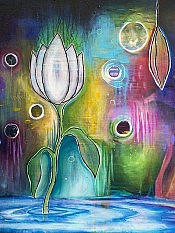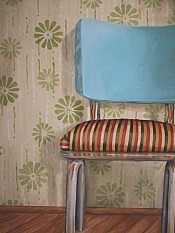 This unique event will be hosted by radio personality Dan Duran with Carol Lawless and Brianna Gosselin and features an evening of entertainment including art and holiday gifts for sale. This is a wonderful opportunity for guests to experience food as works of art, and art as essential nourishment for the spirit.
Artist and host Brianna Gosselin shares the effect this nourishment has had in her life:
"The Art School of Peterborough and the people within the arts community are what gave me the courage to take that leap of faith to begin a career fulfilling my dream," she says. "As an instructor, I'm constantly inspired by my students and embrace the creative relationships we all establish with one another."
All proceeds will support The Art School of Peterborough and its programming.
Appetite for Art will take place on Saturday, November 22nd beginning at 6:30 p.m. at the beautiful heritage home location The Gourmet Safari (2398 Queen Mary St., Cavan).
Tickets are $50 and are available at artschoolptbo.org or by calling 705-742-3221. For more information, contact the school's executive director Jenni Johnston at 705-742-3221 or info@jennijohnston.com.
All images are courtesy of the respective artists.