Family Skiing & SnowboardingContact Info / MapLive Web Cam / Videos
"With lots of natural snow and the best snowmaking season we've ever had, ski conditions here at Sir Sam's have never been better," enthuses Chris Bishop, Sir Sam's Marketing Manager.
He would certainly know — Chris is one of five generations of his family to ski the slopes at the Haliburton resort.
But fresh powder isn't everything and the Bishops know to make a day on the hill a memorable experience: great service and amenities are a must. Providing a second-to-none ski experience is something the Bishops take great pride in.
Always innovating
Innovation runs in the Bishop family, beginning with Sir Sam's founder RJ (Bob) Bishop Jr. fulfilling his dream of building a Haliburton ski resort in 1965. Despite challenges along the way (such as obtaining land and making the best of Mother Nature), Sir Sam's offers skiers in the Kawarthas unparalleled experiences.
The Bishop family's keen insight into trends allows them to create amenities such as the upgraded terrain park and the innovative rookie-friendly covered ski lift.
"Parents love our covered ski lift," Chris says.
Made from durable plexiglass, the 1,110-foot conveyor-belt-style lift carries skiers to the top of the hill, protecting riders from the elements. Parents who are anxious about their new skier using a chair lift will like the peace of mind the covered lift provides. Upping the fun factor is the music piped into the lift.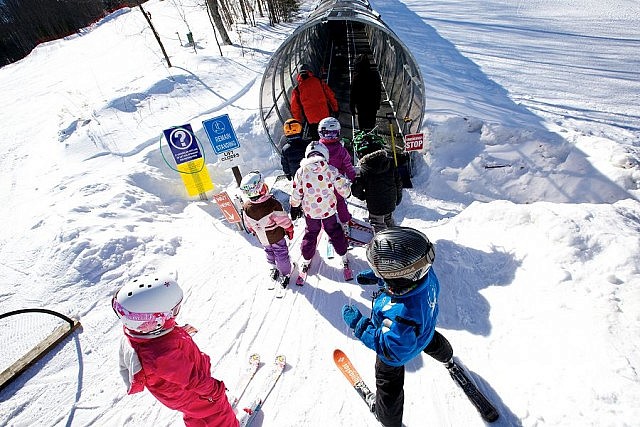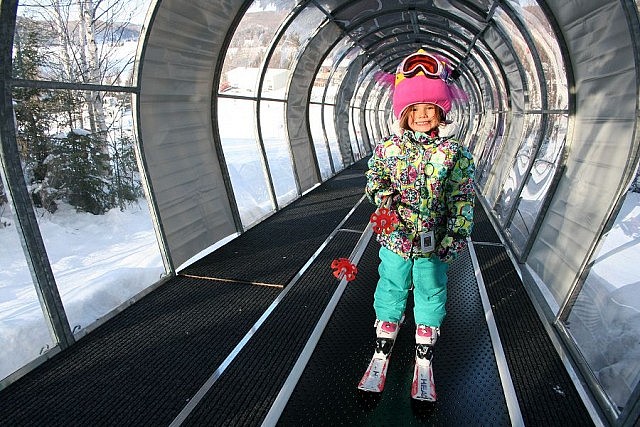 Chris is proud of the effort put into the development of Sir Sam's terrain park. Each year new obstacles are added, ensuring that more experienced snowboarders and skiers will find new ways to challenge themselves. The boxes and rails added this year have received rave reviews.
"This year's setup is more professional," Chris explains. "We listened to what skiers and boarders wanted, then worked to make it happen."
The terrain park is located directly in front of the chalet, and skiers and snowboarders who love an audience thrill visitors relaxing on the sundeck.
"The terrain park is in the perfect location, because it's is a visible and exciting part of everyone's day," Chris says.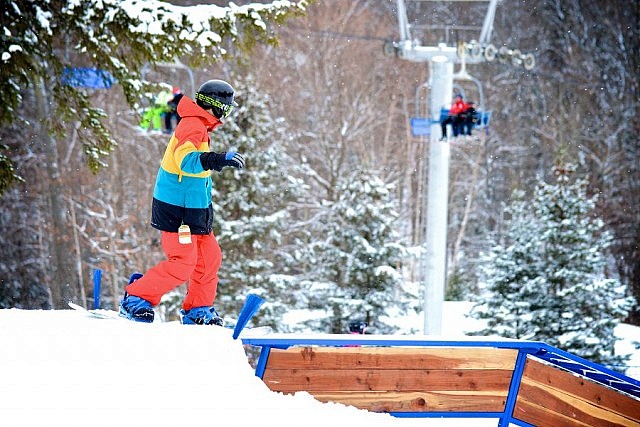 Also new for 2015 is a redesigned website that includes live web cams so visitors can check out ski and weather conditions before driving up.
"Or you can always call us to ask about the weather," Chris says, reminding skiers that Haliburton is generally 5°C cooler than Peterborough and the GTA and it's not prone to the rains and melts further south.
Family focused
As a family-run ski resort, Sir Sam's keeps the needs of families top of mind. Chris, along with his four siblings and their spouses, all play key roles in making sure visitors to the resort are always smiling.
"We're the ones selling tickets, serving food, or teaching lessons," Chris explains. "We're accountable for what we offer and we want your family to be happy."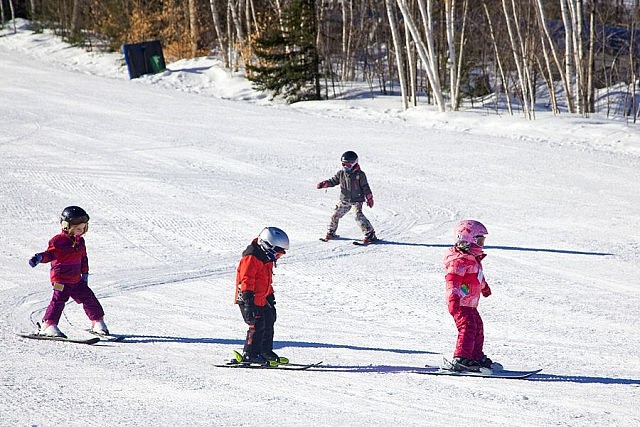 For parents wanting to spend the day skiing, Sir Sam's offers an affordable weekend rate of $190, which includes lift tickets for two adults and three children. When mom and dad need a break, they can watch their children from the spacious sundeck.
"The main runs and terrain park are visible from the deck, and parents love to sit back and watch their kids ski," Chris says. "It's fun to watch the kids show off on the terrain park. The deck is a great place to soak up the sun and relax."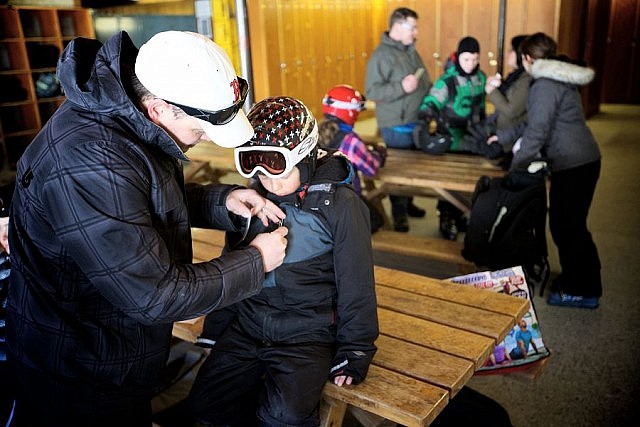 Sir Sam's hosts family-friendly events all season long. Kicking off the fun is the 24th annual Sir Sam's Ski Challenge. This fun ski race for families takes place over six Sundays in January and February, along with a final race on Saturday, March 7th. The challenge boasts a $1,000 grand prize, along with thousands of dollars in cash and prizes based on participation and a random draw.
For current updates on all the events happening at Sir Sam's, check out the News & Events page on their new and improved website at www.sirsams.com.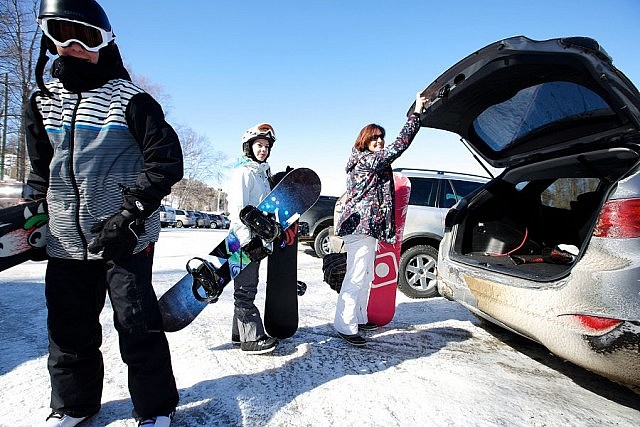 Something for everyone
From parent-and-tot lessons with friendly instructors to the challenging boardercross course, there's something for everyone at Sir Sam's — even for those who prefer not to ski.
"Our snowshoe trail is very picturesque," Chris explains. "If you can't hike to the top of the hill, you can always take the ski lift to the top and take in the views of Eagle Lake and Moose Lake."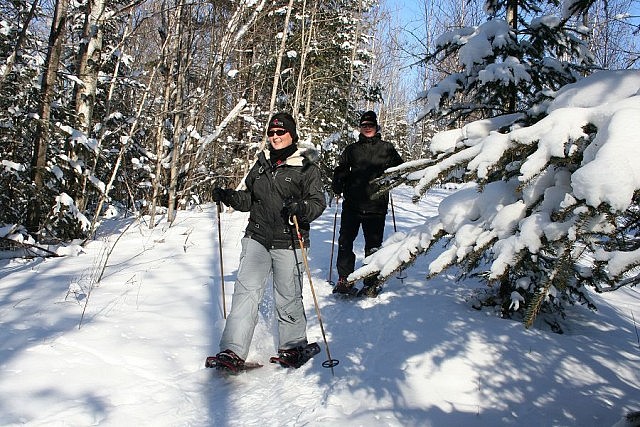 Of course, there's also no better way to end your day at Sir Sam's than to relax with a hot chocolate or specialty coffee next to the fireplace inside the spacious chalet. Chances are, a member of the Bishop family will sit down with you and chat about your ski experience.
"It makes me feel good to hear about families enjoying their time here," Chris says. "We love it here at Sir Sam's and we know our guests do too."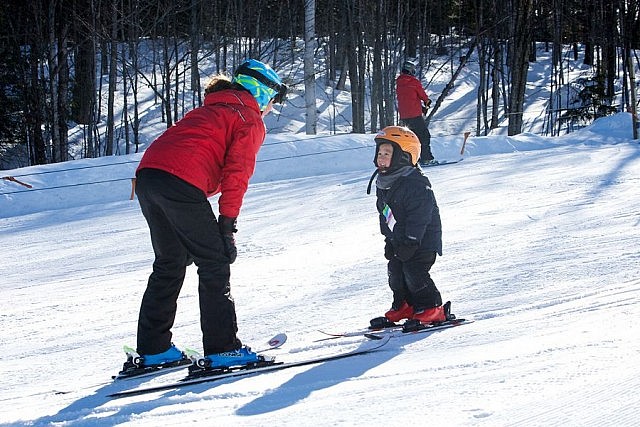 Sir Sam's Ski / Ride
1054 Liswood Lane
Eagle Lake, Ontario
K0M 1S0
Phone: 705-754-2298
Web: www.sirsams.com
Email: info@sirsams.com
Open five days a week (Wednesday to Sunday).
Wednesday to Friday: 9:30 a.m. – 4:00 p.m.
Weekends and Holidays: 9:30 a.m. – 4:30 p.m.
Open Family Day Monday, every day of March Break, and Easter Weekend (weather permitting).
Sir Sam's Live Web Cam
---
Skiing at Sir Sam's (March 2014)
---
Snowboarding Baby at Sir Sam's
All photos by Michael Hurcomb.