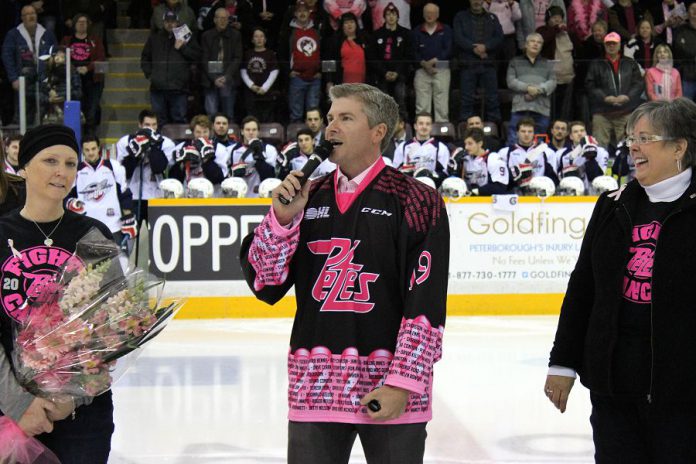 The Peterborough Petes and the Canadian Cancer Society Peterborough and District Unit announced that $72,923 was raised in the sixth annual "Pink in the Rink" fundraising campaign.
The campaign culminated at the Petes game at the Peterborough Memorial Centre last night, where the Petes prevailed with a 6-3 win against the Windsor Spitfires.
During an emotional pre-game ceremony, honourary co-chair Dan O'Toole spoke while Anita Blackbourn, local mother of two who is battling stage four breast cancer, looked on. Dan and Anita were joined at centre ice by Canadian Cancer Society Manager Anita Record, Petes President Jim Devlin, Montana's Manager Mike Jickels, and Tim Horton's Owners Lee Schubert and Donna Annett.
O'Toole, a Peterborough native who is best known as a sports anchor with Fox Sports 1 in Los Angeles (and formerly with TSN's SportsCentre), raised $6,895 for the campaign alone.
During and after the game, Canadian Cancer Society volunteers and staff coordinated several other fundraising initiatives, with results as follows:
Chuck-a-Ball: $1,000
Silent Auction: $6,678
Game-worn jersey live auction: $21,595 (Michael Clarke's and Josh Coyle's jerseys sold for the most at $1,250 each)
Bucket pass: $3,395
Leading up to the game night, the Petes unveiled the new commemorative jersey design that features the names of nearly 200 individuals directly affected by cancer.
The $72,923 fundraising total includes sales from special commemorative fundraising t-shirts and scarves, sponsorship sales, and money donated at the Pink in the Rink Celebrity Servers event at Kelsey's and Montana's in January.
Below are some photos from the Pink in the Rink game, including fans, player action, and pre- and post-game ceremonies. All photos are by Pearl Dixon for the Peterborough Petes.