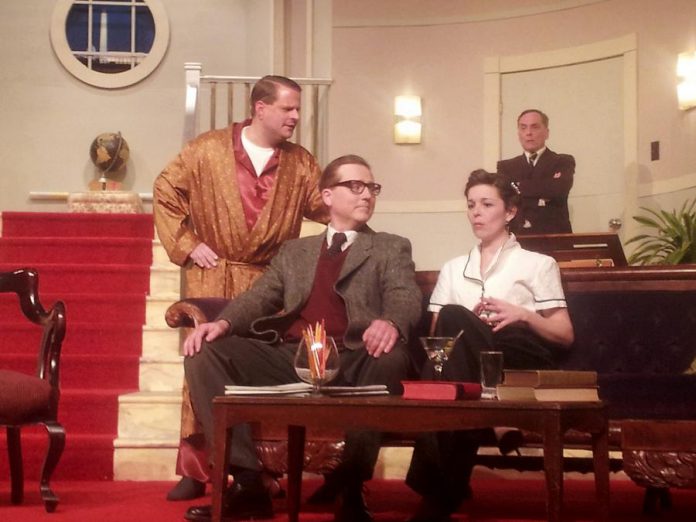 Beginning Friday, February 20th, the Peterborough Theatre Guild takes you back to post-war Washington DC, circa 1946, with directors Pat Maitland and Ian Burns' production of Garson Kanin's Born Yesterday. A thoughtful dramedy with colorful characters, Born Yesterday reminds us that knowledge is power.
Originally premiering on Broadway in 1946, Born Yesterday made a star of actress Judy Holiday in the role of Billie Dawn, who reprised the role for the 1950 film adaptation of the production, earning her a Best Actress Academy Award. Born Yesterday would have successful revivals on Broadway in 1989 and 2011, proving that the ideas put forth in the story — about the battle of knowledge and power — are as important now as they were when the show first premiered.
In Born Yesterday, the audience is introduced to junk dealer Harry Brock (played by David Adams), a tough talking "wise guy" whose shady dealings and criminal connections have made him a millionaire. Brock shifts his operations from New Jersey to Washington, where he is engaged in a shifty business deal with a US senator in an attempt to lay his hands on scrap metal left over from the war.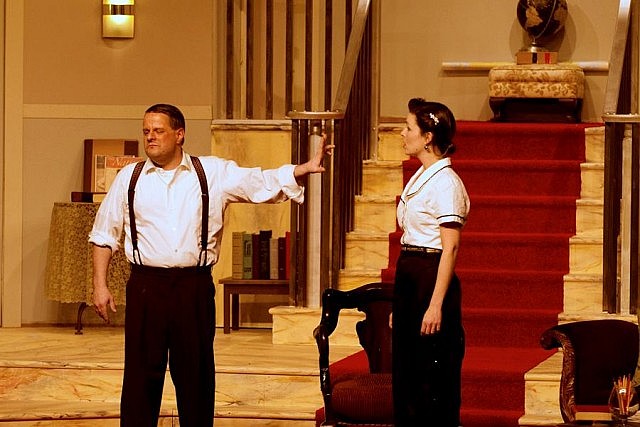 The shining jewel among the entourage Harry has brought with him is his mistress Billie Dawn (Kellie McKenty), an uneducated former showgirl with tons of spunk and sex appeal, but whose lack of worldly knowledge often leaves her with little to say. Realizing that Billie is unable to fit into the high society that he's relying on for his plan to work and frightened she'll blow the whole deal, Harry hires newspaper man Paul Verrall (Mark Paton) to educate Billie in the "ways of the world." However, this strategy begins to lead to Harry's downfall as Billie opens her mind and clues in to the dealings going on around her, while she finds her own voice by understanding and educating herself on the many things that life has to offer.
Pat Maitland and Ian Burns have assembled a spectacular company to bring this wonderful production to life. From the stars of the production to the supporting characters and the small walk-ons, each role is superbly cast and perfectly executed, which is the true strength of this piece.
The most domineering role in the production is David Adams as Harry Brock. A loud boorish bully who has succeeded in life through force instead of thought, David plays the role with bravado and strength. From his slicked-back hair to his perfect Jersey accent, Adams is part Capone and part DeNiro in his extremely effective portrayal of an east coast wise guy.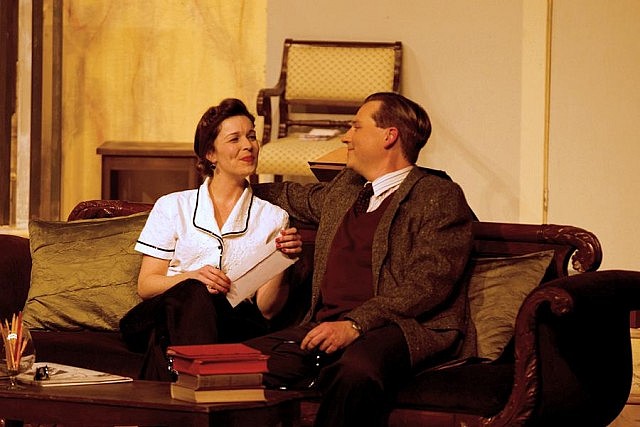 But there are moments where he is able to move away from what could be easily played as mere caricature and show different elements of his character's persona. Although Harry is primarily portrayed as being angry and arrogant, there are some truly frightening moments of violence, as well as moments of inadequacy, remorse and — in one potent moment — even tenderness. David Adams manages to take a character who a less-gifted actor might play as a cartoon gangster and give him a three-dimensional life filled with many moods and faces.
As overpowering as David Adams performance is, Born Yesterday is Kelly McKenty's show and the stage loves her. Just as Billie Dawn and Harry Brock are forced to battle it out in the drama, Kelly is able to go head to head with David Adams' bravado. As Billie, she gives a wonderful performance filled with emotion, comedy, and strength. Sprouting a delightful (if not slightly over the top) Jersey Shore accent, McKenty dominates the production with her street-wise innocence, her unsophisticated wit, and her dazzling beauty — becoming the play's most beloved character.
Born Yesterday has some interesting and subtle subtexts that go beyond the plot in regards to Billie's evolution, which only a performance as endearing as McKenty's could bring forward. The play is really about a woman in a bad situation finding her own voice by opening her eyes and mind through knowledge. It's about a woman discovering her self-worth by educating herself, allowing herself to fight back at the bully who pushes her down and sees her only as an object to possess.
Although we see Billie evolve through the play, McKenty wisely doesn't change the character's personality or delivery, allowing her to still be the same delightful character — but one who has had a social and intellectual awakening. It's a lovely performance that has elements of empowerment.
Mark Paton brings an element of distinguished intelligence and sweetness to his performance as reporter Paul Verrall. Paul has gotten in over his head with Brock and Billie, but helps awaken the independent and strong woman in the already feisty showgirl. A bit of a square peg in a world of hoods and backdoor politics, Paul is a man of distinction. Although outnumbered and overpowered, he believes in fighting against the bullies in the world despite the fact that they may hold all the power.
The battle against the bullies of the world is one that is eternal throughout history, and Verrall's sense of ethics and strength of character is admirable. If more people stepped up against those with status who use their power to their own gain, perhaps we could stop more of the world's bullies.
The cast is rounded out by some wonderful supporting performances. Wyatt Lamoureux gives a fine performance as lawyer Ed Devery (often the rarely heard voice of reason), as does Mark Gray as the distinguished-yet-crooked US Senator Hedges, and Chuck Vollmar with a subtle but striking presence as Brock's "goon" Eddie.

Also notable is the elaborate set designed by Ian Burns, and the divine retro costumes by Mary Parulski and Jayne Martin — especially the beautiful gowns worn by Kelly McKenty, who throughout her performance often looks like a model who's stepped right off of a vintage Vogue magazine cover.
Funny and entertaining while addressing issues of empowerment, this is a wonderful production from a wonderful company. Pat Maitland and Ian Burns have brought something excellent to the Peterborough stage. Simply put, Born Yesterday is among the best productions I've seen at the Peterborough Theatre Guild.
Born Yesterday runs from Feb 20th to March 7th at the Peterborough Theatre Guild (364 Rogers St., Peterborough). Shows start at 8 p.m. with 2 pm Sunday matinees. Tickets are $18 ($16 for seniors and $10 for students). For more information, visit www.theatreguild.org.
Additional photos from the play (all photos by Gabriel Heubsch)