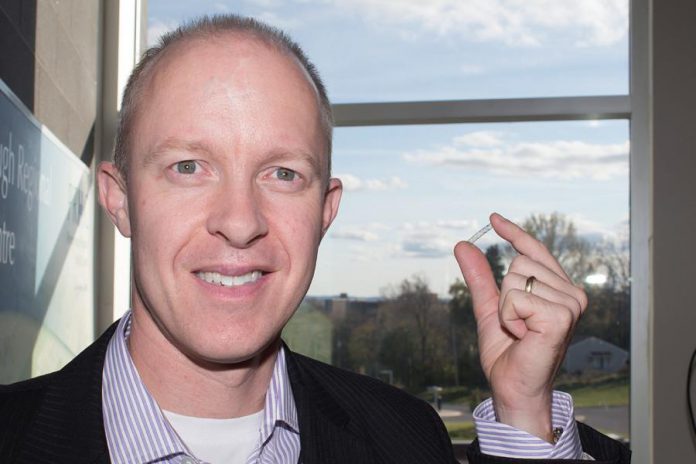 After cancer, heart disease is the number one killer of Canadians. Fortunately, residents of Durham, North Hastings, Northumberland, Peterborough and Peterborough County, and the City of Kawartha Lakes can receive state-of-the-art cardiac care close to home at Peterborough Regional Health Centre (PRHC), where cardiac specialists can diagnose and even stop a heart attack in its tracks.
The equipment used in PRHC's Cardiac Catheterization Laboratory is funded by community donations to the PRHC Foundation, most recently through Bollywood Night #2, the Indian-themed dinner and dance held on March 7th. These donations are allowing the hospital to purchase the latest technology to further enhance cardiac care.
"Our mandate is to be a cardiac centre of excellence," says Dr. Warren Ball, Director of the Cardiac Catheterization Laboratory and one of three Interventional Cardiologists at PRHC, along with Dr. Katy Shufelt and Dr. Phong Nguyen-Ho.
"Community support is making this possible."
How to unblock an artery in the heart
Coronary artery disease is caused by a buildup of fatty deposits (called plaque) on the walls of the artery that can block the flow of blood to the heart. Many people only find out they have the disease when they have a heart attack, which happens to somebody in Canada every seven minutes. Almost 16,000 Canadians die each year as a result of a heart attack — many before they even get to a hospital.
Interventional cardiologists open a blocked artery using Percutaneous Coronary Intervention, commonly called angioplasty, which involves temporarily inserting and inflating a tiny balloon where the artery is clogged to help widen the artery. Angioplasty is often combined with a cardiac stenting procedure, where a small wire mesh tube called a stent is permanently placed in the artery to keep it open and decrease its chance of narrowing again.
---
An animation of Percutaneous Coronary Intervention, commonly called an angioplasty, with cardiac stenting. Last year, PRHC performed 959 cardiac stenting procedures, including 223 while people were having a heart attack.
---
PRHC's Cardiac Catheterization Laboratory includes two cardiac catheterization suites that serve patients from the entire region, including Durham, North Hastings, Northumberland, Peterborough and Peterborough County, and the City of Kawartha Lakes. In 2012, PRHC began offering angioplasty procedures, preventing the need for patients in the region to travel to other hospitals for the treatment.
The code that saves lives
PRHC's cardiac specialists not only diagnose coronary artery disease and treat it before it leads to a heart attack, but they also provide emergency treatment while a heart attack is taking place — which can be the difference between life and death for a patient.
"Time is muscle," explains Dr. Ball. "The more time that passes, the more damage to the heart muscle. The sooner we get that artery open, the greater the chances for recovery."
For that reason, PRHC implemented the "Code STEMI" program in 2012. STEMI stands for "ST-segment Elevation Myocardial Infarction", a medical term describing a heart attack caused by a completely blocked artery that affects large areas of the heart muscle.
In the Code STEMI program, Emergency Medical Services (EMS) staff can diagnose a heart attack caused by a blocked artery right in the community — at a person's home, their office, a restaurant, in the ambulance — wherever EMS staff are attending an emergency.
"They are the quarterbacks of our Code STEMI system," Dr. Ball says.
EMS staff are trained to use an electrocardiogram (ECG) to diagnose a STEMI while attending a person suffering a heart attack. They then issue a "Code STEMI" alert and the patient is brought directly to the Cardiac Catheterization Laboratory for an emergency angioplasty by PRHC's Cardiac Catheterization team, bypassing local hospitals that do not perform angioplasties.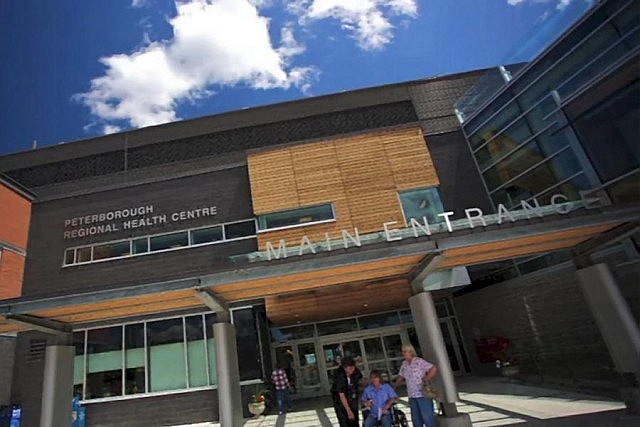 Dr. Ball points out that it's very important to always call 911 if you think you (or someone else) is having a heart attack. Don't try to drive yourself to the local emergency department, he explains, because the Code STEMI system guarantees patients faster care and transport when they need an angioplasty.
The critical time period for an emergency angioplasty is around 90 minutes, and the Code STEMI program applies to patients within an one-hour drive time of Peterborough.
This includes permanent and seasonal residents in communities such as Haliburton, Minden, and Bancroft. In the past, residents in these communities would have been transported to Toronto or sometimes Kingston for an emergency angioplasty but under Code STEMI, they may go to PRHC for treatment. Last year, PRHC performed 223 emergency angioplasties.
"Acute cardiac care management has changed drastically in this area" as a result of the Code STEMI program, Dr. Ball says.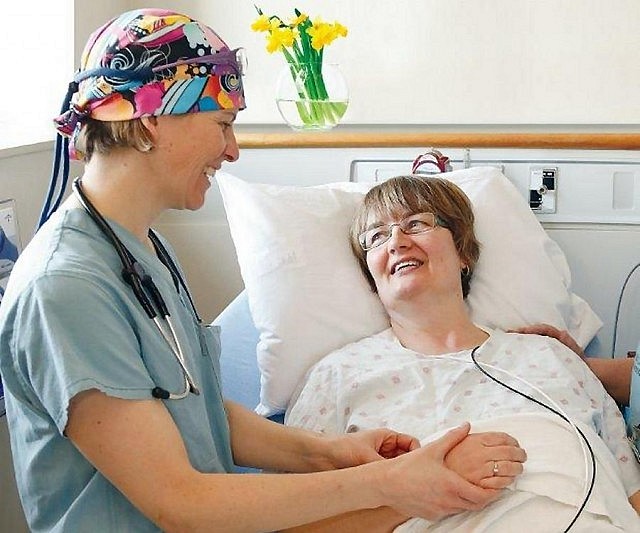 Upgrading the Cardiac Catheterization Laboratory
Because PRHC can perform angioplasties at the Cardiac Catheterization Laboratory, thousands of people have been spared the inconvenience, discomfort, and expense of having to travel to Kingston or Toronto, and many lives have been saved. Last year alone, PRHC performed 2,240 angiograms and 959 cardiac stenting procedures.
PRHC's two cardiac catheterization suites have been in nearly constant use since in 2008 and, in the years since the suites were outfitted, technological innovations have revolutionized the industry.
Powered by a great deal of extremely high-tech infrastructure, the two suites now require a significant technology upgrade to remain state-of-the art, and to avoid future service delays and cancellations as the equipment ultimately reaches its technological lifespan.
Renewing the suites' technology and infrastructure will have an impact on patient care right away. The upgrade will provide significant improvements to image resolution and quality, allowing cardiologists to better view arteries and potential blockages during a procedure.
"Ongoing improvements to technology provide new options for diagnostic tools and procedures that can take place here," Dr. Ball explains. "This means less travel time and disruption for patients."
In addition, recent advances have allowed for a drastic reduction in the amount of radiation exposure for both patients and hospital staff — by as much as 75 per cent. This is something that all medical professionals agree is a huge leap forward in diagnostic imaging practices.
"The technology upgrade of both software and hardware will provide further enhancements to the overall program," Dr. Ball says.
Cutting-edge technology
One example of cutting-edge technology made possible by donations to the PRHC Foundation is the Rotablator, a diamond-tipped instrument that is used to remove blockages preventing angioplasties.
"In some cases of cardiac care, angioplasty is not effective," Dr. Ball explains. "The plaque is calcified and rock hard. The Rotablator acts like a drill to clear out blockages, and then we can possibly insert a stent."
Having a Rotablator means that patients with calcified plaque won't have to be referred to Toronto for treatment; the procedure can be completed at PRHC in a single visit. The hospital is in the process of purchasing a Rotablator, funded entirely by community donations through the PRHC Foundation.
Another important upgrade that is being funded by community donations is Optical Coherence Tomography (OCT). Essentially an "optical ultrasound," cardiologists will use the device to study the inside of coronary arteries in real time using light waves. Commonly used by ophthalmologists in eye care, OCT provides exceptionally clear, high-resolution images of a cross section of tissue.
"Having this high-tech tool on site will greatly enhance the cardiac team's ability to visualize the size and shape of blockages," Dr. Ball says. "OCT is the gold standard for diagnostic tools".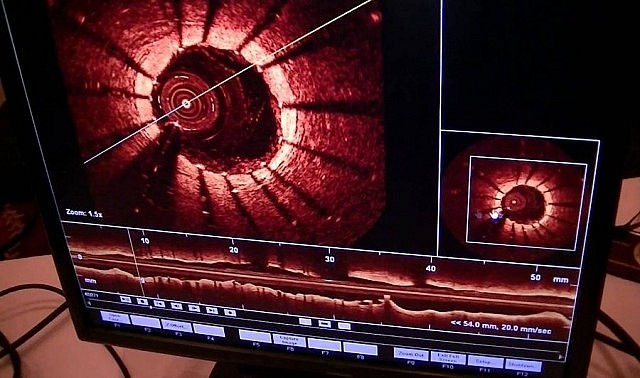 Community donations make it all possible
A common question many people have is why PRHC has to rely on community donations instead of government funding to purchase this type of cutting-edge equipment. The answer is that while the government funds up to 85% of a hospital's operating costs, it doesn't fund either upgrades or purchases of new technology or equipment.
"It's the reality of health care," Dr. Ball explains. "Budgets are squeezed at hospitals across the province, and the health care demand at many locations exceeds funding."
That's why grassroots community support for local hospitals is so important. It was community donations through the PRHC Foundation that allowed the hospital to set up the Cardiac Catheterization Laboratory in the first place. While the government supports the cost of staffing at the Cardiac Catheterization Laboratory, community donations help the hospital purchase new equipment and technology.
If the work of PRHC's Cardiac Catheterization Laboratory is any indication, when you make a donation to the PRHC Foundation, you are helping to save lives.
You can make great cardiac care possible at your hospital with a donation today. Please visit the PRHC Foundation website at www.prhcfoundation.ca for more details.