Janette O'Neil at the PRHC Art & Healing Gallery
A charming technologist named Birgitta and a desultory visit to see the artwork of Janette O'Neil were definitely the highlights of my recent visit to the Peterborough Regional Health Centre (PRHC). I only wish the location of the Art & Healing Gallery were more conducive to viewing along a more public and spacious corridor. These paintings deserve to be brought out into the light.
O'Neil's landscapes could certainly do much to brighten the spirits of patients, visitors, staff, and volunteers at the busy hospital. The vibrant palette and bold impasto of her work shines even amid the dreary beige fluorescent-lit corridor they're situated in. I felt in possession of a secret source of buoyancy while others bustled by, as I took in these beautiful woodland scenes. The artist's walk through different levels of impressionism and her personal glimpses of nature commute the healing power of wilderness.
Janette O'Neil's paintings will continue to be on display at the Art & Healing Gallery at PRHC (1 Hospital Dr., Peterborough) until July 15th. Take a left down the corridor just past the main reception desk to enjoy a beautiful stroll of your own.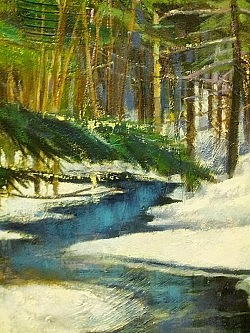 Photos by Michael Fazackerley
---
ANIMAL SPIRIT by Henry Melissa Gordon at the Wildewood Gallery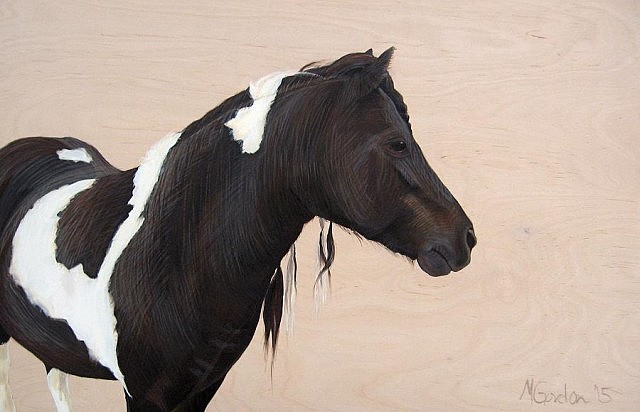 Summer is a great time to tour through the Kawarthas and Maynooth is a small community with a great deal to offer. Just 20 minutes north of Bancroft, it's a great place to hike nearby trails, grab some excellent food at the Sun Run Café, or perhaps take in some music and stay a night or two at the legendary Arlington Hotel.
There are also several art shops, galleries, and studios in Maynooth. Right in the centre of downtown is the Wildewood Gallery, where they're currently featuring recent paintings by Henry Melissa Gordon.