Can a finer holiday be imagined than flowing down the river Thames in a boat? The open water, the interesting sites, and the peaceful countryside … what possibly go wrong? The answer is everything.
Globus Theatre welcomes the Pea Green Theatre Group to the Lakeview Arts Barn to present their award-winning production of Three Men in a Boat. Adapted by Dora award-winning playwright Mark Brownell from Jerome K. Jerome's classic Victorian travelogue, award-winning director Sue Miner brings together a charming trio of actors — Matt Pilipiak, Victor Pokinko, and Scott Garland — in a wonderful and truly funny light-hearted comedy.
Three Men in a Boat uses Jerome K. Jerome's novel of the same name as the source material for this fast-paced and witty comedy. Written in 1889, the book followed the misadventures of Jay and his friends George and Harris, three upper-middle class gentlemen who embark on a boating holiday up the river Thames from Kingston to Oxford and back. Not to be forgotten is Montmorency the dog, who makes an ever-present appearance on stage as a stuffed toy.
Of course, nothing works out as expected, with the elements, the countryside, and the colourful characters they meet working against them. Highlights along the way include a Germanic music concert from hell, an epic battle with a can of pineapples that would make George R.R. Martin proud, and a story about cheese that will have you questioning consumption of dairy products for the rest of your life.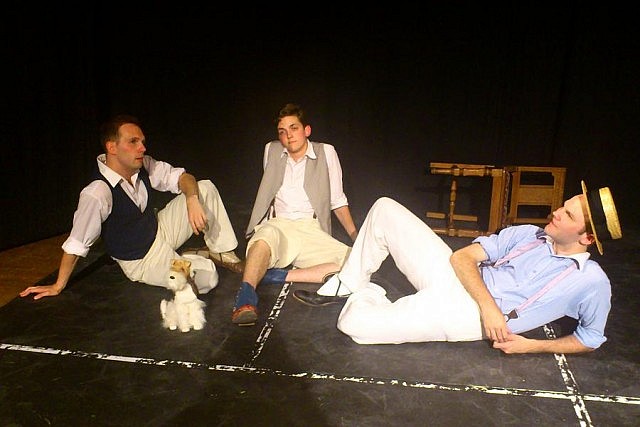 Matt Pilipiak stars as Jay, the show's narrator and central figure, along with Victor Pokinko is Jay's good-natured sidekick George and Scott Garland is the slightly uptight and often-drunk Harris. Together, the trio forms a tight ensemble that bring Jerome K. Jerome's travels to life.
In the spirit of Jerome K. Jerome and his friends' lust for travel and adventure, the Pea Green Theatre Group has been touring the show across Canada and abroad — but with far more success than Jerome and company had. Making its debut at the Toronto Fringe Festival last summer, the production of Three Men on a Boat gained unanimous praise from the Toronto media and was chosen as one of the best shows of the festival.
Since then, the company have taken the show throughout Ontario — and even made a trip to Mumbai in India. Recently finishing up a run of performances in Ottawa, Three Men in a Boat is playing in Bobcaygeon for a couple of weeks before moving to an engagement in Winnipeg.
Three Men in a Boat is fast, funny, and charming. Although a smart show, it never tries to be thought-provoking and, as a result, allows the natural talent and chemistry between the three actors to shine through. A true ensemble piece, the actors partake in not only rapid-pace wordplay, but use lots of flamboyant physical comedy to make up for the lack of props or sets.
When the actors appear on a blank stage with only two chairs and a toy dog, it's left up to the audience to imagine the scenes around them — but the actors make it possible through their movements and actions, as well as Pilipiak's descriptive soliloquies.
Although the play is an ensemble piece, Matt Pilipiak takes centre stage as Jay, who acts as the narrator of the show. Breaking the fourth wall and talking to the audience directly, Pilipiak sets up the scenes, describes the action, conveys the emotions and the feelings of the characters, and introduces the people they meet along the way — who are also played by Garland and Polinko.
High spirited and with boundless energy, Pilipiak becomes a living travelogue for the audience. He's faced with a very wordy script but never misses a moment and never misses a cue. He executes his performance perfectly, and becomes the centre point of the show.
Victor Pokinko is the youthful and good-natured George who acts as Jay's best friend. While there doesn't seem to be a hierarchy to the trip, he easily takes on a role as "second in command." With a sense of fun and his own unique wit, Pokinko makes the perfect confidant to Pilipiak and the two bring a "buddy-buddy" element to the show.
---
Three Men in a Boat Promo for the Toronto Fringe Festival
---
In one standout moment, George steals the narration away from Jay — which makes for some hilariously awkward chemistry — and his cheese speech is easily one of the highlights of the entire show.
The most hilarious moments of the show go to Scott Garland as Harris. Somewhat uptight, Harris often seems like a fish out of water and disconnected to the other men, which creates beautiful comedic tension. From his love of whiskey to his battle with the swans to his inability to sing a comic song, Garland becomes an audience favourite.
Also worth noting is that the trio are not only fantastic actors, but wonderful singers as well. While Three Men in a Boat is not a musical, the actors do perform a number of impromptu acapella numbers.
Scott, Matt and Victor's voices blend as beautifully together as they do as actors supporting one another on stage. Listening to them sing together is just an added bonus to this excellent show.
A warm and delightful comedy that will please all audiences, Three Men in a Boat is a rare chance for you to see high-quality theatre from the Toronto Fringe Festival right in our backyard.
If you haven't yet visited the Lakefield Arts Barn to see one of Globus Theatre's wonderful productions, this show is a true crowd pleaser and is worth making the trip. We're very lucky to have this wonderful show in our area.
Three Men on a Boat runs until July 11th at the Lakeview Arts Barn (2300 Pigeon Lake Rd., Bobcaygeon). Adult tickets are $29.50 for the show only, or $61.50 for dinner and theatre.