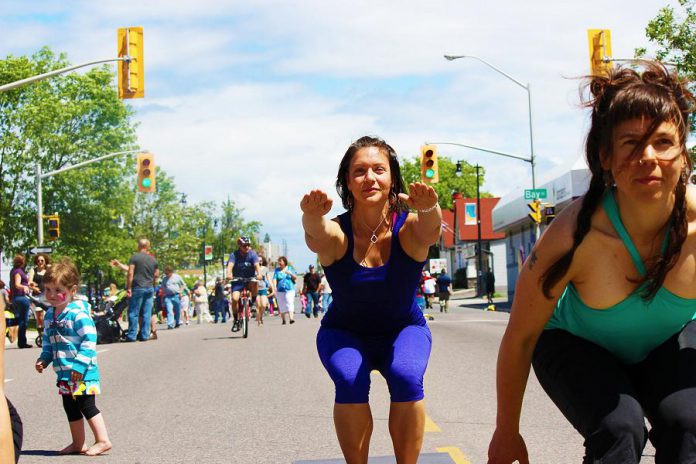 When one thinks of George Street, chances are the first imagery that comes to mind focuses on the many cars, trucks, and buses that use the street to maneuver through our city's downtown core each day. That scene is going to change dramatically this Saturday, as George Street becomes an "open street" for Peterborough Pulse.
From 9 a.m. to 1 p.m., people are invited to walk, bike, skate or stroll the Pulse route that stretches from City Hall all the way to the Saturday Farmer's Market. Along the way, they will find street sales, sports demonstrations, pop-up parks and patios, children's activities, and more. There really will be something for everyone to take part in.
Peterborough Pulse is our city's largest Open Streets event. According to the Open Streets Project, Open Streets is a global initiative that gets people physically active, boosts the local economy, and creates healthier and more engaged communities. Open Streets initiatives temporarily close streets to automobile traffic so that people may use them for healthy and fun physical activities. This includes everything from walking, jogging to biking, dancing, and roller blading.
Open Streets events have been around for over 50 years, but it's really only been in the last 10 years that they've started popping up in cities across Ontario. Open Streets take on many shapes and sizes, as they are created by communities and reflect what is unique and important in each. Across North America, more than 90 Open Streets events have been held to date.
---
The Rise of Open Streets
---
Open Streets are part of a broader city or organizational effort to encourage physical activity, increase community engagement, and build support for broader transportation choices. These objectives distinguish Open Streets from other street-based efforts and help participants see and connect with their community in a whole new way.
The Open Streets Project describes this as an event that is becoming increasingly common in towns and cities seeking innovative ways to achieve public health, environmental, social, and economic goals. Open Streets events have many benefits that include:
Encouraging physical activity and allow participants to reimagine their communities as places to walk and bike for transportation
Improving the air quality of cities by removing cars from the road
Providing a novel type of public space that helps people meet and make social connections, thereby allowing individuals, community organizations, and political leaders to build relationships
Bring people to frequent businesses and fuel local economies.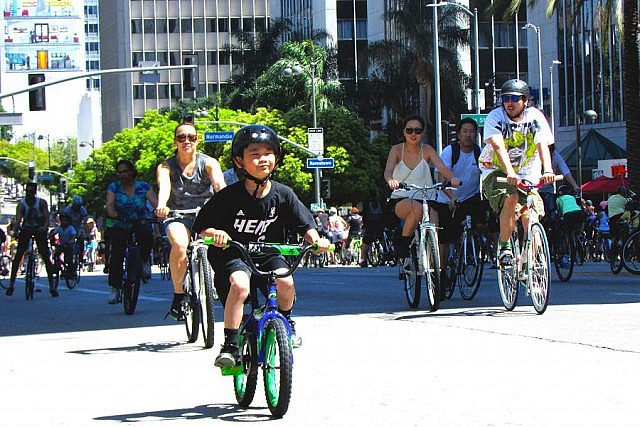 Focusing on Peterborough, the 2015 Peterborough Pulse route follows George Street from McDonnel Street to King Street, then moves to the Otonabee River Trail, passing Millennium Park and Del Crary Park. In the south, the route continues along Lake, Crescent and Lock streets.
In downtown Peterborough, businesses are getting creative with pop-up patios, tours, special sales, a skate-board park, and free activities that are fun for all ages.
But the fun doesn't stop there. Participants will have a chance to try disc golf, bocce ball, tai chi, yoga and a bike playground as they make their way along Little Lake towards the farmer's market. Little ones can take part in all of these activities, as well as enjoy face-painting, coloring contests, chalk art and a bouncy castle.
GreenUP is getting involved as well and will be hosting a pop-up park. Stop by and relax on the grass donated by Peterborough Landscape Supply, enjoy the shade from one of the beautiful potted trees from GreenUP Ecology Park, and relax on some beautiful colourful patio furniture provided by Taylor's Recycled Plastics.
"Pulse is bringing together so many different community groups, from sports to charities to our downtown merchants," says Peterborough DBIA Executive Director Terry Guiel. "It's going to be a fun morning for the whole family."
Pulse is brought to you by Shifting Gears, Peterborough DBIA, City of Peterborough, GreenUP, Peterborough Bicycle Advisory Committee, Peterborough County-City Health Unit, B!KE, Peterborough Transit, Shimano, LLF Lawyers, and Nordia.
For more information, visit the Peterborough Pulse website at www.ptbopulse.com.