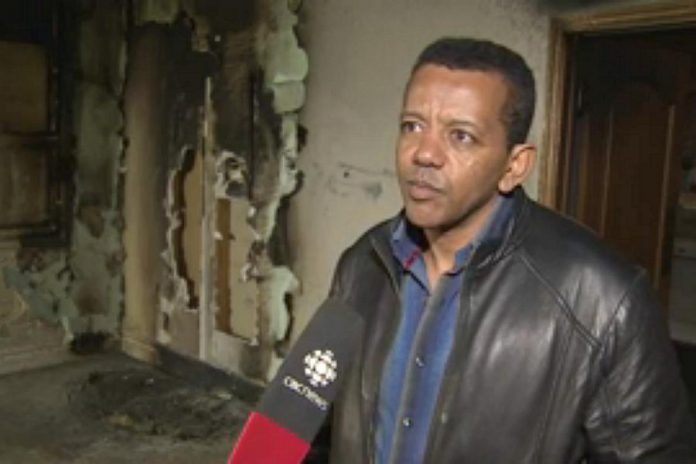 A crowd-funding campaign launched in response to arson at the Kawarthas' only mosque has raised over $110,000 in 41 hours.
The campaign was started by Peterborough resident Duane Rousselle to raise funds for the Kawartha Muslim Religious Association, which operates the Masjid Al-Salaam mosque at 784 Parkhill Road West in Peterborough. The mosque was damaged by a fire late in the evening on Saturday, November 14th. The Peterborough Police Service confirmed on Sunday that the fire was deliberately set.
Over 2,000 people have contributed to the campaign. After national and international media picked up the story of the fire, donors from around the world began contributing. At one point, the campaign was raising almost $3,000 per hour.
At the request of the Kawartha Muslim Religious Association, Rousselle has stopped the crowdfunding campaign, which far exceeded its original goal of raising $80,000 to cover the costs of damage to the mosque.
"I have been in contact with the Kawartha Muslim Religious Association and they have thanked us all very much for our generosity," he writes on the crowd-funding website.
"However, they intend to use only the funds required to help repair the mosque. All additional funds will be used for charity purposes and announced in due time. They have asked me to stop further fundraising efforts, and I will respect their wishes. Please remember that this fundraising campaign was an independent effort."
Rousselle did not respond to kawarthaNOW's request for a comment about why he chose to launch the campaign. On the crowd-funding website page, he writes, "We are a collection of people of all or no faiths who care about the Mosque and about our Muslim brothers and sisters."
---
Global News – Mosque fire in Peterborough was hate crime: police
---
Masjid Al-Salaam ("Mosque of Peace") is the only mosque in the Kawarthas and has 200 members.
Kenzu Abdella, president of the Kawartha Muslim Religious Association, says around 60 members left the building at 10:30 p.m. on Saturday night after celebrating the birth of a baby. At around 11 p.m., a neighbour noticed smoke coming out of the building and called 911. While Peterborough Fire Service Prevention confined the blaze to the building's main floor, there was significant smoke damage to the building's interior.
Total damage is estimated at more than $80,000. There were no injuries.
At a news conference on Monday, November 16th, police confirmed that an accelerant was used to start the fire. Investigators have received tips from members of the community and they have footage from a surveillance camera inside the mosque, but didn't provide any details. Crime Stoppers says an anonymous donor has put up $10,000 towards a reward for the arrest and conviction of those responsible for the fire.
"An injury to any citizen of any faith in the community is an injury to us all," said Peterborough Police Chief Murray Rodd at the news conference.
There's wide speculation that the fire may be a hate crime, fuelled by Islamophobia in response to the ISIS terrorist attacks in Paris last Friday. The Washington Post, which has reported on the Peterborough story, says two mosques in Florida have received bomb threats by phone.
Abdella, who is also Professor and Chair of the Department of Mathematics at Trent University, says that the fire damage to Masjid Al-Salaam makes the building unusable for prayers, which are held five times a day. However, he says he's very grateful to the Peterborough community, which has been very supportive since the fire.
According to Zahid Sultan, vice president of the Kawartha Muslim Religious Association, someone threw a flammable bottle of liquid through a main floor window. Sultan says most of the damage is from smoke rather than structural. He says the building is insured.
The Kawartha Muslim Religious Association's website states "In spite of the incident, we are deeply touched and highly encouraged by the overwhelming support we have received from the Peterborough community at large."
---
CBC interview with Kenzu Abdella of the Kawartha Muslim Religious Association
---
In addition to the crowd-funding campaign, local churches have offered their facilities to local Muslim community and St. John's Anglican Church is also raising funds. Donations can be dropped off at the church at 99 Brock Street or by calling 705-745-7624.
On social media, a Facebook community group PTBOMosqueSupport has been set up (it already has over 3,000 "likes") and the hashtag #PTBOMosque has been trending on Twitter in Canada.
Peterborough Mayor Darryl Bennett issued a statement on Sunday afternoon condemning the act of arson.
"If this is found to be a hate crime, it in no way represents the feelings of our community. Attacking a place of worship is a despicable act", he wrote. "The faith communities are cornerstones of our city, contributing to charitable organizations and helping those who are less fortunate."
The Honourable Maryam Monsef, Member of Parliament for Peterborough-Kawartha and Minister of Democratic Institutions, echoed the Mayor's sentiment in her own statement.
"I wish to take this moment to remind us all that Peterborough-Kawartha is a warm and generous community," she wrote. "We have a proud history as a welcoming and friendly place to live, just as it was when my family arrived here 20 years ago. I know that the residents of Peterborough-Kawartha will be as upset as I am about this incident, and that together we will continue to demonstrate that these sorts of incidents are in no way reflective of our community as a whole."
Monsef, who is Muslim, was elected as Member of Parliament for Peterborough-Kawartha with 43.8% of the popular vote.
Ihsaan Gardee, executive director of the National Council of Canadian Muslims, issued a statement denouncing the arson and encouraged the authorities to investigate it as a hate crime.
"While deeply hurtful and offensive, Canadian Muslims know that such acts do not represent the views of the vast majority of their fellow Canadians or of the residents of Peterborough," he wrote.
"We commend elected leaders for their strong messages of support including from the Honourable Maryam Monsef, MP for Peterborough-Kawartha and Minister of Democratic Institutions," he added. "It is also heartwarming to note that the local St. John's Anglican Church has already started to raise funds to help the Muslim community rebuild its place of worship. These are the efforts that truly reflect the compassion, mutual care and respect Canadians have for one another."
The Peterborough Immigration Partnership, an organization of community groups, volunteers, agency representatives, newcomers and local residents, issued the following statement on Monday, November 16th:
"We stand in solidarity with our community partners in condemning the incident at the Masjid Al-Salaam Mosque and are saddened by the impact of this event on the members of the Mosque. We are heartened by the community response to the attack, and wish to add our voices to others in stating that the actions of a misguided few are not representative of our community at large. The members of the local Muslim community are our family, friends and neighbors. An attack on them, is an attack on all of us and upon the values upon which our country and our community was built."
On the evening of Monday, November 16th, Prime Minister Justin Trudeau issued the following statement from Antalya in Turkey:
"I am deeply disturbed by the fire that took place at the Kawartha Muslim Religious Association's mosque in Peterborough on November 14, 2015."
"The values that make our country great are values that celebrate our diversity and our religious tolerance. Canada is a country that is strong, not in spite of our differences, but because of them. Muslim-Canadians contribute enormously to the social and economic fabric of our nation, and Canadian authorities will not abide innocent and peaceful citizens being targeted by acts of vandalism and intolerance."
"The recent terrorist attacks in Paris have shocked peace-loving people in all countries around the world. We must remain focused on those responsible for the atrocities committed in France. It is equally important for Canadians to understand that Muslims around the world are also being persecuted regularly by these violent extremists. We are in this together."
"To the families who attend the mosque for prayer every week, the Government of Canada and our law enforcement agencies will protect your rights and make every effort to apprehend any perpetrator. I hope your mosque will be open for prayer again very soon."