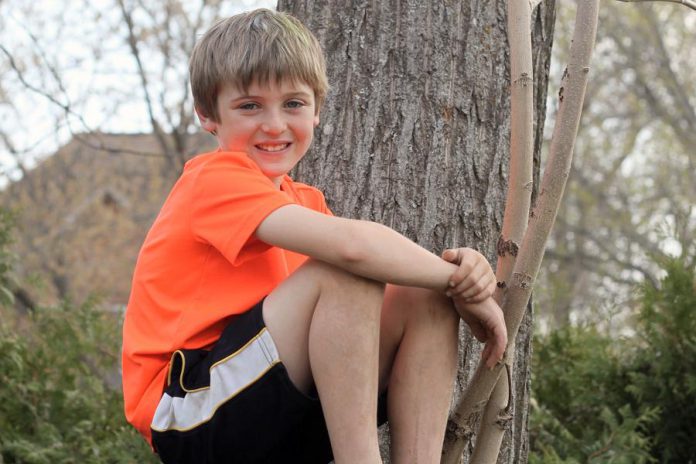 It was three days before Thanksgiving when nine-year-old Eli, his big sister Abby, mom Becca, and dad Kristian, arrived at the Emergency Department at Peterborough Regional Health Centre (PRHC). Eli was sick, and his family doctor feared Type 1 Diabetes.
For the Partington family, that day was the first day of their new lives. A scary day, by their own accounts, and one with many unknowns. One the Partingtons say might have been far worse if it weren't for the Paediatric Outpatient Clinic and the Paediatric Inpatient Unit at PRHC.
"Eli was scared," Kristian says now. "He'd never had an IV before, and now it was an IV and more blood tests, and it hurt. We didn't really know what to do. It didn't seem real."
The Partingtons found out about their son's illness almost accidentally. They'd been away on a retreat with other families, and a camp counsellor at the retreat who has Type 1 Diabetes noticed Eli was guzzling water too often. She mentioned it to his parents, and when they checked the symptoms of diabetes online, they realized their son had all of them.
The family doctor concurred and sent them straight to the Emergency Department at PRHC. Eli's blood sugar that day was 45.7 — normal is around 6.
The first hour-and-a-half were a whirlwind, they say. They were in a busy emergency department, with a new diagnosis, and trying to manage their own emotions as well as their children's fear.
Then it all changed. Tyler Kelly, a nurse practitioner in the Paediatric Outpatient Clinic, and Sarah Van Huizen, a nurse educator from the Clinic's Paediatric Diabetes Education Centre, arrived at Eli's bedside.

"He and Sarah introduced themselves, and spoke right to Eli," Kristian recalls. "They said, 'We're going to take you upstairs. We have different needles upstairs that don't hurt so much.' He was scared. They were really comforting."
Upstairs at the Paediatric Outpatient Clinic — known as the POP Clinic — it was a different world.
"All of a sudden you're in a place that's designed with children in mind," Kristian says. "We met a fire-cracker of a doctor who plops right up on the bed beside Eli like a cool 22-year-old aunt and starts explaining Type 1 Diabetes to Eli by drawing with a Sharpie. She described it in terms he could understand, and we felt like we were part of a family that would look after us."
Eli is one of about 10,000 patients seen at the POP Clinic each year. In 2012, that number was just 200.
The immense growth of the clinic is due, in part, to the need in the community, which the clinic does its best to meet.
Lisa Killen, interim manager for the Maternal/Child programs at PRHC, explains that the services offered through the POP clinic range from breastfeeding help for new moms, to adolescent gynecology, paediatric obesity, and paediatric diabetes.
"We are always looking at needs in the community and our population, and how we can possibly meet them," Killen says.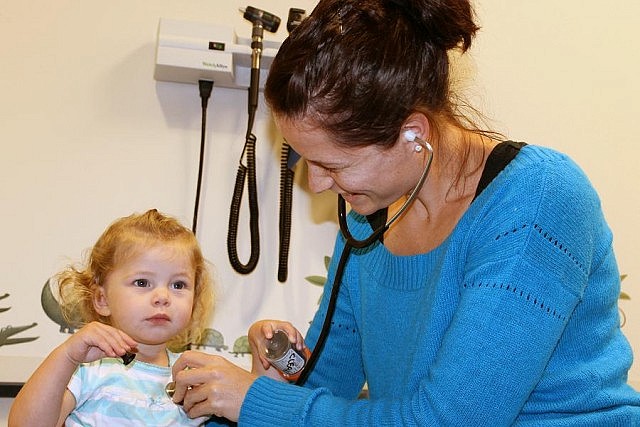 Children who need cancer treatment, for example, are able to have some of their care delivered at the POP Constant Care Clinic, rather than travel to more distant centres. The catchment for paediatric services at PRHC reaches Haliburton and Bancroft, Lindsay, Cobourg, and to the east, as far as Campbellford — and PRHC is the only paediatric centre in that region.
Each of the services offered through the POP Clinic is designed with children in mind, and draws on multiple health care professionals in a team-centred, one-stop-shop approach:
Personal Health Improvement Team (PHIT), providing paediatric obesity treatment involving a child psychiatrist, social work, a dietician, exercise advice, and a physician
Neonatal Follow-up Clinic, providing services, including referrals to Five Counties Children's Centre, to ensure babies who have difficult deliveries or require special care following birth do not fall through the cracks, especially if their mother is without a family doctor.
Emergency Follow-up Clinic, giving families the chance to be discharged from the Emergency Room with timely follow-up with a specialized a team.
Newborn Follow-up Clinic, allowing new parents to leave the hospital sooner, with the opportunity for follow-up with a Nurse Practitioner and lactation consultant.
Adolescent Gynecological Clinic, offering a wide variety of services to teenagers in the community, from birth control advice and treatment, to diagnosis and treatment of polycystic ovarian syndrome.
Paediatric Diabetes Clinic, combining services for diet, nutrition, exercise, social work, and medical management of Diabetes for 120 children and youth under age 19 with both Type 1 and Type 2 Diabetes.
Diabetes Transition Clinic, helping youth aged 14 to 18 to transition to an adult diabetes clinic.
Chronic Infusion Clinic, operating in collaboration with SickKids Hospital in Toronto, as well as community partners, to give specialized paediatric care including chemotherapy, blood products, iron infusions, and other follow-up and intervention as necessary — without the travel required to a more distant centre.
Retinopathy of Premature Infants (ROP) Clinic, providing infants at high risk of retinopathy with access to quality care closer to home.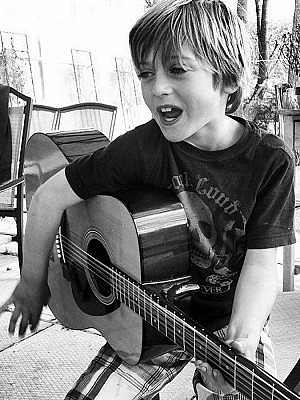 Tyler Kelly says the POP clinic is as effective as it is — evidenced by the growth in patients in just three years — because its health care providers work together as a team.
"We have an open-door policy," Kelly says, describing a case in which an infant was having feeding issues and poor weight gain. At a follow-up appointment with the mom and baby, the POP clinic staff diagnosed Cleft Palate.
"We had all the services at hand, including lactation, dietician, and a paediatrician," he adds. "The child had an appointment with a paediatrician the next morning, lactation and dietary the same day, and two referrals in two weeks."
Kristian and Becca Partington look back on the first days of their new life as parents of a child with Diabetes and say that they were lucky to have the POP Clinic team — and the full range of staff in the Paediatric Inpatient Unit — in their corner.
"What I was most struck with is that they made sure we knew enough information to manage until the next time we'd see them, but not so much that it would overwhelm us," Becca says.
"It's such an overwhelming thing, but they gave us small bites of information — palatable pieces that we could absorb."
Eli did have to stay overnight at the Paediatric Inpatient Unit while medical staff worked to stabilize his blood sugar.
Becca says the experience, while trying for a mom and her newly diagnosed child, was made more comfortable by staff members who focused on her needs as well as Eli's.
"I wanted to sleep in the bed with Eli, but the nurse made me up a cot anyway," she says. "She said she wanted it to be ready, just in case I wanted to slip into it in the middle of the night."
Along with the strong support for Becca, a single nurse was assigned to monitor Eli throughout the night. Becca says the individualized care boosted her confidence.
That's one of the hallmarks of the Paediatric Inpatient Unit: individualized care, focused on the needs of the family, as well as the patient. Some of the patients are newborns who require specialized care from the broad team of professionals, but who may not require the neonatal Intensive Care Unit.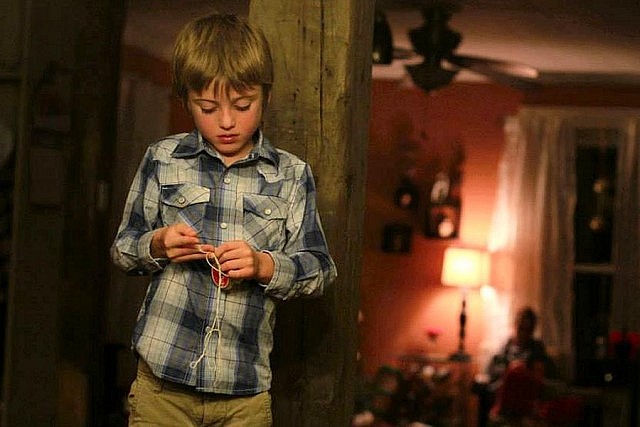 On average, there are five children at any given time in the Paediatric Inpatient Unit, and they are supported by doctors, paediatric nurse practitioners, paediatric and neonatal nurses, social workers, registered respiratory therapists, an occupational therapist, physiotherapist, lactation consultant, registered dietitian, speech and language pathologist, fitness trainer, psychology associate, and a diabetes educator.
The Paediatric Inpatient Unit is equipped for medical management of paediatric cancer patients, as well. That means a family with a child going through chemotherapy has a homegrown centre and network of support, even if they must also travel to a larger centre for specific care.

In fact, the close working relationship — particularly with SickKids Hospital in Toronto — means young oncology patients can now receive some of their care far closer to home — thanks to the generosity of donors who are helping to equip both the Paediatric Inpatient Unit and the POP clinic with the necessary tools to make the health centre's paediatric care second to none.
"The care is so much more seamless because of the services we can offer in the Paediatric Inpatient Unit and through POP," Killen says. "Patients, whether they start in Emerg or come right to the Paediatric Inpatient Unit, are cared for by a team of health professionals. Their exit is managed through outpatient clinics, with support from that same team of professionals that already knows them and in the same surroundings they've already grown accustomed to."
The community continues to play its part in making sure the care provided in the POP Clinic and the Paediatric Inpatient Unit is the best it can be, by funding the equipment staff and physicians need to get instant results at the bedside.
For example, community donations have funded a point-of-care bilirubin meter, which allows staff to quickly and accurately test infants for jaundice right on the spot — eliminating the need for a blood test and follow-up appointment.
For the Partingtons, their experience is not yet in the past; as outpatients, they return weekly for follow-up in the POP Clinic. They, like others, say they feel like they have a second "family" at PRHC; the nurses are available around the clock, even by text, to offer quick answers when possible, advice if needed, reassurance when wanted, and reminders.
"We have nothing but good things to say about the experience we had through the POP clinic and the Paediatric Inpatient Unit," Becca says.
This holiday season, consider making a donation to the PRHC Foundation and help fund the $1.4 million in new equipment needed to make sure women and children in our region can get the care they need, right here at home. For more details, please visit the PRHC Foundation website at www.prhcfoundation.ca or call 705-876-5000 today.