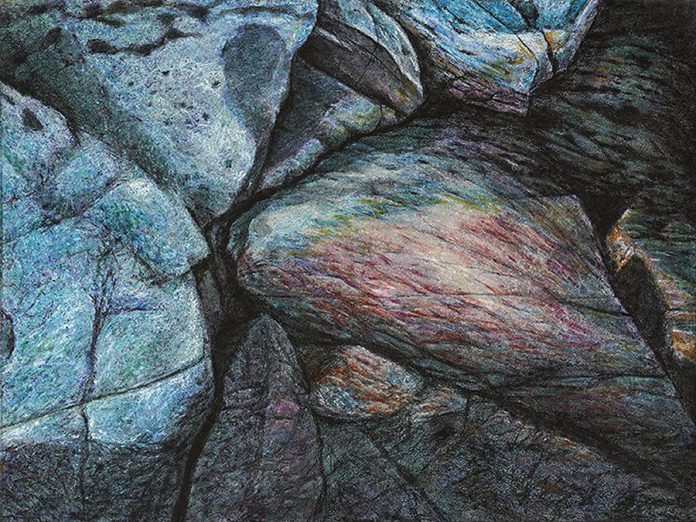 This month, Peterborough-based artist William Joel Davenport exhibits at Evans Contemporary, four shows continue during January at the renovated Art Gallery of Peterborough, Montreal-based sculptor Sheena Hoszko exhibits at Artspace, the newly merged Gallery in the Attic and Peterborough Darkroom Project is looking for volunteers, and Brianna Gosselin displays her most recent work at Black Honey.
---
"Clams on the 1/2 Shell & Roller Skates Roller Skates" by William Joel Davenport at Evans Contemporary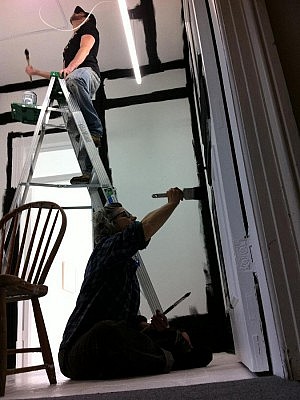 Full disclosure: not only is this show by one of my favourite local artists (
William Joel Davenport
), at one of my favourite local galleries (Evans Contemporary, 129-1/2 Hunter St., 3rd Floor, Peterborough), it is also co-curated by one of my favourite writers and collaborators:
Ann Jaeger
.
Along with Evans' director Paolo Fortin, Jaeger has been busy changing up the normally brilliantly white downtown space with a fresh coat of black paint to set off this survey show of Davenport's diverse works — paintings, prints, sketchbooks, zines, card games, and textiles will all appear.
A self-taught, wide-ranging artist, Davenport has been a presence on the Peterborough scene for some time (he also shows regularly in Toronto and Montreal). In 2012, he was the first solo artist to exhibit at Gallery in the Attic, and for the past few years collectors have been snapping up his work at Artspace's annual 50/50 fundraiser.
This time last year, his first foray into textiles was on display at the Art Gallery of Peterborough.
"Clams on the 1/2 Shell & Roller Skates Roller Skates" opens on Friday, January 15th, with a reception from 6 to 10:30 p.m., and runs until Saturday, February 27th. Regular gallery hours are noon to 6 p.m. on Saturdays (viewings can also be made by appointment, email evanscontemporary@gmail.com.
---
Four exhibits continue at the Art Gallery of Peterborough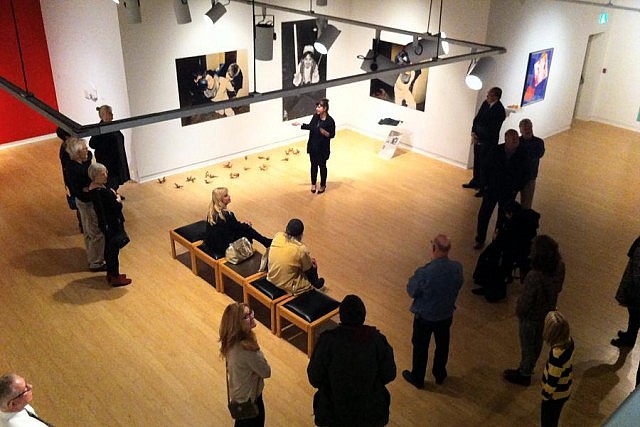 Have you been down to Little Lake yet to see the current offerings at the Art Gallery of Peterborough (AGP)?
"Power Play", "Landing", "Life, Still", and "With Bloore | After Bloore" are all on until Sunday, February 14th.
This quartet of shows from the permanent collection forms a delightful set with surprises ranging from small to staggering. Arranging the works to maximize the gallery's physical potential, curator Fynn Leitch has presented not just the most recognized names held by the AGP or the most monumental pieces in the collection, but a wide range of works scaled to each of the AGP's one-of-a-kind spaces.
The show is a triumph really — a joyous celebration of the collection's homecoming after an arduous year and it's a wonderful example of what can happen when curators knows their collection and their space. Wow factors aside, the artworks' position in 20th century culture, relative to Marshal McLuhan's Understanding Media, is what's actually tying the curatorial selections together.
You can see for yourself by visit the Art Gallery of Peterborough (250 Crescent St., Peterborough) during the gallery's regular hours of 11 a.m. to 5 p.m. from Tuesday to Sunday. You can also learn more about the exhibits (and get a tour of the vault) from the curatorial talk on Saturday, February 6th from 2 to 4 p.m.
---
"Central East Correctional Centre" by Sheena Hoszko at Artspace
The Central East Correctional Centre (a.k.a. the Lindsay Superjail) is the subject — and object — of
the latest show at Artspace
(378 Aylmer St., Peterborough).
Sculptor Sheena Hoszko interrogates this contentious local site (and the detention system in Canada) through a series of drawings, texts, and minimalist sculptural works on display in Gallery 1 and 2 until the end of February.
Hoszko is a Montreal-based sculptor exploring institutional power dynamics. Previous works have examined the intersections of race, class, and culture through sculptural installations representing Canada's immigration holding centres, Montreal's red-light district, and Imperial Tobacco.
The artist will be present at the opening reception for the exhibition on Friday, January 15th, from 7 to 10 p.m. The show itself runs until Thursday, February 25th. Artspace is open from noon to 6 p.m. on Tuesday and Wednesday, noon to 8 p.m. on Thursday and Friday, and noon to 4 p.m. on Saturday.
Also of note: Friday, January 15th is the deadline to submit applications for Artspace's first annual Book + Zine Fest, scheduled for Saturday, February 27th. The event will feature workshops as well as books and zines for sale from local and regional vendors.
---
Membership drive and show opportunities at Gallery in the Attic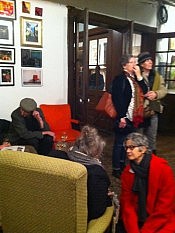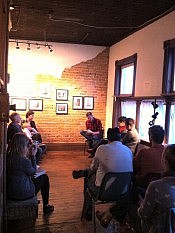 Gallery in the Attic's next group show and sale will run from February 2nd to 27th. Until then, the upstairs artist-run-centre (140-1/2 Hunter St, 3rd floor, Peterborough) is temporarily closed to the public for refreshing (a new website is also in development).
It is, however, a great time to get in touch if you're an artist looking to show in 2016, a film-based photographer interested in using the darkroom, or anyone interested in getting involved by volunteering in the arts.
In case you didn't know, last fall the Gallery in the Attic merged with the Peterborough Darkroom Project to become a non-profit organization. The annual $50 fee to become a member of the gallery now also includes access to the Peterborough Darkroom Project.
The organization's Board of Directors is currently looking for volunteers to fill a variety of positions — you don't have to be a member to help support the space as a volunteer.
To learn more about membership in the Gallery, or anything else, email galleryintheattic@gmail.com.
---
"Air, Land, Water" by Brianna Gosselin at Black Honey in Peterborough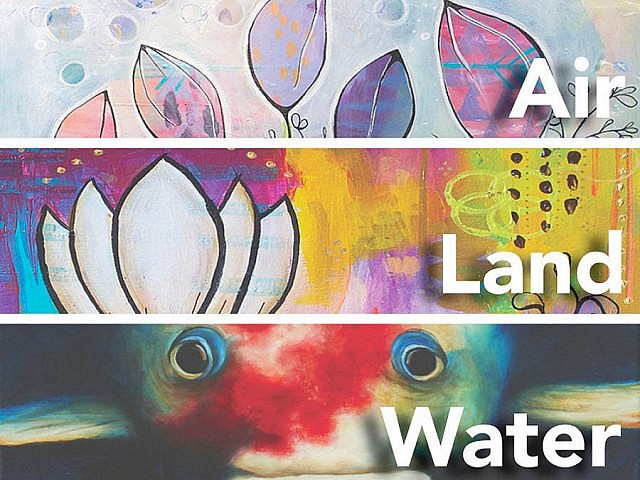 Beginning on Tuesday, January 12th, local artist and Art School of Peterborough instructor Brianna Gosselin will be displaying her most recent body of work at Black Honey (221 Hunter St. W., Peterborough).
Brianna describes her work in "Air, Land, Water" as depicting "the connecting relationship between air, land, and water along with the spirtual impression they leave on us."
There'll also be an opening reception on Friday, January 22nd from 6 to 9 p.m., with refreshments from Black Honey.
The show will continue until Monday, February 22nd. For more information about Brianna and to see more samples of her work, visit www.briannagosselin.com.