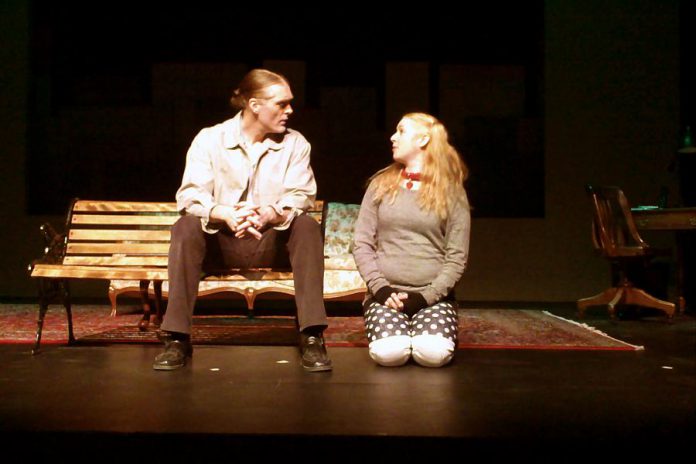 The love triangle is a plot device that has the potential to create drama in any production. However, when that love triangle is between a man, a woman, and a dog, it creates a whole new world of possibilities. One filled with awkwardness, laughter and raw emotion, as is the case with the Peterborough Theatre Guild's latest production Sylvia.
Directed by Al Tye and produced by Howard Berry, Sylvia is a delightful production that will resonate with anyone who has ever loved an animal. Falling somewhere between a sophisticated and screwball comedy, Sylvia is filled with lots of laughs and, more importantly, lots of heart.
A lot of good theatrical productions happen in Peterborough over the course of a season, but only one or two shows becomes the de facto best of the year. This season, that show will be Sylvia.
Written by A.R. Gurney, Sylvia first found life off Broadway in 1995, with the all-star cast of Blythe Danner, Charles Kimbrough, Derek Smith, and Sarah Jessica Parker who played Sylvia the dog. In the Theatre Guiid's production, Sylvia features an endearing cast made up of Sharon Gildea, Scott Drummond, Dylan Billings, and Erika Butler as Sylvia.
Sylvia is the story of an upper class New Yorker couple, Greg (Scott Drummond) and Kate (Sharon Gildea), and how they are affected when a dog named Sylvia (Erika Butler) comes into their lives.
Recent empty nesters who have just sent their youngest to college, Greg finds himself dissatisfied and bored with his life while Kate is finally finding her career taking off. One day, while cutting out of work early, Greg comes upon a dog Sylvia in the park, immediately bonds with her, and brings her home.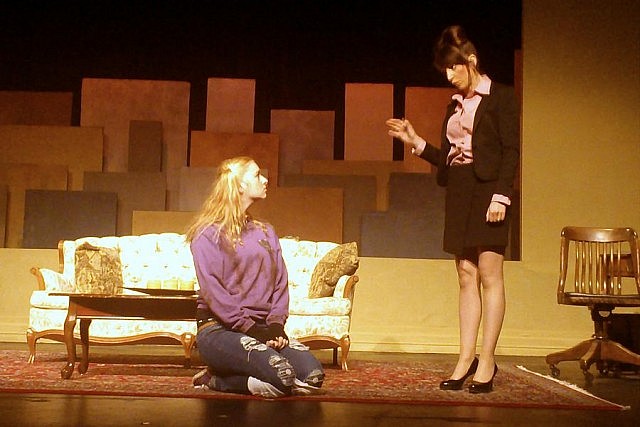 While Kate immediately rejects Sylvia, Greg becomes more and more dependent on her company as he slips further into his personal midlife crisis. Eventually Kate and Greg's 22-year marriage begins to unravel, as an uncomfortable and often hilarious power play between Kate and Sylvia is created.
Can a dog come between a man and a woman? Can anything sever the bond between a man and his dog? These are the questions that eventually need to be answered in this quirky comedy.
The thing that makes Sylvia the most fun is that the dog is played by a human who vocalizes the dog's thoughts and emotions in just the way that a dog might really think. From her undying obedience to Greg, to such oddball behaviors as chasing cats, sniffing crotches, and peeing on rugs, Erika Butler brings Sylvia to life in what might be one of the funniest and endearing performances of the year.
Wide eyed, innocent, sassy, loving, aggressive, and utterly charming, Erika gives Sylvia multiple dimensions as she says, and does, all the things a dog would do. Always high energy and fun to watch, Erika Butler is a true gem, and creates one of the most unique performances seen on the Peterborough stage in a long while.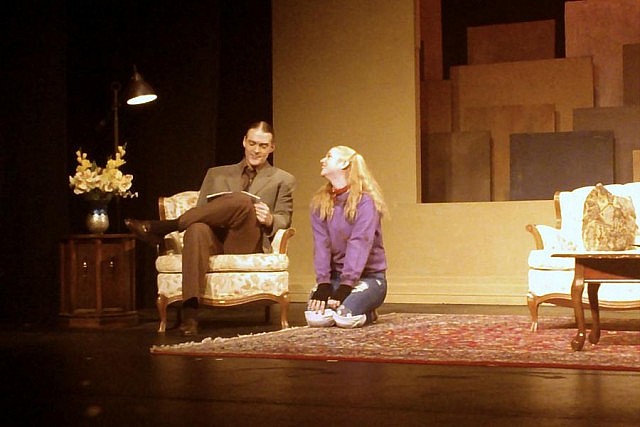 Scott Drummond gives a sensitive performance as Greg, a man who is at a major crossroads in his life and is sitting dangerously on the edge, unsatisfied with his job and unable to connect with his wife. Sylvia becomes a faithful and loyal companion that he can talk to and rely on. She's an exciting new thing to distract him from his humdrum world and becomes a companion who's obedient and receptive to his emotional needs.
Over time their relationship changes, and the more that his suffering wife rejects the dog, the more Sylvia becomes "the other woman." The connection that Drummond builds with Erika Butler is constantly endearing, with many of the funniest lines being shared between the two.
Although Sharon Gildea as Greg's wife Kate is the play's antagonist, her performance is so realistic and sensible that the audience can't really dislike her — which only adds to the complicated triangle.
Having worked her way up both the career and social ladder, Kate is at a point in her life where the responsibility of a dog is a burden. Immediately rejecting Sylvia based on practical reasons, eventually Kate sees Sylvia as a threat to her marriage as she slowly begins to lose her husband to the dog. As Greg begins to communicate more with Sylvia than with her, Kate's practicality turns to jealousy, resulting in much more emotional conflict with Sylvia.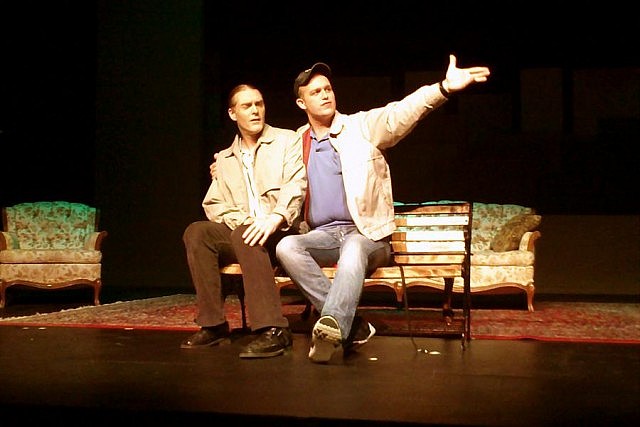 What works between the three lead performers is the fact that you like all of them. It's impossible not to fall in love with Sylvia, but as Greg and Kate seem to grow further and further apart due to Sylvia's overbearing presence in their lives, the audience quickly finds itself between a rock and a hard place emotionally. You can see all sides of the conflict, and you feel for both Kate and Greg; you want them to work their problems out. But can Greg and Kate find happiness together with a dog, or is Sylvia going to have to go? This becomes the very real and very difficult question the characters have to answer.
The relationship between Greg and Kate and Sylvia becomes even more complex when we ask just who is talking for Sylvia. Is the audience actually hearing the thoughts and feelings of the dog herself, or are Greg and Kate personifying their own feelings in their conversations with the dog?
As pet owners will confess, they project their own perceptions of what their pet is thinking, feeling, and saying. Pet owners will talk to their pets all day long, and often it seems like the animal is responding. But in reality, we can never know what they are really thinking.
Just as Greg needs someone to talk to, Kate creates a rival to blame for the disconnect between her and her husband. Are we really hearing Sylvia or just the frustrations and insecurities of two professional people at an emotional crossroad?
A special shout out goes to Dylan Billings who plays all of the supporting characters in the show. During the production, Dylan plays Greg's dog park friend Tom, Kate's socialite friend Phyllis, as well as Dr. Leslie — a transgendered therapist who tries to help Greg and Kate work out their problems. A fantastic character actor, Dylan morphs into three very different and distinctive characters throughout the show, giving some of the best character pieces of the night.
There isn't any other way to say it: Sylvia is a winner. One of the best shows I've ever seen in Peterborough theatre, it's funny and sweet and truly charming. It will make you laugh until you cry, and then pull on your heartstrings and make you cry even more. If you're a pet owner, when you go home after the show you'll hug your pet just a little bit harder.
If you only go and see one show this year, make it Sylvia.
Sylvia runs from January 15th to 30th at the Peterborough Theatre Guild (364 Rogers St., Peterborough). Shows start at 8 p.m. Tickets are $20 for adults, $18 for seniors, and $11 for students, and can be ordered by calling the box office at 705-745-4211 or online at www.theatreguild.org.
All photos by Sam Tweedle / kawarthaNOW.