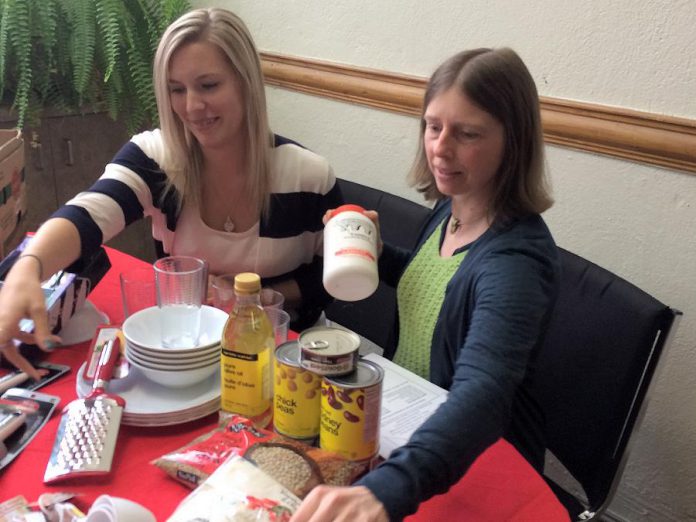 To help welcome Syrian refugee families transition to their new life in Peterborough, the New Canadians Centre (NCC) is launching a "Dishes & Dinner" donation drive from 9 a.m. to 5 p.m. on Friday, April 1, 2016.
NCC is asking members of the public to bring non-perishable and canned goods — such as rice, couscous, lentils, and chick peas — to the auditorium in the basement of St. James United Church (221 Romaine St., Peterborough).
"In Syrian culture, how someone is welcomed is very important," says Michael Vanderherberg, NCC Refugee Coordinator. "Through this donation drive and the New Canadians Centre's efforts, our hope is to show Syrian families that Peterborough continues to be a welcoming an supportive community."
NCC is also seeking essential items to create a basic kitchen kit for Syrian families including frying pans, cutting boards, and vegetable peelers, and is asking the public to donate plates, bowls, cups, and cutlery in sets of eight.
While Kawartha Food Share will be providing a box of staple food items when each family arrives, NCC is asking members of the community to take extra steps to make the families feel at home.
"We will be giving the kitchen kits to approximately 36 families when they move into a new home," explains NCC Refugee Coordinator Tamara Hoogerdyk. "These donations help families move into a home that feels like a home. It also shows them how welcoming the community is."
Other items in demand are small kitchen and household goods, new cleaning supplies, and new toiletries (no clothing or furniture is needed at this time).
As well as the donation drive, NCC has created a "Welcome Fund" designed to provide support for housing, dental, and whatever other assistance the families need the most.
"We understand many people in our community want to help during this humanitarian crisis and volunteering their time is not always an option," Vanderherberg says. "We encourage people who can't give their time to donate to the Welcome Fund."
Pledge forms for the Welcome Fund will be available at the Dishes & Dinner donation drive event.