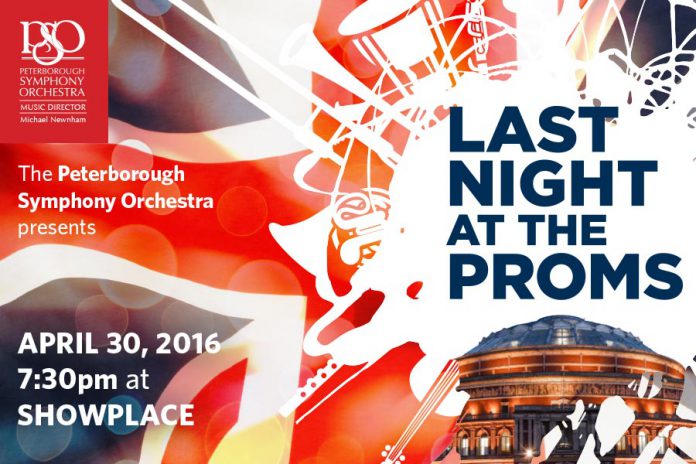 All of the pomp and circumstance of The Proms comes to Peterborough for one night only, Saturday, April 30th, when Peterborough Symphony Orchestra (PSO) presents Last Night at the Proms.

Audience members will enjoy English classics like Elgar's Enigma Variations, and arias featuring Peterborough's own soprano Leslie Fagan — culminating with "Rule, Britannia!" and "Jerusalem".
Leslie, the guest artist at Last Night at the Proms guest artist, is no stranger to the treasured Royal Albert Hall in London, England where the original Proms summer concert series takes place.
She performed Handel's Messiah at the distinctive venue under invitation from her mentor and friend, the late British conductor, composer, organist and music administrator, Sir David Willcocks.
Leslie has a creative streak that stretches beyond the tremendous vocal ability Sir David recognized in her. Earlier this year she revealed on her blog that she has had a passion for sewing since she was young girl, when her grandmother taught her "everything from laying a pattern properly to the finer details of tailoring".
Leslie has developed her sewing skills into a love of design and dressmaking, which she uses to her advantage as a performer. She plans and makes one-of-a-kind dresses to wear at her concerts. Leslie is often not alone in this creative experience, having a good friend and co-creator to assist her in completing the gowns.
Leslie's dressmaking process always begins with an inspiration, but she often allows the fabric to guide her in shaping a gown. On her blog she details the development of a special dress handmade from her own pattern for a December 2015 appearance at Carnegie Hall in New York City. She describes the first phase of design, searching for the right material at her favourite fabric shop:
"I spend hours layering laces over different textures until the right combination sings! … The design of the dress became clear as I watched how the fabric looked from afar."
Leslie's preference for hand-sewing zippers and finishing sometimes means that she is perfecting a creation until the last minute before a performance. This was the case in December when Leslie specifically set out to tackle the Carnegie Hall dress on her own. She even found herself sewing at rehearsal and the day of the concert.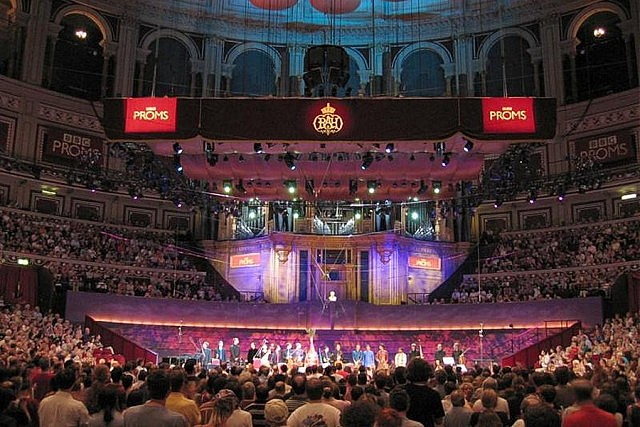 Although some fans might think that this is a daunting task to add to the preparation of a performance, Leslie explains that a solo dressmaking endeavour actually helps her slow down life when it gets too chaotic. It also puts her back in touch with her grandmother's influence.
What will Leslie be wearing for her appearance at Last Night at the Proms with the PSO? Ticket holders will have to wait to find out, but they can bet it will be an ensemble fit for the season finale. And they too are encouraged to take advantage of the opportunity to dress-up for the concert …
Fans of Last Night of the Proms at Royal Albert Hall will know that "Prommers", as concert-goers are affectionately referred to, are known for sporting all sorts of fun and funky, daring and dressy fashions at the in-demand London event.
In true Proms style, the second half of the PSO's Last Night at the Proms will feature opportunities to wave a flag, hoot and holler, blow noisemakers, and sing along (see video below).
So audience members should add a pop of character or colour to their concert outfits, warm-up their singing voices, and be prepared to enjoy a fabulous season finale evening with the PSO!
Last Night at the Proms begins at 7 pm at Showplace on April 30, 2016, but ticket holders are invited to "Meet the Maestro", a pre-concert chat with Music Director, Michael Newnham, at 6:40 p.m. in the Showplace theatre.
Tickets are on sale now, but are selling quickly. Adult tickets are $28.50, $36.50 and $39.50. Student tickets cost $15. For tickets, please contact the Showplace box office (290 George St. North, Peterborough, 705-742-7469) or order online at www.showplace.org for tickets.
For more information about the PSO, call 705-742-1992 or visit www.thepso.org. For more information about Leslie Fagan, visit www.lesliefagan.com.
---
Elgar's Pomp and Circumstance March No. 1
Here's a taste of Last Night of the BBC Proms from 2014, with Sakari Oramo conducting the BBC Symphony Orchestra in a performance of Elgar's Pomp and Circumstance March No. 1 in D major ("Land of Hope and Glory").