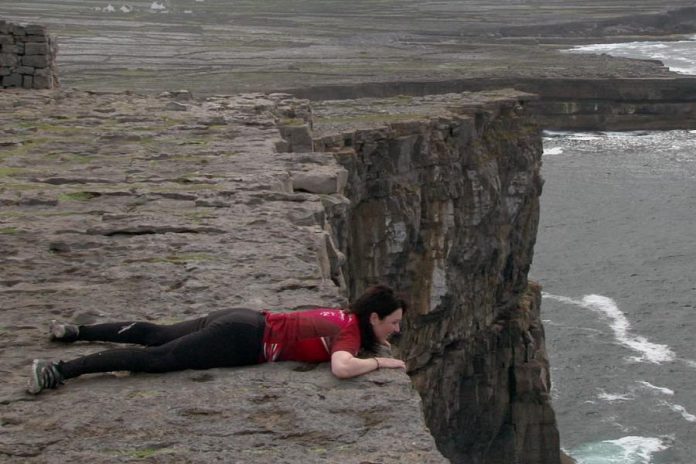 Megan Murphy recently completed her first feature-length documentary called Murphy's Law, chronicling her journey to retrace her deceased father's bicycle trip across Ireland, which premieres in Peterborough at Showplace on Saturday, June 18th.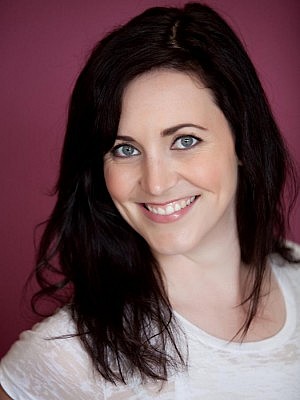 Born and raised in Peterborough, Megan went to St. Peter's High School.
"I had some incredibly talented and supportive drama teachers: Jane and Charlie Werger, Patricia Young, and Jerry Allen," Megan recalls. "They encouraged me to pursue the arts. In fact, I remember being cast in my first big production at the Theatre Guild when I was 15 and my parents were nervous that the script was 'too risqué', so they were reticent to let me participate. Jane Werger was the director and called my folks and reassured them that it wasn't as bad as they thought and that I had the acting chops to handle it!"
Upon graduation, she was awarded the TD Canada Trust $50,000 scholarship for Outstanding Community Leadership. She went on to study at York University where she obtained a Bachelor of Fine Arts in Theatre Performance.
Later, she co-founded the Toronto-based theatre company, Column 13, and is also a graduate of the Second City Conservatory and the Documentary Film Institute of Seneca College.
Her short film, Shelf Life, premiered at the Peterborough ReFrame International Film Festival in 2013.
Locally. you can hear Megan weekdays from 6 to 9 a.m. as one half of the morning show on Star 93.3 and 107.9 Classic Rock, or see her as guest performer with The Citiots Improv troupe at the Gordon Best Theatre.
At Peterborough SPEAKS, Megan will be talking about her experience making Murphy's Law.
"I believe in the power of story-telling — more specifically, story sharing," she says. "I believe that honest story-telling changes lives; it inspires, it dispels loneliness, it encourages change, and it offers hope. I will be talking about a film I made that began with death, depression, and heartache and ended with inspiration and redemption. I want to share the story so that those who are still walking in those dark days will know that they are not alone. And to encourage people to share their own stories: they are compelling and worth listening to."
Community is the creation of a family, outside of your family. You take care of each other, you support each other, you do what is best for the greater good, you respect and encourage each other, and you create something important that is greater than the sum of its parts. I strongly believe in giving back to one's community. Invest in your community and it will invest in you.
---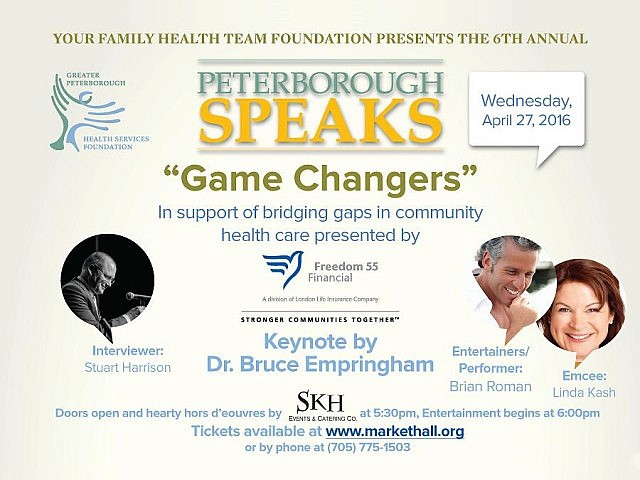 The sixth annual Peterborough SPEAKS fundraiser for Your Family Health Team Foundation takes place on Wednesday, April 27, 2016 at the Market Hall Performing Arts Centre (140 Charlotte St., Peterborough).
This night of story-telling and Q&A with five powerful community voices is hosted by local entertainment personality Linda Kash and Stu Harrison, President and CEO at Greater Peterborough Chamber of Commerce.
The theme for this year is "Game Changers" and the speakers are:
Tickets are $63 (including fees) and are available in person at the Market Hall box office, by calling 705-749-1146, or online at www.markethall.org.
Funds raised at this year's Peterborough SPEAKS will support the mission of Your Family Health Team Foundation to "Bridge the Gap" in community health care, by keeping patients safe and free of risk at every stage in life. This includes stroke prevention for seniors and patients who require blood monitoring, critical information for expectant mothers and families, and counselling for patients suffering from anxiety and depression.
For more information about Your Family Health Team Foundation, visit www.gphsf.ca.