Dr. Bruce Empringham graduated in Medicine from Queen's University and completed his family practice residency at McMaster University.
After four years in North Bay, Ontario, he took a job as Assistant Medical Director at London Life in 1981.
In 1998, he assumed the role of Vice-President and Medical Director for London Life, Great-West Life and now Canada Life and is now responsible for individual insurance life and living benefits, medical underwriting and medical claims assessment.
He remains active in the insurance industry in North America as past Chair of several organizations and on a number of industry and legislative fronts.
Dr. Empringham has a cottage on Cathacoma Lake, a brother in Apsley, and loves coming to this part of the country.
He's been a strong proponent within his companies for attention being given to employee wellness and to fitness. As well as being a runner and gym goer himself, he is in charge of the in-house fitness centre in London and is proud of the company's attention to employee wellness, especially over the last several years.
I believe the most important thing one can do is to be involved with and give back to the community. On a selfish level, I see all around me that people who do this are the happiest folks — so I want that! I see the difference we can make and I certainly acknowledge how lucky I am to have what I have. Health foundations like Your Family Health Team Foundation support broader needs of the community and they are a crucial piece to overall community health, so I'm happy to support this work.
---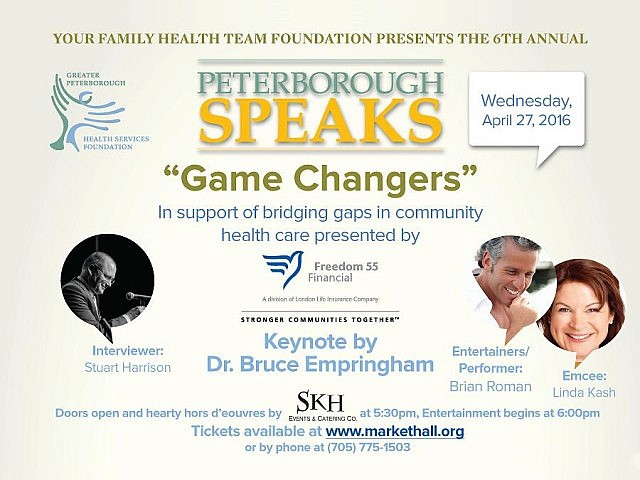 The sixth annual Peterborough SPEAKS fundraiser for Your Family Health Team Foundation takes place on Wednesday, April 27, 2016 at the Market Hall Performing Arts Centre (140 Charlotte St., Peterborough).
This night of story-telling and Q&A with five powerful community voices is hosted by local entertainment personality Linda Kash and interviewer Stu Harrison, President and CEO at Greater Peterborough Chamber of Commerce.
The theme for this year is "Game Changers" and the speakers are:
Once again, singer Brian Roman will warm up the crowd with his vocal stylings and there will be hearty fare from Shish Kabob Hut Catering. Doors open at 5:30 p.m., with music at 6 p.m. and speakers beginning at 7 p.m.
Tickets are $63 (including fees) and are available in person at the Market Hall box office, by calling 705-749-1146, or online at www.markethall.org.
Funds raised at this year's Peterborough SPEAKS will support the mission of Your Family Health Team Foundation to "Bridge the Gap" in community health care, by keeping patients safe and free of risk at every stage in life. This includes stroke prevention for seniors and patients who require blood monitoring, critical information for expectant mothers and families, and counselling for patients suffering from anxiety and depression.
For more information about Your Family Health Team Foundation, visit www.gphsf.ca.