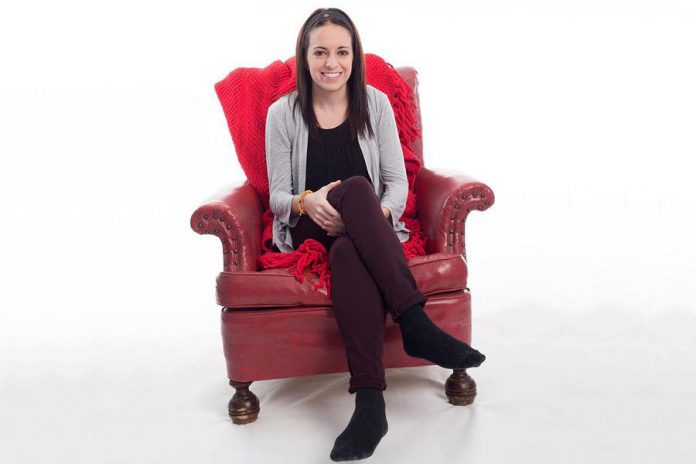 Filmmaker and screenwriter Carley Smale grew up in Peterborough, where she was an avid writer and obsessive movie watcher.
I remember being in Grade 12 and getting nominated at a Toronto Film Festival for a short film I made and it definitely sparked something in me.
At the age of 19, she decided to move to Toronto to attend Humber College to study Film & Media. She specialized in screenwriting and, upon graduating, was immediately hired as a development associate and writer for TV movies.
At 24 years old, Carley's first produced screenplay, The Christmas Parade, premiered on the Hallmark Channel with high ratings in Canada, the United States, and Europe.
The average screenwriter doesn't get this kind of opportunity until they are in their 40s and, here I was at 24, sharing this moment with the people I love most. I try not to take for granted how lucky I have been.
She also wrote and directed her first feature film in 2014 entitled Cold Season, which won Best No-Budget Feature at the 2015 Toronto Independent Film Festival. The movie went on to have international premieres in both New York City and Berlin with high praise.
In December 2015, her original story concept entitled On the 12th Day of Christmas premiered on the Hallmark Channel and was the #1 TV movie of the weekend with 5.4 million viewers.
Being a part of a community takes patience and it's challenging, too. It's so important because we aren't growing as people unless we are taken out of our comfort zones to help others; as a volunteer at The Warming Room, I see how many people come together to make that work.
---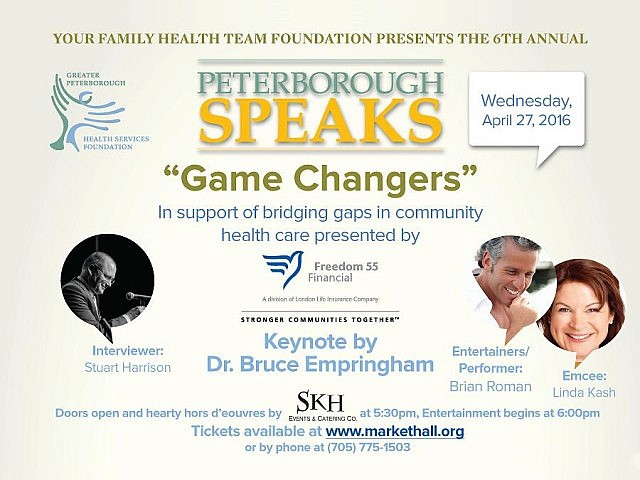 The sixth annual Peterborough SPEAKS fundraiser for Your Family Health Team Foundation takes place on Wednesday, April 27, 2016 at the Market Hall Performing Arts Centre (140 Charlotte St., Peterborough).
This night of story-telling and Q&A with five powerful community voices is hosted by local entertainment personality Linda Kash and interviewer Stu Harrison, President and CEO at Greater Peterborough Chamber of Commerce.
The theme for this year is "Game Changers" and the speakers are:
Once again, singer Brian Roman will warm up the crowd with his vocal stylings and there will be hearty fare from Shish Kabob Hut Catering. Doors open at 5:30 p.m., with music at 6 p.m. and speakers beginning at 7 p.m.
Tickets are $63 (including fees) and are available in person at the Market Hall box office, by calling 705-749-1146, or online at www.markethall.org.
Funds raised at this year's Peterborough SPEAKS will support the mission of Your Family Health Team Foundation to "Bridge the Gap" in community health care, by keeping patients safe and free of risk at every stage in life. This includes stroke prevention for seniors and patients who require blood monitoring, critical information for expectant mothers and families, and counselling for patients suffering from anxiety and depression.
For more information about Your Family Health Team Foundation, visit www.gphsf.ca.