For 30 years, Larry Gillman has held a multitude of honourable titles and positions in our community. In addition to his 14-year career as a financial advisor with Freedom 55 Financial, Larry has been President of the Beth Israel Synagogue in Peterborough for the past 12 years. As a devoted and loving father to two sons, he has also coached local minor football teams over the past 20 years.
Larry's greatest inspiration is Dr. Paul Thistle, a dear friend and well-known doctor who completes a lot of mission work in Zimbabwe. Dr. Thistle works tirelessly in a rural hospital now known as the Karanda Mission Hospital. Larry admires Dr. Thistle's dedication to his mission work and all of the time he has put into "both saving and altering the lives of the desperate".
When an act of arson damaged the Masjid Al Salaam Muslim mosque in Peterborough in November 2015, Larry was disheartened by the news and felt called to action. He met with the board of the Beth Israel Synagogue to devise a plan and then notified the Kawartha Muslim Religious Association that the synagogue would open its doors to the Muslim community to use for worship.
This simple gesture garnered attention from around the world due to the history of conflict between the two religions. The story was shared on Facebook over 3 million times, Larry was interviewed by people all over the world (including from both France and Israel), and he conducted a live interview watched by people in 22 Middle Eastern countries. In the wake of this act of kindness, the synagogue has also sponsored Syrian refugee families to come and live in Peterborough over the last few months.
Following the despicable fire at the Mosque, we reached out to our friends in the Peterborough Muslim community to support and offer solidarity. We simply asked Masjid Al Salaam Mosque what we could do to help, and offered place to meet and pray. It is what any caring and loving neighbour would do."
---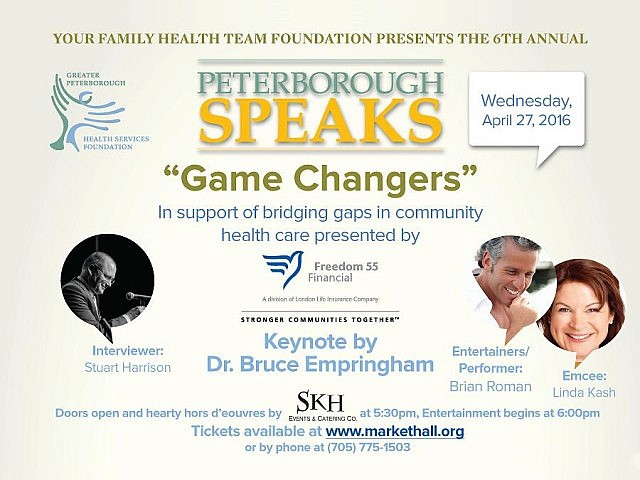 The sixth annual Peterborough SPEAKS fundraiser for Your Family Health Team Foundation takes place on Wednesday, April 27, 2016 at the Market Hall Performing Arts Centre (140 Charlotte St., Peterborough).
This night of story-telling and Q&A with five powerful community voices is hosted by local entertainment personality Linda Kash and interviewer Stu Harrison, President and CEO at Greater Peterborough Chamber of Commerce.
The theme for this year is "Game Changers" and the speakers are:
Once again, singer Brian Roman will warm up the crowd with his vocal stylings and there will be hearty fare from Shish Kabob Hut Catering. Doors open at 5:30 p.m., with music at 6 p.m. and speakers beginning at 7 p.m.
Tickets are $63 (including fees) and are available in person at the Market Hall box office, by calling 705-749-1146, or online at www.markethall.org.
Funds raised at this year's Peterborough SPEAKS will support the mission of Your Family Health Team Foundation to "Bridge the Gap" in community health care, by keeping patients safe and free of risk at every stage in life. This includes stroke prevention for seniors and patients who require blood monitoring, critical information for expectant mothers and families, and counselling for patients suffering from anxiety and depression.
For more information about Your Family Health Team Foundation, visit www.gphsf.ca.