Maple syrup season is in full swing in The Kawarthas with festivals and events happening in Buckhorn, Minden, Haliburton, Campbellcroft, and Sunderland over the March Break and continuing through the Easter long weekend into the first week of April.
Due to the unusually mild weather this winter, the sap starting runnning earlier than normal this year. While the freezing nights and warm days we're experiencing are ideal for maple syrup production, the season will end when there's no longer frost overnight.
Once temperatures no longer fluctuate between freezing at night and thawing during the day, the sap stops flowing. And, when buds begin to develop on the trees, maple syrup develops an unpleasant flavour described as "buddy".
If you need another reason to visit the sugar bush, recent research suggests that maple syrup may be good for your brain, too. Last week, scientists reported that certain compounds in maple syrup may help protect your brain from neurodegenerative diseases, particularly Alzheimer's disease. The research found enriched extracts of maple syrup may have a protective effect similar to resveratrol, a compound found in red wine.
However, before you start drizzling maple syrup over everything you eat, remember the research is preliminary and that it was funded by the Federation of Quebec Maple Syrup Producers.
Here's our guide to where you can enjoy maple syrup season in the Kawarthas.
---
MapleFest at McLean Berry Farm in Buckhorn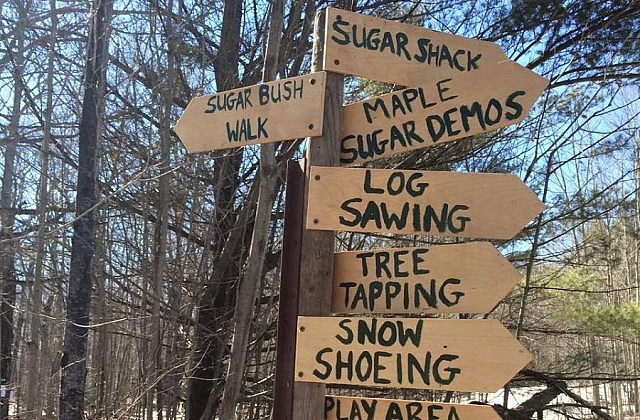 McLean Berry Farm (2191 16th Line, Buckhorn, 705-657-2134) has been hosting its maple syrup festival for 23 years. This popular family-oriented event takes place every weekend in March including the Easter long weekend. Activities include wagon rides, eating pancakes with fresh maple syrup, finding out how maple syrup is made, and making maple toffee.
The farm also features farm animals and snowshoeing through the sugar bush (although this year, there's no snow under the snowshoes!). There's live music with Michael Ketemer on March 19th and 27th, Eleanor and Ean on March 20th, and Glen Caradus and Phil on March 25th and 26th.
The cost of entry is $7 per person or $25 for a family of four (food including the pancake breakfast is extra). Please leave your dogs at home.
For more information, visit www.mcleanberryfarm.com.
---
Maple Magic in Minden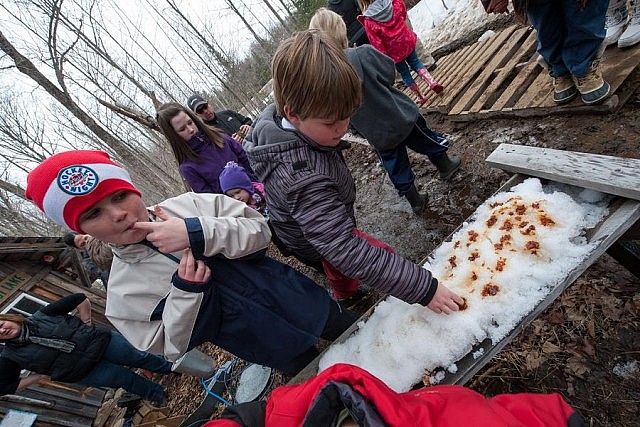 Until Saturday, March 26th, downtown Minden is hosting a maple festival including maple-themed food and drinks and specials at local businesses. There are Belgian waffles with maple syrup at Village Chalet (105 Bobcaygeon Rd.,705-286-2121) from 7 a.m. until noon, an exhibit at Minden Hills Cultural Centre (176 Bobcaygeon Rd., 705-286-2808) from 10 a.m. to 4 p.m., maple tours and sales at Waverley Brook Farm (Old Donald Rd 1632, 705-457-2214), maple food and a sugar bush tour at Wintergreen Maple Products & Pancake Barn (3325 Gelert Rd., Minden Hills, 705-286-3202), and more.
The festival culminates on Saturday, March 26th, with a special maple menu at Molly's Bistro Bakery (170 Bobcaygeon Rd., 705-286-6988) from 7 a.m to 3 p.m., French toast with Minden maple syrup at Wild Swan Bed & Breakfast Inn (65 Invergordon Ave., 705-286-3020) from 8 a.m. to noon, and maple food and drinks all day at the Dominion Hotel (113 Main St., 705-286-6954) with a "Maple Mayhem" Country Barn Dance at 7:30 p.m. featuring Gord Kidd and the Sap Suckers ($10).
For more information, visit www.facebook.com/Haliburton.Highlands.
---
Maple Syrup Season at Wintergreen Maple Products & Pancake Barn in Minden Hills
As well as participating in the Maple Magic festival in Minden, Wintergreen Maple Products & Pancake Barn (3325 Gelert Rd., Minden Hills, 705-286-3202) offers ongoing events and activities from 9 a.m. to 4 p.m. every weekend during maple syrup season.
Take a tour of the sugar bush, which encompasses 120 acres with around 1,000 taps on pipeline. See the sap evaporation process through the glass wall in their restaurant while savouring freshly made maple syrup on pancakes, French toast from fresh baked bread, baked beans and specially prepared farmers' sausages. A wide variety of maple products are also available.
For more information, visit www.wintergreenmapleproducts.com.
---
Maple Fest at Haliburton Highlands Museum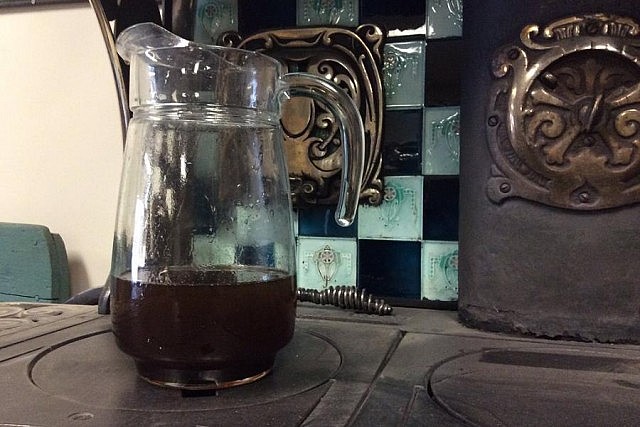 From 10 a.m. to 5 p.m. until Sunday, March 20th, Haliburton Highlands Museum (66 Museum Rd., Haliburton, 705-457-2760) is hosting Maple Fest.
Every year, the museum taps around 25 maple trees on their property and make syrup just as the settlers would, using their huge 115-year-old over an open wood fire. There are also plenty of tasty samples and treats, as well as fun contests and kids' crafts and activities. While you're there, you can also check out the museum's ever-changing exhibits, a historic house (circa 1880). and a working blacksmith's shop.
For more information, visit www.haliburtonhighlandsmuseum.com.
---
Maple Day at Kawartha Country Wines in Buckhorn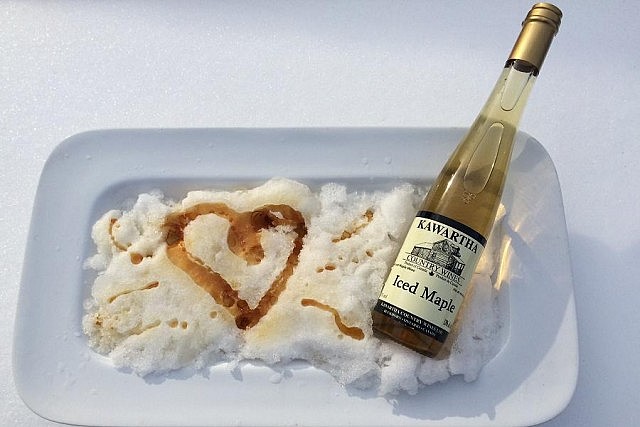 From 10 a.m. – 6 p.m. on Saturday, March 19th, Kawartha Country Wines (2452 County Road 36, Buckhorn, 705-657-9916) is hosting Maple Day.
Drop in at the winery for a free taste of iced maple dessert wine taffy on snow, crepes, and a variety of other maple treats.
For more information, visit www.kawarthacountrywines.ca.
---
Maple Syrup Day at Ganaraska Forest Centre in Campbellcroft
On Saturday, March 26th from 10 a.m. to 1 p.m., the Ganaraska Forest Centre (10585 Cold Springs Camp Rd., Campbellcroft, 905-797-2721) presents Maple Syrup Day.
Learn about the tradition of maple syrup production through site tours, demonstrations, stories, and games. Kids can create crafts and have their faces painted while parents enjoy live music and a pancake feast. Ferguson Farms, out of Garden Hill, will be there with syrup and other sweet products to purchase.
The cost is $12 per adult and $6 per child (16 and under) and registration is not required. Simply purchase your tickets at the Gatehouse upon entry to the grounds.
For more information, visit www.ganaraskaforestcentre.ca.
---
Sunderland Maple Syrup Festival
The 21st annual Sunderland Maple Syrup Festival takes place on Saturday, April 2nd and Sunday, April 3rd.
Admission is free to this event that features all-day pancakes and barbeques, dancers and bands on the outdoor stage all weekend, as well as the Fine Art Show at the Sunderland Town Hall and the Art & Craft show at Sunderland Public School.
Events and activities include Birds of Prey, Bathtub Races, a midway, petting zoo, horse and wagon rides, live music with Wolfgang Brothers, Best Dressed Dog Contest, bus tours (Harlaine Maple Products, Salem Alpacas, Teledale Dairy Farm), vendors, and much more.
For a complete list of events and a schedule, visit www.maplesyrupfestival.ca.
---
Map of maple syrup festivals and events

View larger map in separate window
Did we miss your maple syrup event? Email us at editor@kawarthanow.com.