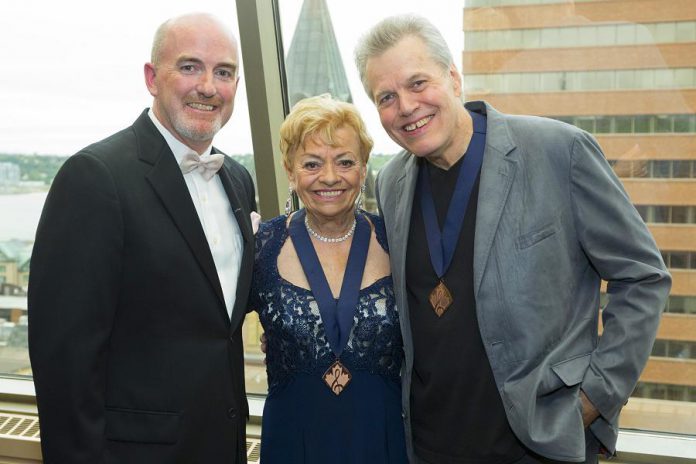 Dianne Leigh is one of the first Canadian country music artists to achieve national recognition, including receiving various awards and television exposure.
Dianne first performed as a featured vocalist in the Toronto pop band called The Sapphires. While working within the music club scene in Toronto, she had the opportunity to tour briefly with Patsy Cline's road band, playing drums.
In 1963, Dianne would record her first solo session in Nashville, which boosted her on the charts for Canadian radio.
Throughout her career, Dianne accumulated 16 charted singles (RPM country charts) with six top 10 hits and three #1 hits. In 1994, the music trade publication RPM considered her the 9th top Canadian country music artist of the past 30 years.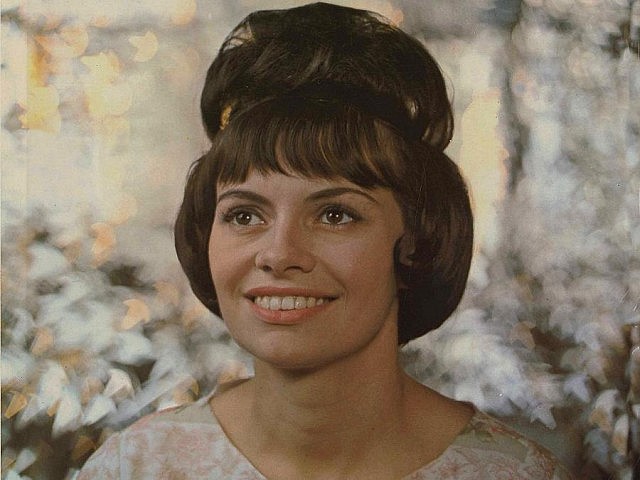 Dianne's career has seen her perform in prestigious venues including the Grand Ole Opry in Nashville and the Golden Nugget in Las Vegas. From 1966 to 1969, she won four straight Gold Leaf Awards for Top Female Country Artist, and in 1970 she was awarded the Gold Leaf Award (later known as the Juno Award) for Best Country Female Artist.
Recognizing her life-long contribution to country music, Dianne was inducted into the Canadian Country Music Hall of Fame in the fall of 2015.
It is important to spread the word on important issues and for members of the community to come together in order to support others as much as they can … A strong community is very important; I fear without these types of groups of people working together, very little progress would be possible.
---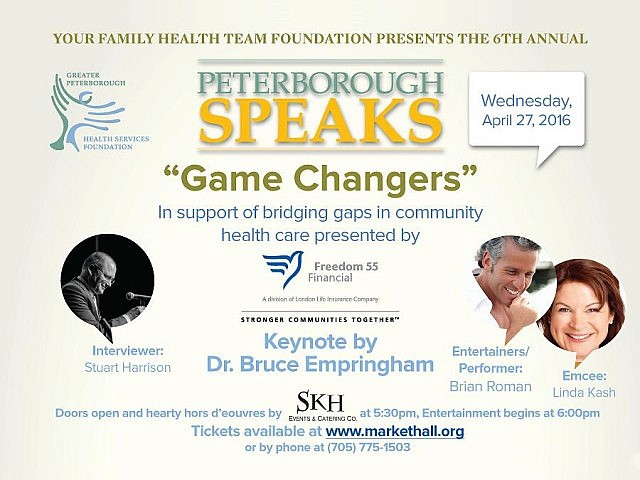 The sixth annual Peterborough SPEAKS fundraiser for Your Family Health Team Foundation takes place on Wednesday, April 27, 2016 at the Market Hall Performing Arts Centre (140 Charlotte St., Peterborough).
This night of story-telling and Q&A with five powerful community voices is hosted by local entertainment personality Linda Kash and Stu Harrison, President and CEO at Greater Peterborough Chamber of Commerce.
The theme for this year is "Game Changers" and the speakers are:
Tickets are $63 (including fees) and are available in person at the Market Hall box office, by calling 705-749-1146, or online at www.markethall.org.
Funds raised at this year's Peterborough SPEAKS will support the mission of Your Family Health Team Foundation to "Bridge the Gap" in community health care, by keeping patients safe and free of risk at every stage in life. This includes stroke prevention for seniors and patients who require blood monitoring, critical information for expectant mothers and families, and counselling for patients suffering from anxiety and depression.
For more information about Your Family Health Team Foundation, visit www.gphsf.ca.