Friends Bill Porter and Anne Arnold met for lunch at Riley's in downtown Peterborough today wearing their commemorative Pink in the Rink jerseys in support of Courtney Druce, who continue to receive hospice care at her mother's home in New Jersey as she battles cancer for the fifth time in the past 12 years.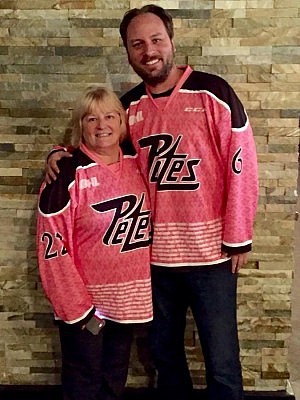 Last week, the Peterborough Petes offered the jerseys for $200 each to fans as a fundraiser for Courtney, the 2014 Pink in the Rink honourary co-chair and daughter of Petes' and NHL alumnus John Druce.
Anne, who's an active community volunteer for the Canadian Cancer Society and Hospice Peterborough, went to extra effort last week to obtain a jersey for Courtney's mom and for Courtney's boyfriend Bill, who was out of the country at the time visiting Courtney.
Bill is heading back to visit Courtney at her mom's home in New Jersey next week.
Peterborough Petes fans purchased 14 of the commemorative jerseys, raising $2,800 that the Petes organization donated directly to Courtney's GoFundMe campaign.
At close to $44,000 at the time of this story, Courtney's GoFundMe campaign has far exceeded its original goal of raising $25,000 and has a new goal of $50,000.
If you wish to donate, visit www.gofundme.com/s7ubvs. The funds raised will help pay for Courtney's mounting medical bills, student loans, and other expenses.
Courtney's courageous battle against cancer has received national media attention, including a story on CTV Toronto News earlier in the week (the segment on the Petes' jersey fundraiser starts at 41:53).