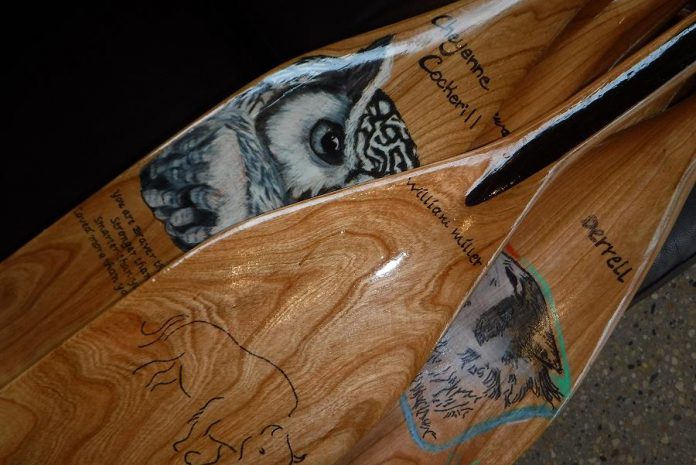 Nine aboriginal youth from Manitoba proudly displayed their hand-crafted canoe paddles and photographs at the Canadian Canoe Museum's first Silver Canoe Dinner, held in Winnipeg on Friday, February 19th.
The youth, all students from Lockport Junior High School in Manitoba, had participated in a week-long paddle making and photography workshop in January sponsored by the Canadian Canoe Museum, Sony Canada, and the International Sustainability Education Foundation (ISEF).
At the workshop, the students learned the basics of photography (using cameras supplied by Sony Canada) and learned how to carve, decorate, and finish a canoe paddle.
The workshop was led by Mark Blieske, a retired media teacher who's also a woodworker and paddle maker.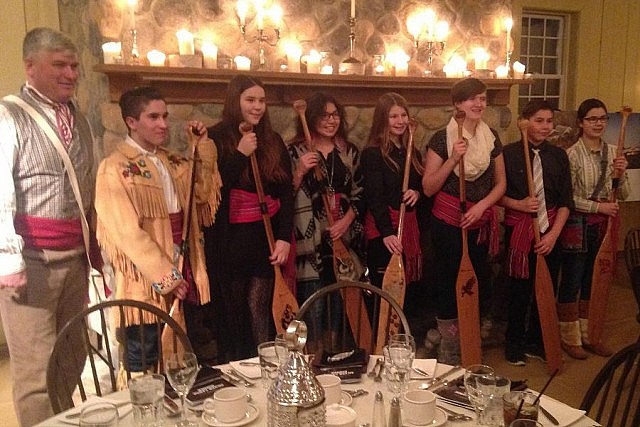 William Miller, one of the workshop participants, spoke at the sold-out Silver Canoe Dinner and described how the workshop helped him connect to his aboriginal heritage.
"Children are the future. They are the ones we pass our knowledge to. If that knowledge does not get passed down, where does it go?" Miller said. "That is why I believe that programs that teach aboriginal youth about their culture and history are very much needed, not just in Manitoba but all over Canada."
The Silver Canoe Dinner in Winnipeg is one of a series of dinners the Canadian Canoe Museum is hosting across Canada to engage Canadians in their canoe heritage and to share the museum's plans for a new facility.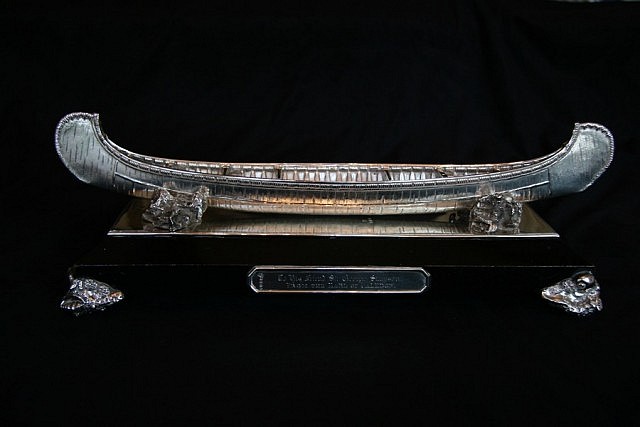 The dinners are named after one of the most popular canoes at the museum: a 38-centimetre canoe made of pure silver — made in the 19th century by Garrard & Co. of London, silversmith to the Queen — that belonged to the Hudson's Bay Company governor Sir George Simpson. Future dinners are planned for Calgary, Vancouver, Quebec City, and St. John's in Newfoundland.
The nine students at the Winnipeg dinner displayed the paddles and photographs they created as a result of the January workshop, part of two programs to build the confidence of youth (especially those who self identify as First Nations, Inuit, and Metis) by providing them with practical skills and unique experiences.
Both the Paddles Across Canada program and the Tillikum Lens Project — a multi-partner program that empowers indigenous youth by enabling them to tell their stories through images — are developed and delivered by ISEF.
"We have to start giving power back to these youth," says Jonathon Reynolds, ISEF's Executive Director. "I've noticed over and over again if we give that to them, they meet us way more than halfway."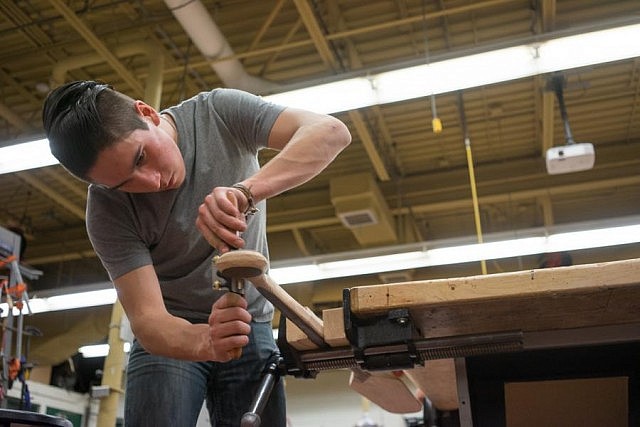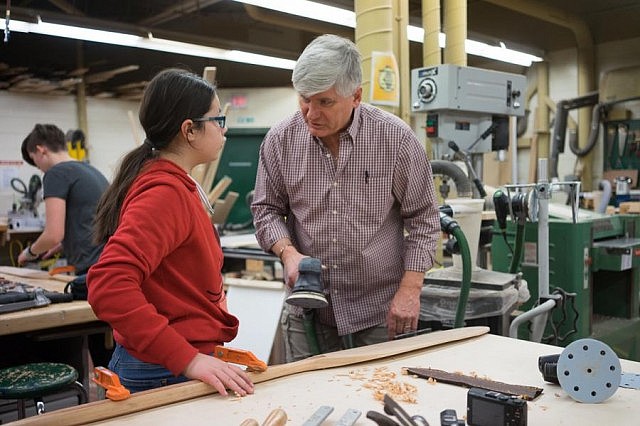 Future paddle-making and photography workshops are being planned in Vancouver (participants at that workshop will attend at the Silver Canoe Dinner in Vancouver on May 13, 2016, where they'll display their finished paddles and photography) as well as at the Canadian Canoe Museum in Peterborough in June 2016 (participants will be aboriginal youth identified by Peterborough's Nogojiwanong Friendship Centre).
"Through programs like these, the Canadian Canoe Museum is connecting with youth and especially with First Nations, Inuit and Metis youth whose heritage is so closely tied to the canoe and paddle heritage in Canada," says Richard Tucker, Executive Director of the Canadian Canoe Museum.
"It is hoped that through these programs the students will feel empowered to tell their story through photography and explore new opportunities and passions related to photography, woodworking, and paddling."
"This was a great experience for us," Miller said when speaking to attendees at the Winnipeg dinner. "Making these character paddles got us more in touch with ourselves. The paddles were made by our own personality. Their flaws are our flaws. And the beauty within these paddles is the beauty within us."
In the spring, Miller and the other students who participated in the first workshop will take their paddles on a canoe day trip with instructor Blieske, who's also an experienced wilderness guide.
"I know that learning and understanding about my heritage is important," Miller said at the dinner. "And it makes me feel proud of myself and where I come from."
For more information about the Silver Canoe Dinner Series and to reserve tickets, visit www.canoemuseum.ca/silver-canoe-dinner/.
---
Photographs by students from Lockport Junior High School in Manitoba