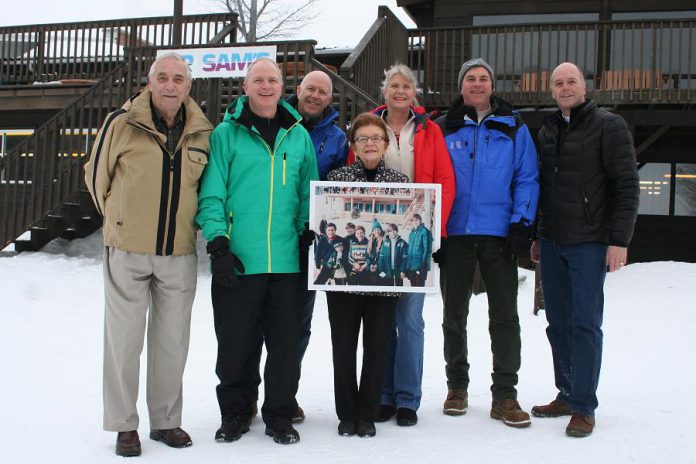 One eye on the sky, the other on the thermometer.
Since 1965, day in and day out, that has been the regimen for the Bishop family. As owners and operators of Sir Sam's Ski/Ride (1054 Liswood Road, Eagle Lake, Ontario, 705-754-2298), Bob and Noreen, and siblings Rob, Chris, JD, Angela and Steve, have worked side by side with Mother Nature.
As is her wont, some days she has fully co-operated; other days she hasn't played all that nice. A silent partner, she has nonetheless had, and still has, a strong say in the decades-long success that has come the way of the Haliburton ski/summer resort.
Just nine years old in the mid 1960s when Haliburton Highlands Properties (owned by his parents) bought Glen Eagle Resort off the shore of Eagle Lake, Chris Bishop has been on the front lines of the all-season resort's evolution since. Serving as Sir Sam's marketing manager, he remains, along with his siblings, a familiar face to families who take full advantage of the resort's recreational amenities, be that in winter or summer.
"My family is here every day … it's our home. Our guests know we're here and dedicated to giving them the best experience possible," says Chris, noting his father, 83, is still very much involved with wife Noreen, 84, right by his side.
"We've had our moments over the years. What family doesn't? But we've always been close. It just works."
That it certainly has. Offering spectacular views of both Eagle and Moose lakes, Sir Sam's has been the destination for downhill skiing, snowboarding, and snowshoeing enthusiasts for generations. Add to that mix the resort's summer amenities that speak fully to the adventurous desires of mountain bike cyclists and hikers.
"A lot of people thought dad was crazy when he bought this property; in fact, he thought he was crazy," notes Chris.
Sane or otherwise, his dad took the plunge 20 years after champion Canadian skier Clint Melville was tasked by the Ontario government to identify potential ski resort locations in the province.
That led, in 1949, to an initial approach of the owners of 2,200 acres of property abutting Eagle Lake. Bought in 1917 by Sir Sam Hughes, Canada's minister of militia and defence during the Great War, the property was ideal for the development of a ski resort save for one obstacle — the owners had no desire to sell.
Undaunted, the earlier-formed Haliburton Highlands Ski Club, guided by Melville and including several Haliburton locals such as Bishop, opened a temporary ski facility with a small electric rope tow closer to town. It closed in 1951 — southern exposure and a lack of space were the main reasons — but Bishop never gave up on his vision of opening his own facility.
That dream became a reality in 1965 with his purchase of Glen Eagle Resort and its 1,800 acres of neighbouring wilderness. The purchase price was a then very hefty $250,000.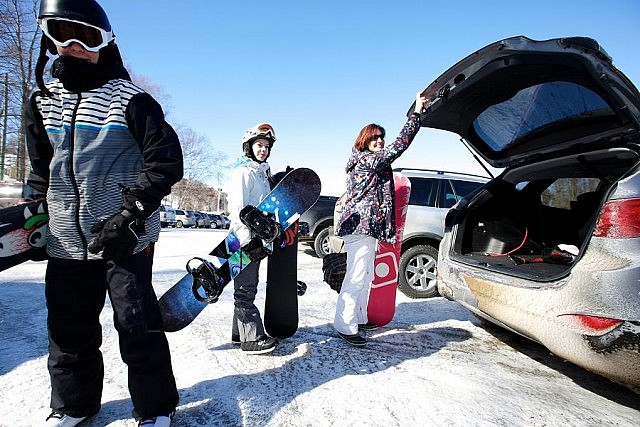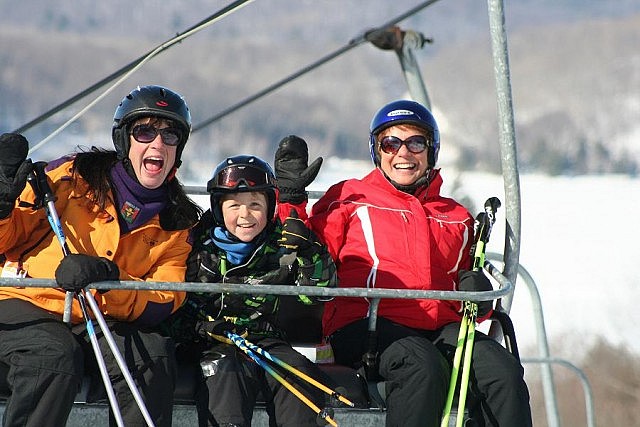 That was then and this is now, and now sees the Bishop family preparing to host Sir Sam's Golden Gala — the marquee event of the resort's 50th anniversary season.
Set for Saturday, February 20th, a 7 p.m. cocktail reception opens the festivities followed at 8 p.m. by a dance featuring the classic rock 'n' roll sound of Arden and The Tourists. Then the highlight of the evening: a torchlight parade on the slopes followed by fireworks.
Tickets cost $250 per couple, $150 per single, and can be reserved by calling 705-754-2298 or emailing info@sirsams.com. Dress is cocktail attire. Each guest receives a complimentary gift bag commemorating the occasion, a glass of champagne, catered hors d'oeuvres, and light late evening snacks.
"Back in the day we hosted New Year's Eve parties similar to this," notes Chris. "We dropped that about 30 years ago but revived it for our 40th. This is really our way of saying thank you to those who have been so much a part of our success."
Success is an understatement. From the get-go, Sir Sam's has been a leader in terms of innovation, constantly re-inventing itself to remain a viable choice for family fun in a world where so many recreational options have since manifested themselves.
Since 1965 when the initial three trails were cut and a T-bar was installed, numerous upgrades have followed suit. Five years after opening, three new trails were cut and the chalet saw its first major expansion. In 1982, yet another three trails and a second chairlift were added followed, in 1987-88, by a second addition to the chalet and the installation of snowmaking infrastructure and related equipment.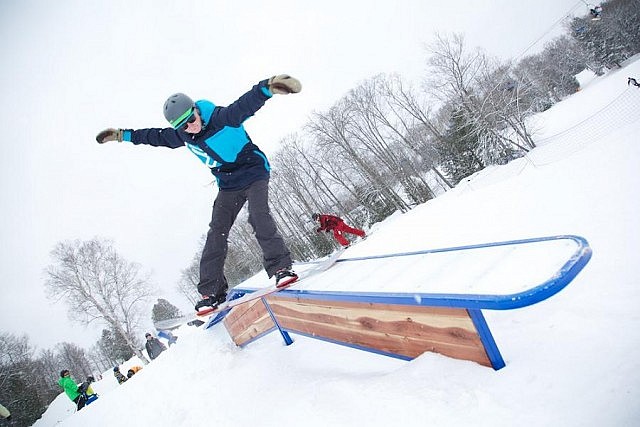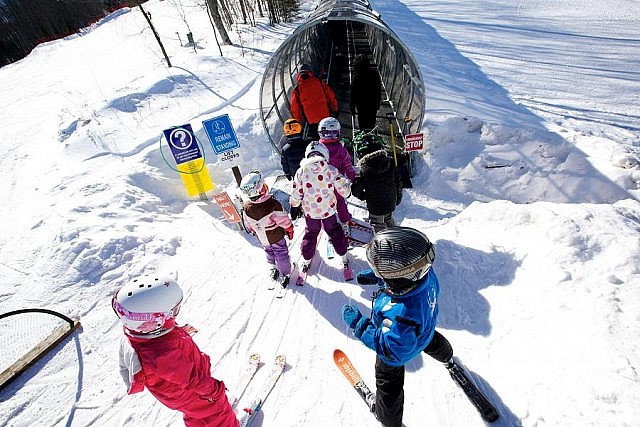 Not resting on its laurels over the last 10 years — two quad chair lifts were added in 1995 — the Bishops have made major upgrades to the resort and the slopes, including the 2009 addition of the first covered surface lift in Canada and the creation of a mountain bike park.
Still, at the end of the day, it's that silent partner that still calls the shots. While the last two winters prior to the current season were seasonably cold and snowy, this winter has posed a bit of challenge, admits Chris, terming himself and his family members "weather farmers."
"It's a balancing act," assesses Chris.
"You want the natural snow because that really gets people into a winter activity mood. But it can be too cold. We can make snow if the temperature is right but really cold weather keeps the numbers down. Ideally, a sunny winter day with natural snow is perfect."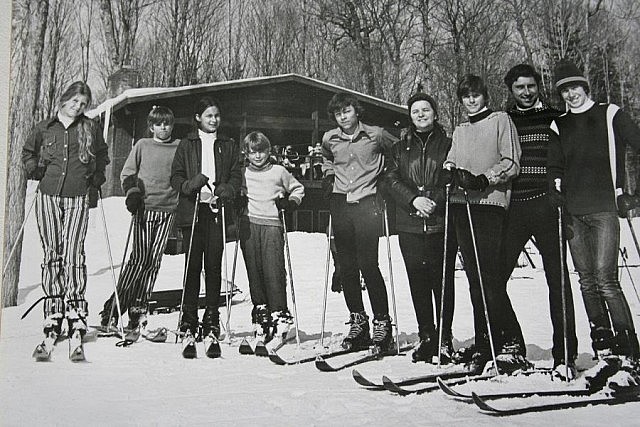 Another challenge remains competing for families' attention. Chris notes there's so much more for families to participate in and keeping their share of the recreational pie is a challenge. That, coupled with a general aging demographic in the province, equates to no rest for the weary when it comes to remaining a viable, affordable choice.
"We're always seeking ways of making it less expensive and more accessible," notes Chris.
Some of the ways Sir Sam's makes skiing and snowboarding more affordable for families include:
Price caps on daily lift tickets for families (two adults and up to three children under 19)
Kids aged six and under ski for free (when accompanied by a paying adult)
Sunday afternoon discounts on both lift tickets and equipment rentals
A 25% discount when purchasing two consecutive daily lift tickets
Canadian Ski Council's Grades 4 and 5 SnowPass
Beginners packages.
For a full listing of winter (and summer) rates and special offers, plus the full event calendar, visit www.sirsams.com.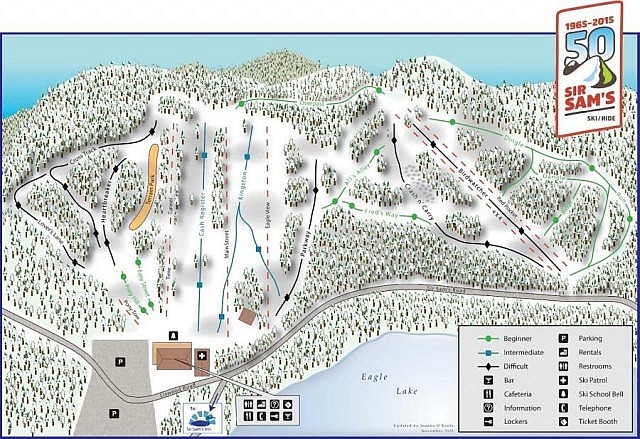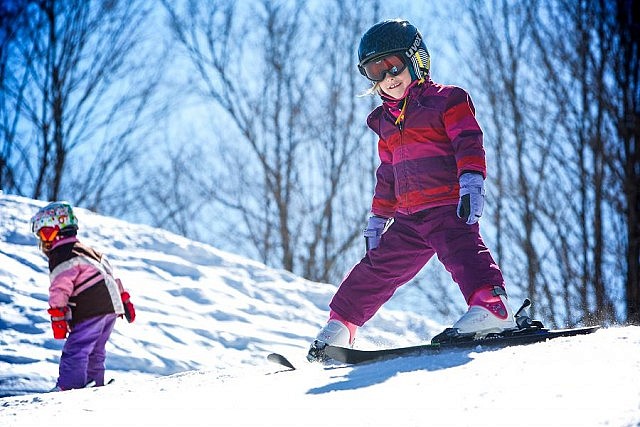 Besides the Golden Gala event, the Bishop family is also preparing to host its "busiest three days of the year": the Family Day Weekend (February 13 to 15).
The highlight is a carnival held on Saturday, February 13th, which features ski and snowboard demonstrations by Algonquin Outfitters, candy floss, and hot popcorn for kids of all ages.
"It will be a huge weekend for us," Chris says. "On Family Day last year, the temperature was -21°C — too cold for some — but this year -9°C is forecasted. That's ideal."
Another popular time at the resort is March Break (March 12 to 20), when families want to get in the last skiing, snowboarding, or snowshoeing of the season. Sir Sam's will be offering plenty of activities, both on and off the hill, for the whole family.
Looking ahead, Chris is buoyed by the fact that a rebranding process undertaken two years ago is paying dividends.
"A whole state-of-the-art website, new signage, ongoing improvements to our facilities … it's all coming together. It's exciting to see that effort paying off."
---
Getting to Sir Sam's Ski/Ride
---
Sir Sam's Ski/Ride in Haliburton
All photos courtesy of Sir's Sams Ski/Ride.